What is a Branding Consultant And What Do They Do?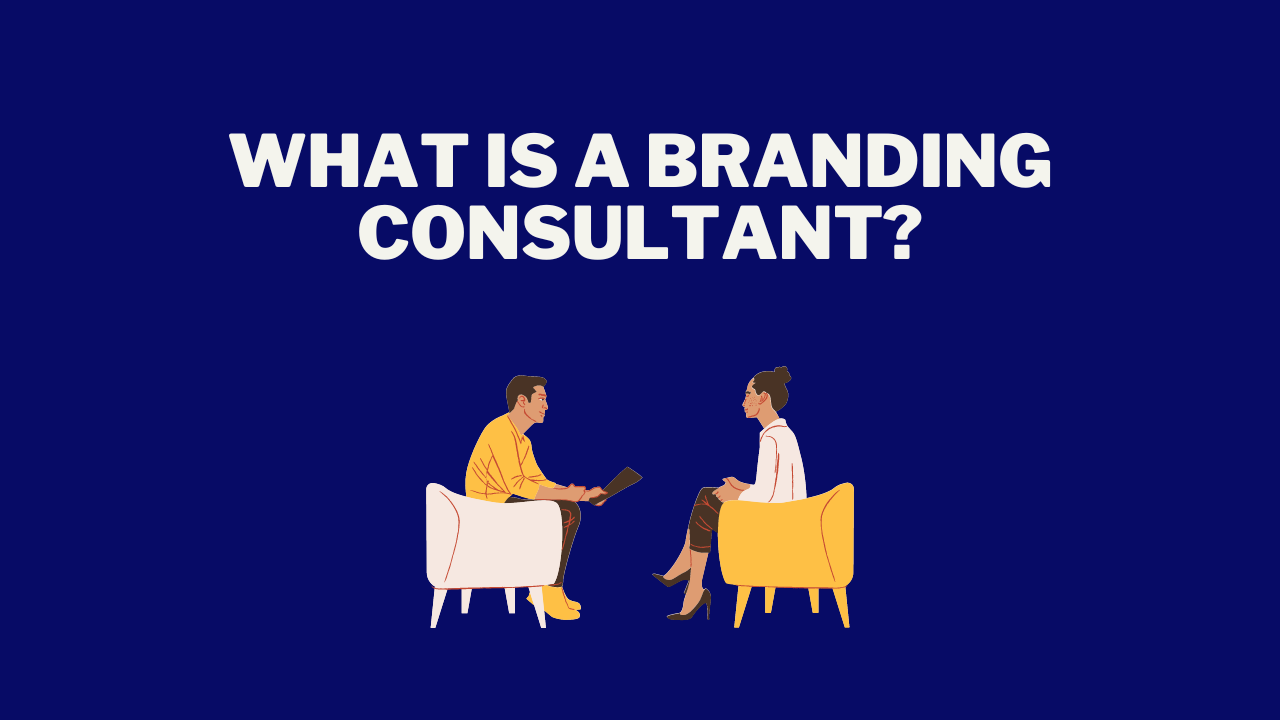 Branding plays a crucial role in today's competitive business landscape.
It includes everything from a company's name, logo, and visual identity to its values, messaging, and customer perception.
To establish a strong brand identity, many businesses hire branding consultants.
In this article, we will talk about the role of a branding consultant, their responsibilities, and how they contribute to building successful brands.
If branding gets you as excited as us, read on to find out what a branding consultant really is.
Why is Branding Important?
81% of consumers want to buy from a trusted brand, according to Edelmen.
The competition businesses face has grown exponentially as the world has moved to the internet. This means if you want to stand out, establishing a strong and memorable brand is crucial.
If you want to compete with businesses all over the internet, branding is something you just cannot ignore. Digital marketing and branding go hand-in-hand.
Your brand represents the essence of your company and serves as a promise to your customers.
You build customer perception, and trust, and differentiate your business from its competitors through branding.
Effective branding can lead to increased recognition, customer loyalty, and ultimately, business growth. Isn't that what you want as a business owner?
What is a Branding Consultant?
A brand consultant is someone who is great at developing and managing brands.
They are basically superheroes for your brand! They have a deep understanding of what makes your consumers tick.
Let's say you have a great product but for some reason, you're not reaching your true potential. Marketing brand consultants come in and analyze your product branding to see what you're missing. And help you create a brand development strategy to make you stand out.
Interesting right?
Strategic thinking brand consultants work closely with businesses to create, improve, or revamp their brand identity.

How a brand consultant can help you will depend on what state you're business is in and what you need to get to that next level.
They provide strategic guidance and practical solutions to improve brand positioning and overall brand performance.
What Does a Branding Consultant Do?
A brand consultant's role can vary depending on the engagement. But, the overall responsibility of a brand consultant is to help you build your brand identity so that your business can grow.

Some of the major responsibilities of a brand consultant are:
Develop Branding Strategy
If you are looking to hire a brand consultant, you clearly need help figuring out how to build a strong brand. To do so, you need a solid branding strategy.
One of the most important things a brand consultant does is to develop a thorough branding strategy that can be applied to your business. This isn't a one size fits all solution as it varies depending on your needs.
They analyze your business's target audience, competition, and market trends to come up with a strategic roadmap for brand development.
This involves defining the brand's positioning, key messages, and brand personality to align with the business's objectives.
According to Forbes "Consistent brand presentation across all platforms increases revenue by up to 23 percent"
Crafting Brand Identity
A brand identity is essential to build a strong connection with your audience.

Think of the most recognizable brands in the world. Some of the examples we like are Mcdonald's, Coca-Cola, Apple, etc.
When you see these names or their logos anywhere, you know exactly what they represent.
This isn't an accident.
These businesses have put tons of marketing efforts behind building a brand identity that connects with their audiences.

A good brand consultant is skilled in crafting brand identities that resonate with the targetted audience. They have an understanding of the psychology behind storytelling, color schemes, and overall branding.
Brand consultants can help you create compelling brand names, design logos, choose color palettes, and develop visual elements that convey your brand's essence.
Conduct Market Research
Market research is one of the most important aspects of branding. You have to understand what the market trends are and what works to make informed branding decisions
Brand consultants typically conduct thorough market research before they get into the nitty-gritty of things.
They analyze consumer preferences, conduct competitor analysis, and identify market gaps and opportunities.
This research helps in developing effective brand strategies and tailoring brand messages to resonate with the target audience.
Designing Brand Assets
Brand consultants also play a crucial role in designing different brand assets.
Brand assets are objects that your consumers interact with such as brochures, business cards, websites, and social media profiles that reflect the brand's visual identity.
They may also provide guidelines for typography, photography, and other visual elements to maintain consistency across all brand materials.
Implementing Brand Guidelines
Once your brand strategy and assets are in place, brand consultants assist businesses in implementing brand guidelines.
This will help your business continue building upon the consultant's work.
You can use these guidelines to further implement marketing strategies that are consistent with your brand.
You can use this to ensure that your brand's visual identity and messaging are consistently used across all marketing channels and communication platforms.
This consistency helps build brand recognition and reinforces the brand's values and promises.
Monitor and Manage Brand Reputation
Branding consultants can also help you monitor and manage your brand's reputation.
They analyze customer feedback, social media mentions, and online reviews to assess the brand's perception and identify areas for improvement.
This is important to evaluate the branding efforts of your company.
By proactively addressing issues and maintaining a positive brand image, they help businesses build trust and loyalty among their target audience.
The Benefits of Hiring a Branding Consultant
Hiring a brand consultant offers several benefits for businesses:
Expertise
Hiring competent branding consultants can be a game changer for your business. They have specialized knowledge and experience in developing successful brands, which you may not find on your company's roster.
Outsourcing in a case like this is a great choice.
Objectivity
Consultants typically are able to provide an outsider's perspective, offering unbiased insights and recommendations.
This can be greatly beneficial to find the holes in your current efforts.
Time and Cost Savings
By outsourcing branding tasks, businesses can focus on their core mission while benefiting from professional guidance.
Also, hiring someone full can be a lengthy process and cost a lot more than outsourcing to a brand consultant.
Competitive Advantage
Many businesses do not spend a ton of money and effort on building their brand identity.
If you are operating in a less competitive market, you can still build a successful business.
However, effective branding gives businesses a competitive edge, differentiating them from competitors and attracting customers.
How to Hire a Branding Consultant for Your Business
Hiring a brand consultant is not an easy task.

At the end of the day, how good they are directly affects your business. So, it is important that you do your due diligence.
When selecting a brand consultant for your business, consider the following factors:
Assess Experience and Expertise
Evaluate the consultant's experience and expertise in the field of branding.
Look for professionals who have worked with businesses in your industry or have a diverse portfolio showcasing their branding projects.
It is always okay to ask questions about their work. You should try to find out how they plan on applying their expertise to help you grow.
Review Portfolio and Case Studies
Review the consultant's portfolio and case studies to assess the quality of their work.
Pay attention to their ability to create distinctive and memorable brands that align with their client's objectives.
It is important to understand how they have provided value to other clients in the past.

Ask them how they and their clients evaluate success.
Evaluate Communication and Collaboration Skills
Effective communication and collaboration are essential for a successful partnership with a branding consultant.
It is also an opportunity for you to see how they represent their own personal brand.
You have to make sure that the consultant understands your business goals. And they are open to listening to your ideas and communicating clearly throughout the process.
Remember, you are not the branding expert, they are. But they should be good at communicating the work they plan on doing.
Consider Budget and Cost
The fees a branding consultant charges can vary significantly.
Consider your budget and negotiate the terms and pricing structure with potential consultants.
Remember that branding is an investment that can yield long-term benefits for your business.
Check Client Testimonials and References
Request client testimonials or references from previous clients.
This will help you gain insights into the consultant's working style, professionalism, and the results they have achieved for their clients.
Do your research to find out how other clients feel about working with the consultants you may be thinking of hiring.
Conclusion
If you are a business that is doing well but wants to take that next step or if you still haven't found your footing hiring a branding consultant might be for you.
A brand consultant can help you develop and manage your brand.
Outsourcing your branding can be a double-edged sword as it can allow you to hire someone with great expertise. But it can also be hard to work with someone who isn't entirely familiar with your brand values.
This is something you work on with your consultants and help them align with your mission.
FAQs
Q1: How much does it cost to hire a branding consultant?
The cost of hiring a brand consultant can vary based on factors such as experience, the scope of work, and the size of the business.
It's best to discuss your requirements and negotiate pricing with the consultant.
Q2: How long does the branding process take?
The duration of the branding process depends on various factors, including the complexity of the project and the client's responsiveness.
It can range from a few weeks to several months or even years. Implementing a brand strategy across a large corporation can be a very long process.
Q3: Can a brand consultant help rebrand an existing business?
Yes, businesses often hire branding consultants to help them pivot their branding.
Although it may be a harder task to rebrand an existing brand this is a pretty common request.
Brand consultants can analyze your current brand, identify areas for improvement, and develop a strategic plan to revamp the brand's image.
Q4: What industries can benefit from hiring a branding consultant?
Branding consultants can benefit businesses across various industries, including retail, hospitality, technology, healthcare, and more.
Good branding can be helpful for any business looking to establish a strong market presence.
Remember it is also important to hire a branding consultant who is familiar with your industry
Q5: How often should a business review and update its brand strategy?
Your branding strategy should be evaluated periodically to guarantee it remains aligned with the evolving business landscape and target audience preferences.
How often you do it will depend on the size of your business and the speed at which your business is evolving.
Q6: Is freelance brand consulting a good business?
The demand for branding consultants is ever-increasing. There are many businesses out there of all sizes that are looking to hire brand consultants.
Being a freelance brand consultant can be very lucrative. But you have to remember that it is not an easy job and building expertise can take some time.