How Old Do You Have to Be to Sell on Etsy?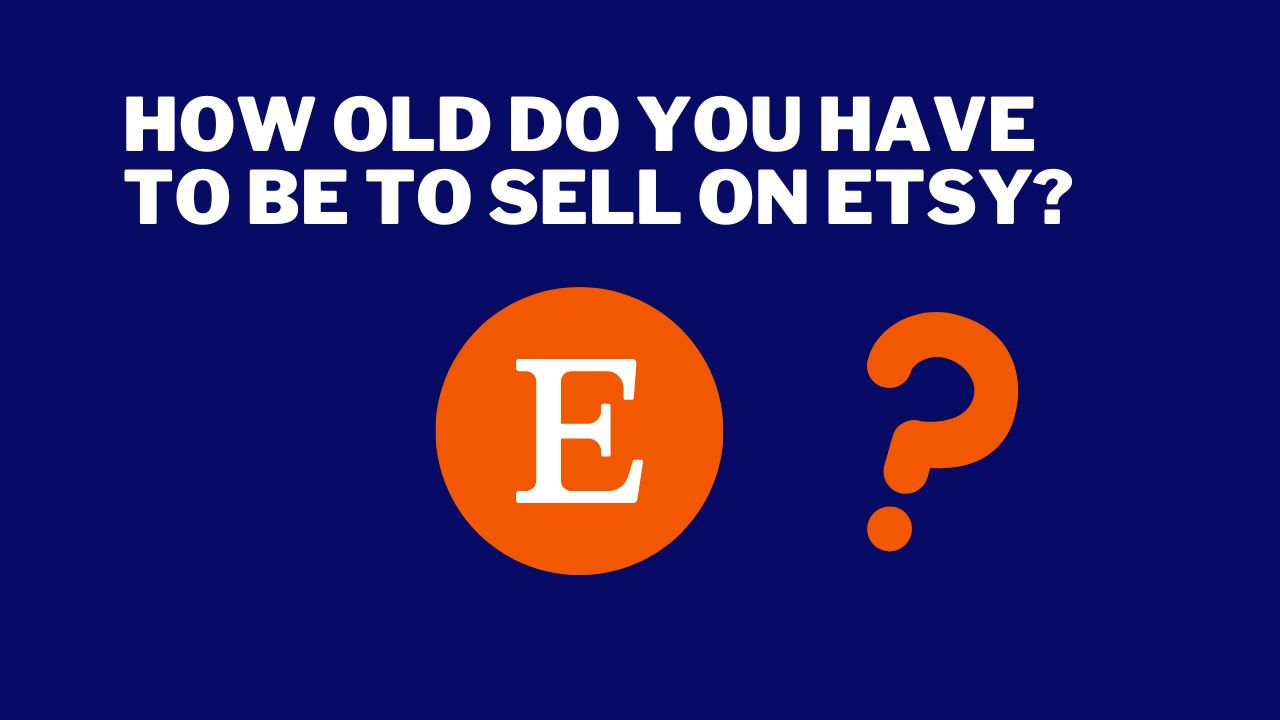 Summary:
You need be at least 18 years old to be an Etsy Account Owner.
Individuals between the ages of 13 and 18 can sell on Etsy under the supervision of a parent or legal guardian.
The parent or legal guardian will be responsible for all activities under the account
Etsy is an amazing platform for anyone looking to sell items such as handmade items, craft supplies, art, homemade articles, and much more.
It's our go-to place when we're looking for something unique and fun!
Many people are running successful businesses and side hustles on Etsy. And the barrier to entry is pretty low. You can start your own Etsy shop with little to no money!
Etsy provides a unique opportunity for artistic individuals to build a profitable business. It's exciting! And if you're wondering how you have to be to sell on Etsy, we've got you covered.
Etsy's Age Requirements
So, to answer your questions:
You have to be at least 18 to start your own Etsy shop. But minors between the ages of 13 and 18 can sell on Etsy with the permission and direct supervision of a parent or legal guardian.
In such cases, the owner of the account should be the parent or the legal guardian. Once you turn 18, you can transfer the account to your name and have full ownership.
Minors under the age of 13 cannot create an Etsy store.
Selling on Etsy as a Minor
As a minor (13-18 years old), you need your parents' or guardians' supervision to run your Etsy business.
The Etsy account must be under the supervisor's name and they will be responsible for any activity conducted through the account.
If you're a minor, you are required to follow the below guidelines:
Any financial information linked to the account should belong to the parent or the legal guardian.
You must mention all the members of your Etsy seller account in your shop's About section. This includes the minor/s and the parent or legal guardian.
The parent or legal guardian must use their information to register for Etsy Payments.
Steps to Start Selling on Etsy as a Minor
Starting your Etsy store is a pretty straightforward process but if you're a minor there will be a few more steps involved for you.
Here's a step-by-step guide to get you started!
Step 1: Register your Etsy Account
Before you set up your Etsy shop, you need to register an account.
According to Etsy's policies, if you're a minor the owner of this account must be your parent or legal guardian.
You can visit Etsy.com and sign up by entering your name, email address, and password, or continue with your Google, Facebook, or Apple account.
Step 2: Set Up Your Etsy Shop
To start an Etsy shop, you will need to sign up as a seller and provide further information.
You can do this by clicking on the "Open a shop" button on this page.
Once you start the process to open your Etsy shop, you will need to enter the following information:
Shop preferences: shop currency, shop country, and shop language
Shop name
Step 3: Create Listings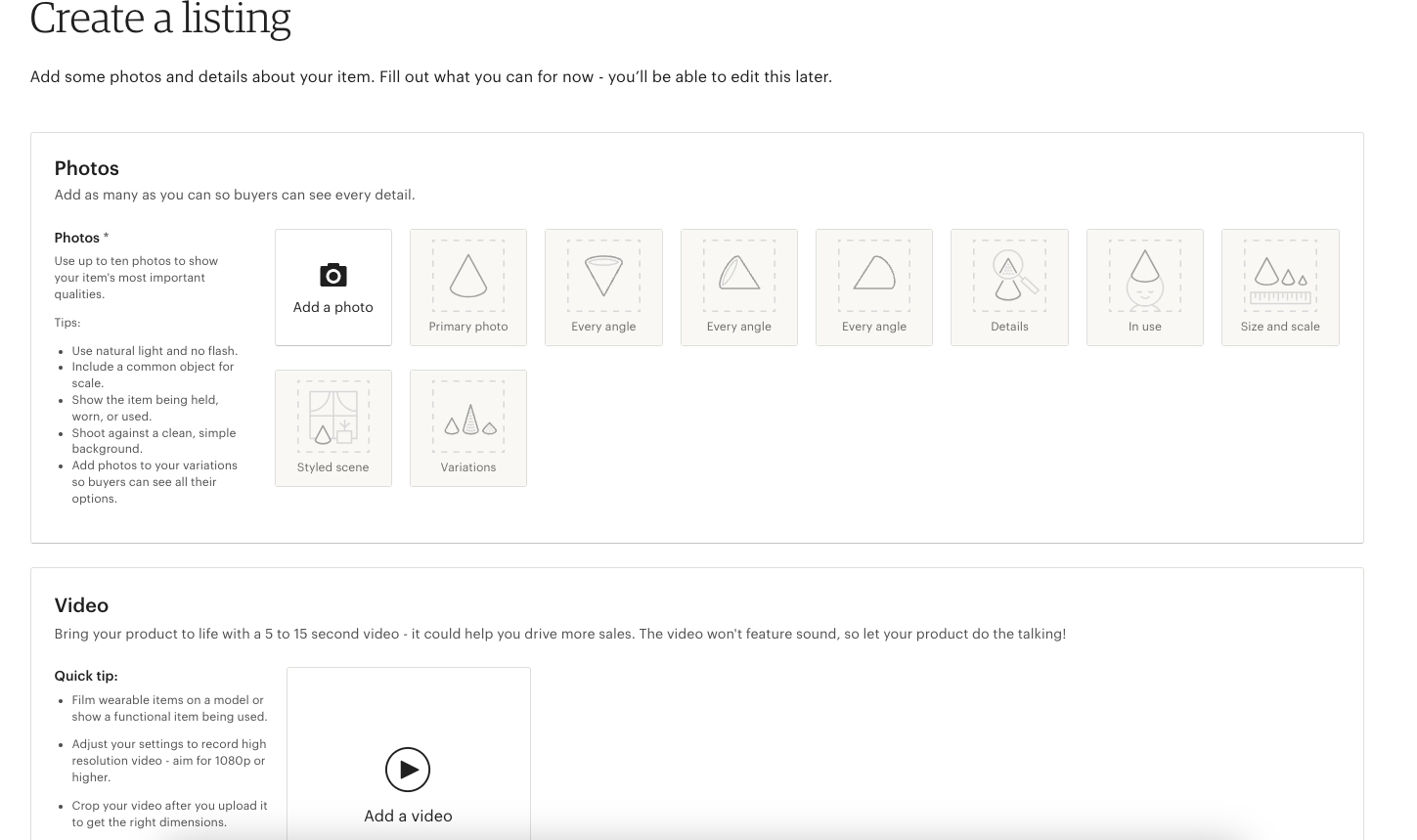 Now, the exciting part!
You can go ahead and create listings for the products you want to sell.
Etsy charges a $0.20 fee per listing.
Your listing will include the following:
Images and videos of the product to make your listing stand out.
Product description to get your customers' attention and give them a better understanding of your product.
Pricing of the product.
Product variations if your product is available in different sizes and/or colors.
Shipping cost of the item.
Step 4: Set Up Etsy Payments
Next, you need to set up your payment information.
You Need to provide the following to set up Etsy payments:
Tax information: Your Social Security number if you're an individual or sole proprietorship or business registration number if you're a business.
Account details: Your bank account, PayPal account, or other account that you want to get paid through. Etsy will use this information to send you your money.
Credit card details: Your credit card details to pay the Etsy fees related to your account like listing fees, transactions fees, etc.
Remember, all this information should be linked to the parent or legal guardian's accounts.
Step 5: Promote Your Shop
Once, your Etsy shop is live you need to get the word out there and get people to notice your listings.
Etsy account owners hugely benefit from using creating content about their products on platforms like TikTok, Instagram, YouTube, etc.
If you're looking to take your Etsy shop to the next level and build a brand, it is crucial to work on your marketing.
Many direct-to-consumer brands have used content marketing to nurture a great relationship with their audience and build profitable businesses.
You can also benefit from Etsy ads which the platform runs on its own and charges a 15% fee for sales that occur through these ads.
Step 6: Manage Sales and Customer Support
Great customer service is at the heart of most businesses.
You can customize your listings to answer any frequently asked questions that your buyers might have.
Also, providing your customers with a direct line of contact to reach out if they have any questions or concerns is extremely important.
Etsy allows you to contact buyers making it easier to build strong relationships and offer them amazing customer service.
Challenges and Tips for Young Etsy Sellers
Young Etsy sellers can run into certain unique problems.
However, the right strategies and mindset can help you overcome these issues and thrive in the online business space.
Some of the major challenges young Etsy sellers can run into are:
A. Balancing school and Etsy business
Challenge: Juggling school responsibilities with your Etsy shop can be challenging, as both require time and effort.
Tips:
Create a schedule
Set realistic goals
Delegate when possible
Plan for busy periods
B. Time management and prioritization
Challenge: Managing your time effectively is crucial to avoid feeling overwhelmed.
Tips:
Use productivity tools
Prioritize tasks
Batch similar tasks
Avoid multitasking
C. Learning from experienced sellers and seeking mentorship
Challenge: Lack of experience can be a hurdle for young Etsy shop owners.
Tips:
Join Etsy forums and communities
Seek mentorship
Read books and blogs
Attend workshops and webinars
D. Staying updated with Etsy policies and guidelines
Challenge: Etsy's policies and guidelines may change over time, and staying informed is crucial to avoid violations.
Tips:
Regularly review Etsy's policies
Subscribe to Etsy's newsletters
Follow Etsy's official social media channels
Engage with the Etsy community
Success Stories of Young Etsy Sellers
Are you a young, aspiring Etsy seller and feel a little overwhelmed by all of this?
Do not fear!

There are plenty of success stories to inspire you to start your own business.
Here are some popular Etsy shops that are run by teens:

1. MissMadyMakes
Maddy sells organic catnip toys and costumes for cats. She has made over 5,000 sales and built a thriving business at the age of 15.
2. ZandraBeauty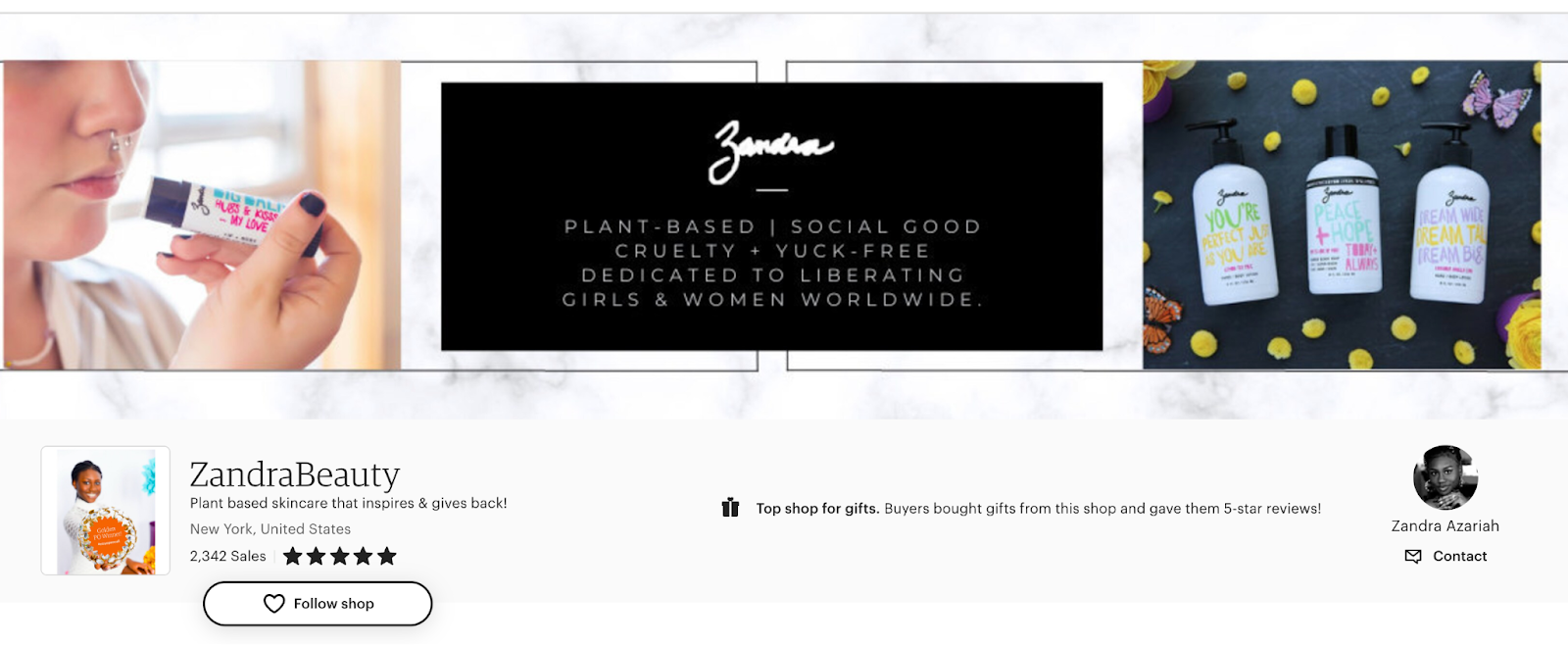 Zandra is selling plant-based skin care products to the health and environment-conscious youth. She has made over 2,300 sales and has been featured in many news and business outlets at only 16 years old.
Final Thoughts
Etsy presents an awesome opportunity for young creatives and entrepreneurs to start their own businesses.
Although you need to work with a parent or legal guardian, it allows you to gain some valuable experience and dip your toes in the world of business.
If you're between 13 and 18 years of age and are interested in building an online business, it's a great place to start.
How Old Do You Have to Be to Sell on Etsy: FAQs
Can Teens Sell On Etsy?
Yes, teens can run a shop on Etsy and sell products. Etsy allows individuals between the ages of 13 and 18 to operate their Etsy shop with the help of a parent or legal guardian.
Can a 16 year old sell on Etsy?
Yes, if you're 16, you can sell on Etsy under the supervision of a parent or legal guardian.
Can a 14 year old sell on Etsy?
Yes, if you're 14, you can sell on Etsy under the supervision of a parent or legal guardian.
Who is eligible to sell on Etsy?
If you're over the age of 18, have a valid email, and live in a country that is supported by Etsy, you can become an Etsy seller.
Do I need a license to sell on Etsy?
You need to provide your identification documents, payment information, social security number (if you're an individual), or business registration number (if you're a business)