How to Increase Sales on Etsy: 13 Strategies for 2023 and Beyond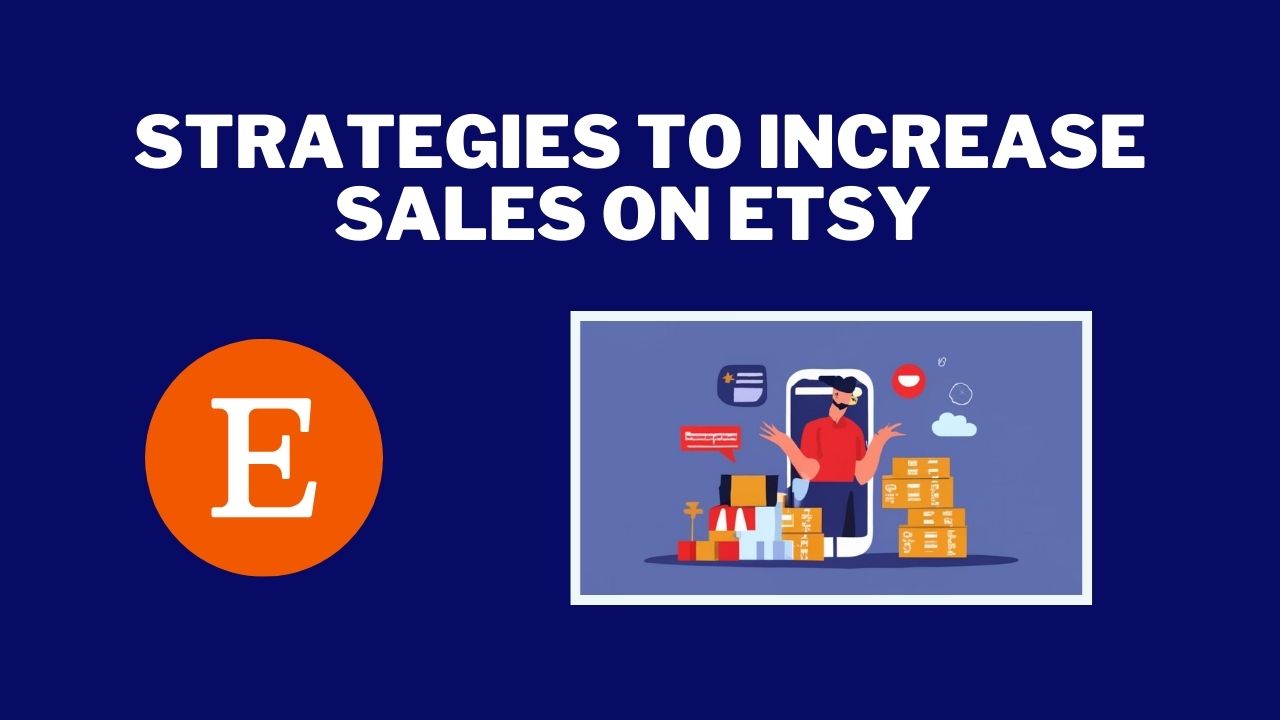 Etsy has found a special place for itself. It's where artists, crafters, and vintage lovers can display their goods. With millions of sellers all trying to get noticed, staying ahead of the game in increasing sales on Etsy is a must.
In this article, we're going to look at 13 tactics to help you sell more on Etsy in 2023 and beyond.
Founded in 2005, Etsy has evolved into a global marketplace where creative individuals can sell their handmade and vintage goods. From handcrafted jewelry to unique home decor items, Etsy caters to a diverse audience seeking one-of-a-kind products.
Best Strategies to Increase Sales on Etsy
For Etsy sellers, increasing sales is not just about profits; it's about sustaining their passion and livelihood.
With the right strategies, Etsy can be a lucrative platform where artisans can turn their creative endeavors into successful businesses.
Here's a sneak peek at the 13 strategies we will delve into:
Optimize Your Etsy Shop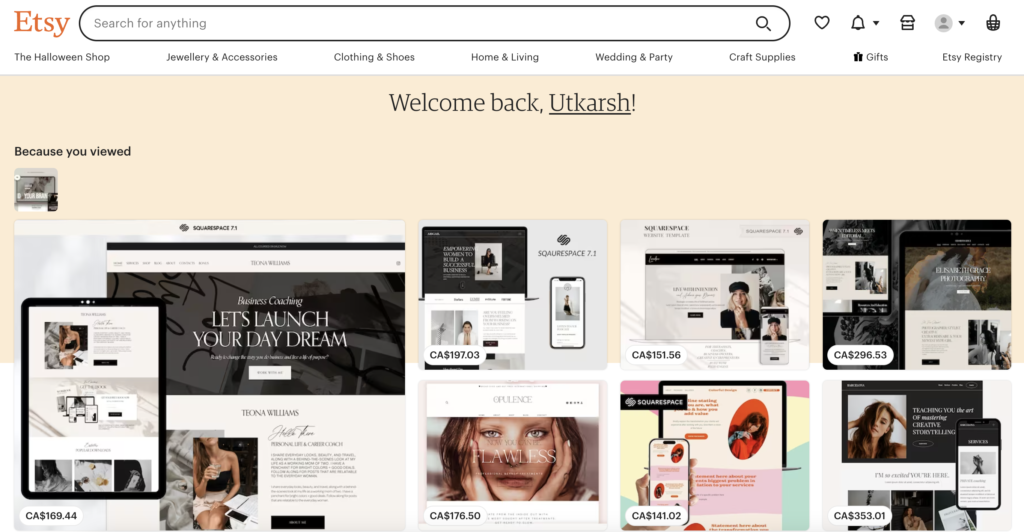 Etsy is a goldmine for creative folks.
It's a place where you can show off and sell handmade or one-of-a-kind stuff.
But here's the deal: to make it big on Etsy, you've got to make your shop super visible and appealing to potential buyers. So, let's check out the must-do things that can take your Etsy shop to the next level.
The Power of High-quality Product Photos
They say a picture is worth a thousand words, which couldn't be truer on Etsy.
When customers can't physically touch your products, your photos become the bridge between their screens and your creations.
Invest in high-quality images that showcase your items in the best possible light. Consider these tips:
Use Natural Lighting
Ensure your products are well-lit with natural light to capture their true colors and details. Avoid harsh shadows or overexposure.
Showcase Multiple Angles
Provide customers with a 360-degree view of your products. Highlight unique features and craftsmanship from various angles.
Crafting Detailed product descriptions
Make sure your description is informative and easy to understand. Paint a vivid picture of what customers can expect when they purchase from you. Here's how to create compelling descriptions:
Tell a Story
Share the inspiration behind your creations or the process of making them. Customers love to connect with the maker's journey.
Highlight Benefits
Explain how your product can solve a problem or enhance the buyer's life. Focus on the benefits rather than just listing features.
Call-to-Action
Create a persuasive call-to-action to guide the viewer to take an action you desire which is in most cases buying the product.
Building Consistent Branding
Branding is the heart of your Etsy shop. It conveys your shop's personality and values. Consistency is the key to success. Here's what you should consider:
Logo and Banner
Create a memorable logo and banner that reflect your brand's identity. Ensure they are visually appealing and recognizable.
Brand Voice
Maintain a consistent tone in your product descriptions and shop policies. Whether it's friendly, professional, or quirky, stick to it
Mastering Keyword-Rich Titles and Tags
To ensure your products appear in relevant Etsy search results, optimize your titles and tags with relevant keywords. Here's how:
Keyword Research
Identify popular search terms related to your products and incorporate them into your titles and tags.
Long-Tail Keywords
Consider using long-tail keywords for better specificity. They can attract customers looking for precisely what you offer.
Offer Unique and Trendy Products
To thrive in this dynamic marketplace, the essential path to success involves presenting products that are both one-of-a-kind and currently in vogue. This strategy will undoubtedly set you apart and help you shine amid the competition.
Market research and trend analysis
Why It Matters
Before diving into your Etsy venture, thorough market research is crucial. This involves understanding your target audience, their preferences, and their shopping behaviors. Trend analysis complements this by keeping you informed about what's currently hot in the market.
Practical Steps
Identify Your Target Audience:
Start by defining your ideal Etsy customer. Consider demographics, interests, and shopping habits. This knowledge will help tailor your product offerings.
Competitor Analysis:
Study successful Etsy shops within your niche. What are they doing right? What trends are they capitalizing on?
Keyword Research:
Utilize Etsy's search function and tools like Google Keyword Planner to identify popular search terms and trends relevant to your products.
Niche-specific products
The Niche Advantage
Etsy thrives on uniqueness. Rather than trying to cater to a broad market, consider specializing in a niche. Niche products often attract a dedicated and passionate customer base.
Finding Your Niche
Passion and Expertise:
Choose a niche that aligns with your interests and expertise. Your passion will shine through in your products.
Market Gaps:
Identify gaps in the market where your unique offerings can fill a need.
Test and Adapt:
Don't be afraid to experiment with different niches on Etsy until you find the one that resonates most with your skills and audience.
Limited edition or custom items
The Allure of Limited Editions
Limited edition products create a sense of urgency and exclusivity. Etsy shoppers often appreciate one-of-a-kind or hard-to-find items.
Incorporating Customization
Customization Options:
Offer customization to allow shoppers to tailor products to their preferences. This personal touch can foster a strong emotional connection between buyers and your brand.
Limited Release Events:
Periodically release limited edition or seasonal collections to generate excitement and anticipation among your customers.
Storytelling:
Share the story behind each limited edition or custom item. Customers love to know the inspiration and craftsmanship that go into their purchases.
Pricing Strategies
Determining the right price for your products or services is a complex art. It involves analyzing various factors such as production costs, market demand, and consumer willingness to pay. Striking the perfect balance can make or break your business.
Pricing strategies are not solely about generating sales; they are about maximizing profits.
Competitive pricing analysis
To perform a competitive pricing analysis, businesses should:
Identify Competitors:
Identify key competitors in your industry or market segment.
Collect Pricing Data:
Gather pricing information from competitors, including their regular prices, discounts, and any bundle deals.
Analyze Pricing Strategies:
Evaluate your competitors' pricing strategies. Are they using cost-based pricing, value-based pricing, or something else?
Compare Features and Quality:
Compare your product's or service's features and quality with those of competitors to understand how your offering stacks up.
Pricing Positioning:
Determine where your pricing falls relative to competitors. Are you positioning your offering as premium, budget-friendly, or somewhere in between?
Bundle deals and discounts
Product Bundling:
Bundle related products or services together at a discounted price. For example, a "starter kit" that includes multiple items at a lower total cost than buying them individually.
Volume Discounts:
Offer discounts based on the quantity purchased. The more a customer buys, the bigger the discount.
Seasonal Discounts:
Create limited-time offers tied to specific seasons or holidays to entice customers.
Promo Codes and Coupons:
Provide customers with special coupon codes that grant discounts during checkout.
Loyalty Programs:
Reward repeat customers with discounts or exclusive bundle deals to encourage loyalty.
Free shipping options
Minimum Purchase Requirement:
Offer free shipping on orders that meet a minimum purchase threshold, encouraging customers to buy more.
Membership Programs:
Create a membership or subscription program that includes free shipping as a benefit. Customers pay a recurring fee for this privilege.
Limited-Time Promotions:
Periodically run promotions where all orders receive free shipping for a set duration.
Product-Specific Free Shipping:
Offering free shipping on specific products or categories can attract attention to those items.
Geographic Restrictions:
Limit free shipping to certain geographic regions or locations to manage shipping costs.
Customer Service Excellence
Great customer service is crucial for successful businesses. It's not just about selling things; it's about making strong connections with customers. In a time when people have many choices, good customer service can make them stick with your brand.
One big reason for this is that good customer service builds a good reputation for your brand. When customers get quick and friendly help, easy returns, and sincere thank-yous, they are more likely to tell others about your brand.
Prompt and friendly communication
The Power of a Smile in Customer Service
In the world of customer service, a smile is a universal language. Even in digital interactions, conveying warmth and positivity through written communication can greatly make customers feel valued.
Quick Response Times: Keeping Customers Engaged
In a fast-paced world, customers expect quick responses to their inquiries. Timely responses not only keep customers engaged but also prevent frustration and the possibility of them turning to competitors.
Handling Challenging Situations Gracefully
Not every customer interaction will be smooth sailing. When problems arise, how you handle them can define your brand. Going the extra mile to resolve issues can turn a disgruntled customer into a loyal one.
Easy return and exchange policies
Building Trust with Hassle-Free Returns
Customers appreciate hassle-free returns. It builds trust and removes the fear of making a purchase. A transparent and straightforward return policy reassures customers that their satisfaction is your priority.
Streamlining the Return Process
Efficiency matters when it comes to returns. Streamlining the process and minimizing bureaucratic hurdles make customers more likely to return for future purchases.
Offering Flexible Exchange Options
Providing various exchange options, such as size or color swaps, shows your commitment to meeting customer needs. It's a testament to your brand's flexibility and dedication to customer satisfaction.
Personalized thank-you notes
Going the extra mile to show gratitude can leave a lasting impression on customers. Sending personalized thank-you notes or emails after a purchase, along with a genuine expression of appreciation, adds a personal touch to the transaction.
It makes customers feel like they are getting more than just a sale, fostering a sense of loyalty.
Utilize Social Media
Instagram, Pinterest, and TikTok promotion
Instagram: Instagram is a visual platform, so focus on creating eye-catching and engaging content. Use high-quality images and captions that resonate with your target audience. Utilize Instagram Stories and Reels for short, attention-grabbing videos. Make use of relevant hashtags to increase your post's discoverability.
Pinterest: Pinterest is all about visuals and inspiration. Create visually appealing pins that showcase your products or services. Organize your pins into themed boards that align with your brand. Use keyword-rich descriptions to make your content discoverable through search. Consider running paid advertising campaigns on Pinterest to boost visibility.
TikTok: TikTok is known for short-form video content. Create fun and engaging TikTok videos that highlight your products or services. Use trending sounds and challenges to reach a wider audience. Collaborate with TikTok influencers who can create authentic content related to your brand. Don't forget to engage with your audience through comments and duets.
Collaborations with influencers
Identify Influencers:
Research and identify influencers in your niche or industry who have a strong following and align with your brand values. Look for those whose audience matches your target demographic.
Reach Out:
Send personalized messages or emails to the influencers expressing your interest in collaboration. Clearly outline the terms of the collaboration, such as compensation, deliverables, and timelines.
Authentic Content:
Allow influencers creative freedom to promote your products or services authentically. Authenticity is critical to building trust with their followers.
Track and Measure:
Monitor the performance of the influencer campaign using metrics like engagement, reach, and conversions. Adjust your approach based on the results.
User-generated content
Encourage UGC:
Prompt your customers or followers to create content related to your brand. This can be done through contests, challenges, or simply by asking for their opinions and experiences.
Share UGC:
Once you receive UGC, share it on your social media profiles, giving credit to the creators. UGC not only serves as an authentic promotion but also engages your community.
Create a Hashtag:
Develop a unique hashtag for your brand or campaign and encourage users to use it when posting UGC. This makes it easy to track and showcase user-generated content.
Legal Considerations:
Be sure to have clear guidelines and permissions for using UGC. Make sure you have the right to distribute and advertise content that has been developed by others.
Etsy Advertising
Etsy Advertising is a platform that allows sellers to create and manage advertising campaigns to increase the visibility of their listings. The Etsy ads appear both on Etsy's search results pages and on other Etsy listings.
Sponsored listings
With Sponsored Listings, sellers can pay to have their products prominently displayed at the top of Etsy's search results when shoppers use specific keywords or search terms. This helps increase the chances of potential customers discovering their products.
Targeted campaigns
Etsy provides the option to create targeted advertising campaigns. Sellers can choose specific keywords, demographics, and other criteria to narrow down their target audience. This helps ensure that their ads reach the most relevant and potential customers.
Budget management
Sellers can set daily or monthly budgets for their advertising campaigns on Etsy. This allows them to control how much they spend on advertising and avoid overspending. Etsy provides tools and metrics to monitor the performance of these campaigns, helping sellers adjust their budgets as needed.
Expand Product Listings
Expanding product listings on platforms like Etsy is a strategic way for sellers to attract more customers and boost etsy sales. Here are some key aspects to consider when expanding your product listings:
Add complementary products
Enhance your product listings by suggesting complementary items that go well together. For example, if you're selling a coffee maker, you could include coffee beans, mugs, or a coffee grinder as complementary products. This encourages customers to purchase multiple items from your store, increasing your average order value.
Seasonal variations
Depending on your niche, you may want to offer seasonal variations of your products. For instance, if you sell clothing, you can introduce winter, spring, summer, and fall collections. Seasonal variations keep your product offerings fresh and relevant, catering to changing customer preferences throughout the year.
Multiple variations of a product
Some products come in various sizes, colors, or configurations. Create multiple product listings for these variations to make it easier for customers to find exactly what they're looking for. This also allows you to highlight the unique features of each variation and provide detailed information.
Shipping Optimization
Shipping optimization is crucial for eCommerce businesses, including those on platforms like Etsy.
Fast and reliable shipping options
Offering fast and reliable shipping options can significantly enhance the customer experience and encourage repeat business. Consider partnering with reputable shipping carriers that offer expedited shipping services. Make sure to communicate the estimated delivery times clearly in your product listings.
International shipping
Expanding your reach to international customers can broaden your customer base. Etsy provides tools to enable international shipping.
Be sure to research international shipping rates, customs regulations, and any additional paperwork required for specific countries. Accurate shipping costs and delivery times should be displayed for international buyers.
Tracking and delivery notifications
Provide tracking numbers for all shipped orders and enable delivery notifications if possible. This helps customers stay informed about the status of their packages and reduces inquiries about order status. Many shipping carriers offer online tracking services, which you can integrate into your Etsy store.
Customer Reviews and Feedback
Customer reviews and feedback are essential for the success of your Etsy shop. They provide valuable insights and can influence potential buyers' decisions. Here's how to effectively manage reviews and feedback:
Encourage reviews
After a successful transaction, consider sending a polite message to the customer, thanking them for their purchase, and kindly requesting a review. Etsy provides an automated review reminder that you can enable in your settings.
Offer exceptional customer service and high-quality products to increase the likelihood of positive reviews naturally.
Address negative feedback professionally
Respond promptly and professionally to negative feedback. Keep your response polite and constructive. Try to understand the customer's concerns and empathize with their experience.
If the issue can be resolved, offer a solution or a refund. This demonstrates your commitment to customer satisfaction. Avoid confrontational or defensive responses, as they can escalate the situation.
Implement the suggested improvements
If customers provide constructive feedback or suggestions for improvement in their reviews, take these seriously. Use this feedback to enhance your products, services, or store policies.
You can also communicate with the customer directly to express your appreciation for their input and inform them of any changes you've made based on their feedback.
Etsy SEO
Etsy SEO (Search Engine Optimization) is crucial for increasing the visibility of your products on the platform and attracting more potential customers.
Continuous keyword research
Start by researching relevant keywords for your products. Consider using tools like Etsy's search bar, Google Keyword Planner, or third-party SEO tools to identify popular search terms related to your niche.
Pay attention to long-tail keywords (phrases with three or more words) that are specific to your products. These can help you target a more niche audience.
Keep an eye on trending keywords and seasonal trends, as they can impact the demand for certain products.
Product listing optimization
Craft compelling product titles that include relevant keywords. Ensure the title is descriptive and accurately represents your item.
Write detailed product descriptions that highlight the key features, benefits, and uses of your product. Incorporate keywords naturally into the description.
Use all available tags and categories that are relevant to your product. Etsy allows multiple tags, so use them wisely to cover various keyword variations.
Upload high-quality images that showcase your product from different angles and in various settings. Clear and appealing photos can attract more clicks and sales.
Price your products competitively and offer competitive shipping options if possible.
Monitoring and adjusting strategy
Regularly monitor the performance of your listings. Etsy provides data on views, clicks, and conversion rates for each listing in your shop.
Analyze the effectiveness of your chosen keywords by tracking which ones are driving the most traffic and sales.
Keep an eye on your competitors. Observe their product listings and pricing strategies to stay competitive.
Periodically update your listings. Refreshing your titles, descriptions, and tags can help boost your product's visibility in search results.
Experiment with different keywords and strategies to see what works best for your shop. Etsy's A/B testing feature can be helpful for this purpose.
Try EverBee to plan your EverBee SEO strategy
Analyze Data and Metrics
Analyzing data and metrics is crucial for the success of your Etsy shop. It helps you understand your shop's performance, identify areas for improvement, and make informed decisions.
Etsy's shop analytics
Etsy provides a built-in analytics tool that offers valuable insights into your shop's performance.
Access your shop's analytics by logging into your Etsy Seller account and navigating to the "Shop Manager" dashboard.
Key metrics to track in Etsy's Shop Analytics include:
Traffic Sources: Understand where your shop visitors are coming from, whether it's from Etsy's search, external websites, or social media platforms.
Listing Performance: Analyze the views, clicks, and conversion rates for each listing to identify which products are popular and which may need optimization.
Revenue and Sales: Keep a close eye on your sales trends, revenue, and average order value.
Customer Behavior: Explore customer behavior in your shop, such as favorite items and abandoned carts, to improve your marketing and customer engagement strategies.
Google Analytics integration
Consider integrating Google Analytics with your Etsy shop for more in-depth data analysis. While Etsy's built-in analytics are helpful, Google Analytics provides additional insights and customization options.
To integrate Google Analytics, create a Google Analytics account and follow the instructions to set up tracking for your Etsy shop. You'll need to add your unique tracking code to your Etsy shop settings.
With Google Analytics, you can track user behavior, e-commerce data, and advanced metrics like bounce rates, session durations, and conversion funnels.
Google Analytics can also help you understand the effectiveness of your marketing campaigns, such as social media or email marketing, in driving traffic and more sales to your Etsy shop.
Sales trends and performance reviews
Regularly review your sales trends and performance data to make data-driven decisions.
Look for patterns and trends in your sales data. Are there specific times of the year when sales peak? Are certain products consistently top sellers?
Monitor your inventory levels to ensure that you have sufficient stock of popular items.
Keep track of customer reviews and ratings. High ratings and positive reviews can boost your shop's credibility and attract more customers.
Identify areas where you can optimize your shop based on the data. For example, if you notice that certain listings have high views but low conversions, consider improving the product descriptions or pricing.
Stay Updated with Etsy Policies
Read and understand Etsy's policies
Begin by thoroughly reading Etsy's Seller Policy, which outlines the rules and guidelines for operating a shop on the platform. This policy covers important topics like prohibited items, intellectual property, and acceptable shop behavior.
Familiarize yourself with Etsy's Seller Guidelines, which provide further clarification on best practices for sellers.
Pay special attention to Etsy's policies on prohibited items, as listing or selling such items can lead to account suspension or removal from the platform.
Etsy also has specific policies for different types of products, such as vintage items, handmade goods, and digital downloads. Make sure you understand and adhere to the relevant policies for your shop.
Compliance with regulations
Beyond Etsy's policies, ensure that your shop complies with relevant local, national, and international regulations.
If you sell handmade or vintage items, make sure they meet the criteria outlined in Etsy's policies for these categories.
If you sell internationally, be aware of customs regulations, import/export restrictions, and tax obligations that may apply to your products.
Stay informed about any industry-specific regulations that pertain to your products, such as safety standards for children's toys or labeling requirements for cosmetics.
Adapt to policy changes
Etsy periodically updates its policies to address changing marketplace dynamics and regulations. It's essential to stay informed about these updates and adapt your shop accordingly.
Subscribe to Etsy's seller newsletters and announcements to receive notifications about policy changes and important updates.
When Etsy introduces policy changes, take the time to review them carefully. Consider how these changes may affect your shop and make any necessary adjustments to stay in compliance.
If you have questions or concerns about specific policy changes, you can reach out to Etsy's customer support or consult Etsy's Seller Policy Help Center for guidance.
Conclusion
Boosting Etsy sales can be tricky if you're not applying the correct strategies. Focus on improving your shop, offering unique products, and providing excellent customer service to create a compelling shopping experience.
Utilize digital marketing, advertising, and strategic pricing to reach a broader audience. Staying adaptable in the evolving e-commerce landscape is essential for long-term success on Etsy. With dedication, these strategies can boost sales and result in sustained growth in your Etsy business.
How ro Increase Sales on Etsy: FAQs
Is it essential to use professional photography for Etsy products?
Using professional photography for your Etsy products is highly recommended because high-quality images can significantly impact your shop's success. Here's why:
First Impressions: Your product photos are often the first thing potential buyers see. High-quality images create a positive first impression and can convince customers to click on your listings.
Showcasing Details: Professional photos can capture the details, colors, and textures of your products accurately. This helps customers get a better understanding of what they're purchasing.
Trust and Credibility: Professional-looking photos convey trust and credibility. They show that you've invested time and effort into presenting your products well, which can make customers more confident in buying from you.
Competitive Advantage: In a crowded marketplace like Etsy, professional photography can help your products stand out from the competition. Eye-catching images are more likely to capture the attention of potential buyers.
Social Media Marketing: High-quality images not only enhance your Etsy listings but also work well for promoting your products on your social media accounts. Consistency in image quality across different platforms can build brand recognition.
How can I compete with other sellers on Etsy?
Competing effectively on Etsy requires a combination of strategies:
Unique Products: Offer products that stand out from the crowd. Consider your niche, target audience, and trends to create items that are unique or have a distinctive twist.
Excellent Customer Service: Provide outstanding customer service, including quick responses to inquiries, addressing customer concerns, and ensuring a smooth buying experience. Positive reviews can boost your shop's reputation.
Effective Marketing: Promote your Etsy shop through various channels, such as social media, email marketing, and paid advertising if your budget allows. Utilize Etsy's advertising options as well.
Optimized Product Listings: Use descriptive titles and detailed product descriptions with relevant keywords to improve your visibility in Etsy's search results.
Competitive Pricing: Research your competitors' pricing and offer competitive prices without compromising your profit margins.
Quality Photos: As mentioned earlier, use professional-quality images to showcase your products attractively.
Consistency: Maintain a consistent brand image and product quality to build trust with customers.
Should I offer free shipping on Etsy?
Offering free shipping can be a strategic choice to attract more buyers, as many customers prefer it. However, it's essential to consider the following:
Costs: Factor in the cost of shipping into your product prices or absorb it if you can do so while maintaining profitability.
Competitive Analysis: Research what other sellers in your niche are offering. If many competitors offer free shipping, consider doing the same to stay competitive.
Etsy's Search Algorithm: Etsy often promotes listings with free shipping, so it can improve your visibility in search results.
Customer Expectations: Be transparent about shipping costs, whether they're included in the product price or not, to manage customer expectations.
What's the significance of Etsy SEO?
Etsy SEO, or Search Engine Optimization, is crucial because it determines how easily potential customers can find your products on Etsy's platform. Here's why it's significant:
Visibility: Effective SEO helps your products rank higher in Etsy's search results when customers look for items related to yours. This increases the visibility of your shop.
Relevance: Etsy's search algorithm considers various factors, including product titles, tags, and descriptions. Optimizing these elements with relevant keywords ensures your listings are shown to the right audience.
Competitive Advantage: Well-optimized listings can give you an edge over competitors who may not be as diligent with their SEO efforts.
Traffic and Sales: Higher visibility leads to more traffic to your shop, potentially resulting in increased sales and revenue.
Customer Experience: When your products are accurately represented in search results, it helps customers find what they're looking for, leading to a better shopping experience.
How can I measure my Etsy shop's success?
Measuring your Etsy shop's success involves tracking various metrics:
Sales: Keep a record of your sales revenue, both daily and monthly, to understand your shop's overall performance.
Reviews: Monitor customer reviews and ratings. Positive reviews indicate customer satisfaction, while negative ones can highlight areas for improvement.
Traffic and Views: Use Etsy's analytics tools to track how many people visit your shop and view your listings. This data can help you assess the effectiveness of your marketing efforts.
Conversion Rate: Calculate the percentage of visitors who make a purchase. A higher conversion rate indicates that your shop is effective at turning visitors into customers.
Profit Margins: Analyze your expenses and profit margins to ensure that your shop is financially sustainable.
Return on Investment (ROI): Evaluate the effectiveness of your marketing campaigns by measuring the ROI. Determine which marketing channels bring the most sales.
Inventory Management: Keep track of your inventory to ensure you have enough stock to meet demand without overstocking.
Customer Retention: Assess how many customers return for repeat purchases. Building a base of loyal customers is a sign of a successful shop.
Growth: Set goals for your shop's growth and track your progress toward achieving them.