9+ Best YouTube Idea Generator: I Tested Them All 2023
Are you having a hard time coming up with eye-catching video ideas for your YouTube channel?
Every minute, YouTube receives over 500 hours of newly uploaded video content! It is easy to get lost in the crowd.
YouTube idea generators can help you come up with an amazing content plan to increase your viewership.
I have conducted comprehensive research and tested some of the best YouTube idea generators on the market.
In this article, we will provide in-depth reviews of these tools to help you with your YouTube journey.
What is a YouTube Idea Generator?
YouTube is the largest video platform with a huge library of content.
It is important that you create catchy and engaging content to get viewers to click on your videos. 
YouTube is a great platform to build an audience and a personal brand.
This is where YouTube Idea generators come in. It helps you come up with ideas for videos.
YouTube idea generators provide you with content ideas based on search volume and competition. It is important to create content that people are looking for. 
It can be a great resource to find inspiration and new ideas to take your YouTube channel to the next level.
What are the best YouTube Idea Generator Tools?
Let us have a look at the best YouTube idea generators.
We looked at many YouTube idea generators, took our time to personally test them, and came up with this list.
I will give you my honest opinion on these tools. Separately, these tools are great, but you can use some of them together and create wonders. I'll show you how to do that and what results it created.
Find out which tool is right for you and your YouTube venture.
Jasper AI
Copy AI
Writecream
TubeBuddy
Rytr
VidIQ
AnswerThePublic
Google Trends
Social Blade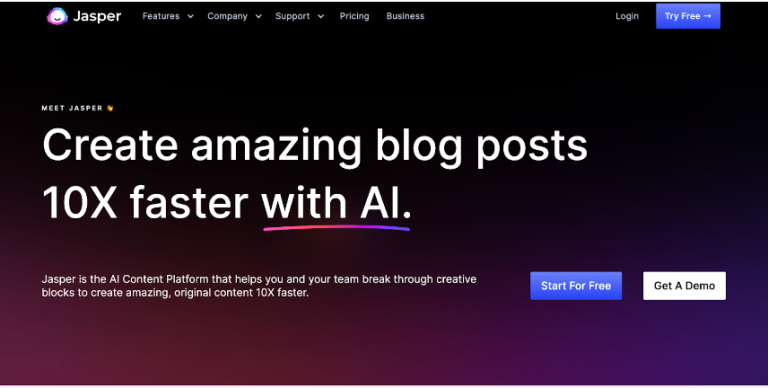 Overview
Jasper AI is an AI-powered writing tool that uses advanced algorithms and prompts from the user to generate high-quality content for you.
It can help you create blog posts, articles, and other types of content in minutes. The tool is easy to use and requires no technical knowledge.
Highlights
Jasper is a comprehensive platform for generating video ideas that provide an array of features to create exceptional and unique content.
The platform includes several features, such as tools for developing characters, a narrative generator, and a paragraph generator template.
There are over 50 writing templates available, including the powerful Creative Story feature, to help creators choose the best fit for their content.
The platform is easy to use, accessible through any web browser, and user-friendly even for non-technical users.
The content produced by Jasper is high-quality, intriguing, and easily comprehensible.
Jasper is an ideal tool for both experienced content creators and beginners who want to take their video ideas to the next level.
Jasper AI offers two plans. The plans start from $82/month. You can save 17% on the annual plan.

Overview
Copy AI is revolutionizing content creation for YouTube creators who aim to differentiate themselves. Our advanced AI technology lets you generate exceptional video titles and descriptions quickly that captivate the audience.
With its state-of-the-art machine learning and AI features, you can produce professional-level content in no time. No more writer's block, and endless opportunities to unleash your creativity with Copy AI.
Highlights
Copy AI offers a user-friendly interface that simplifies the content creation process.
The freestyle function lets users direct the AI to create content on any topic of their choice, encouraging creativity.
Copy AI can be integrated into business workflows with an extension that allows simultaneous use of Google Docs and Gmail, streamlining operations.
Users can choose from different output length options to tailor content to their needs, whether they require shorter or longer output.
Copy AI utilizes plagiarism detection technology to ensure the originality and uniqueness of the content, instilling trust in the tool's reliability.
Copy AI offers a free plan and a pro plan. The plans start from $36/month.

Overview
Writecream is a highly efficient AI tool that can help you generate digital marketing content with ease.
With the help of this software, you can swiftly create website content, personalized materials for different audiences, and social media posts. Moreover, Writecream can assist you in brainstorming video ideas and titles, among other things.
In addition, the tool enables you to explore a wide range of YouTube topics, such as hacking, animals, challenges, fitness, music, and more.
Highlights
WriteCream's AI Article Writer feature enables the quick creation of lengthy content like articles and video scripts, with the ability to write a 1000+ word article in under 30 minutes.
The Social Media Engine, powered by AI, can be used to generate ideas for videos and social media posts.
Unique introductions for cold outreach initiatives like connection requests on LinkedIn, backlinks, and cold emails can be made using WriteCream.
Human-sounding icebreakers personalized for specific prospects can be created to enhance customization efforts.
By using an online video, any blog post can be transformed into a voice-over or podcast with a human voice, with access to 40+ voices with multilingual support.
Pricing
Writecream offers a free version with limited features. Their premium plans start from $29 per month Unlimited for a limited period and standard plan at $49 per month and Extended plan at $69 per month.

Overview
TubeBuddy is a browser extension that helps YouTubers optimize their channels for growth. It provides a list of potential video ideas based on your channel and target audience.
TubeBuddy offers a suite of tools for YouTubers to optimize their channels for growth. The Idea Generator tool helps YouTubers generate new video ideas based on their niche and target audience.
Highlights
Generates video ideas based on your niche and target audience
Utilize the Tag Explorer function for conducting keyword research and optimization
Offers a variety of keyword and tag suggestions to optimize your videos
Provides data-driven insights to help grow your channel
Analyze performance across all channels and obtain practical recommendations
Conduct A/B testing for YouTube videos utilizing the built-in feature
Utilize pre-designed professional end screen and annotation templates
Analyze competitor performance by tracking and evaluating their content
Optimize videos with advanced SEO and metadata optimization techniques
Access specialized productivity tools for YouTube, such as video manager and bulk processing
Customize branding watermark and end screen to suit your needs
Ensure YouTube certification and safety for secure usage.
Pricing
The paid plans start at $3.50/month. There are monthly and annual plans available and you get a 20% discount currently on annual plans.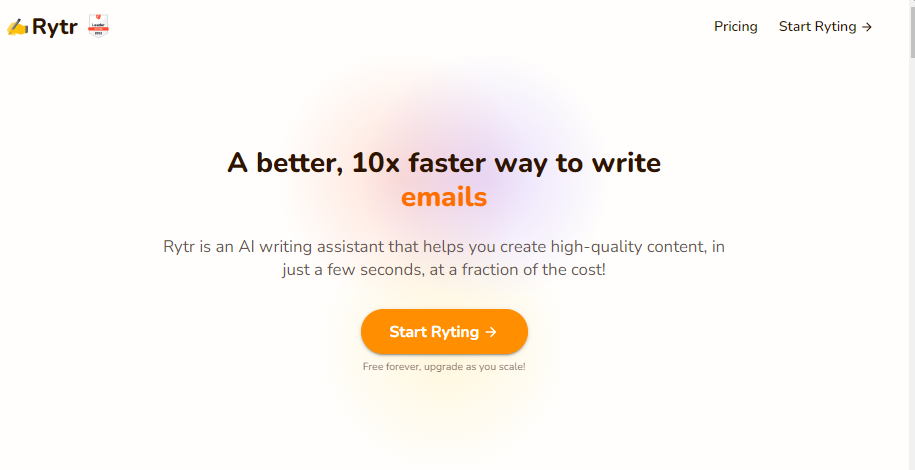 Overview
Rytr's platform makes it effortless for you to explore fresh and thrilling video concepts. Its cutting-edge AI copywriter creates fascinating and compelling video ideas, titles, and subjects that are bound to engage your intended viewers.
Furthermore, Rytr has an additional capability that enables you to produce superior video descriptions that will captivate your subscribers and maintain their engagement.
Highlights
Rytr allows users to choose from six different creative levels, providing flexibility in selecting whether they want the AI to be imaginative or adhere strictly to provided data in generating content.
The Rytr extension enables writing from any location and on any website, including popular platforms like Google Docs, WordPress, and social media.
Rytr's AI-powered writing tool has more than 20 writing tones available, ranging from casual to professional, humble, and urgent, producing content that suits the user's preferred style.
Creating content in over 30 languages with Rytr expands your audience globally, making it a versatile content creation tool for people worldwide.
Rytr offers monthly and yearly subscription plans, starting from $9 per month on the saver plan and $29 per month on the unlimited plan. There is also a 2 months free offer. There is also a free plan with limited features.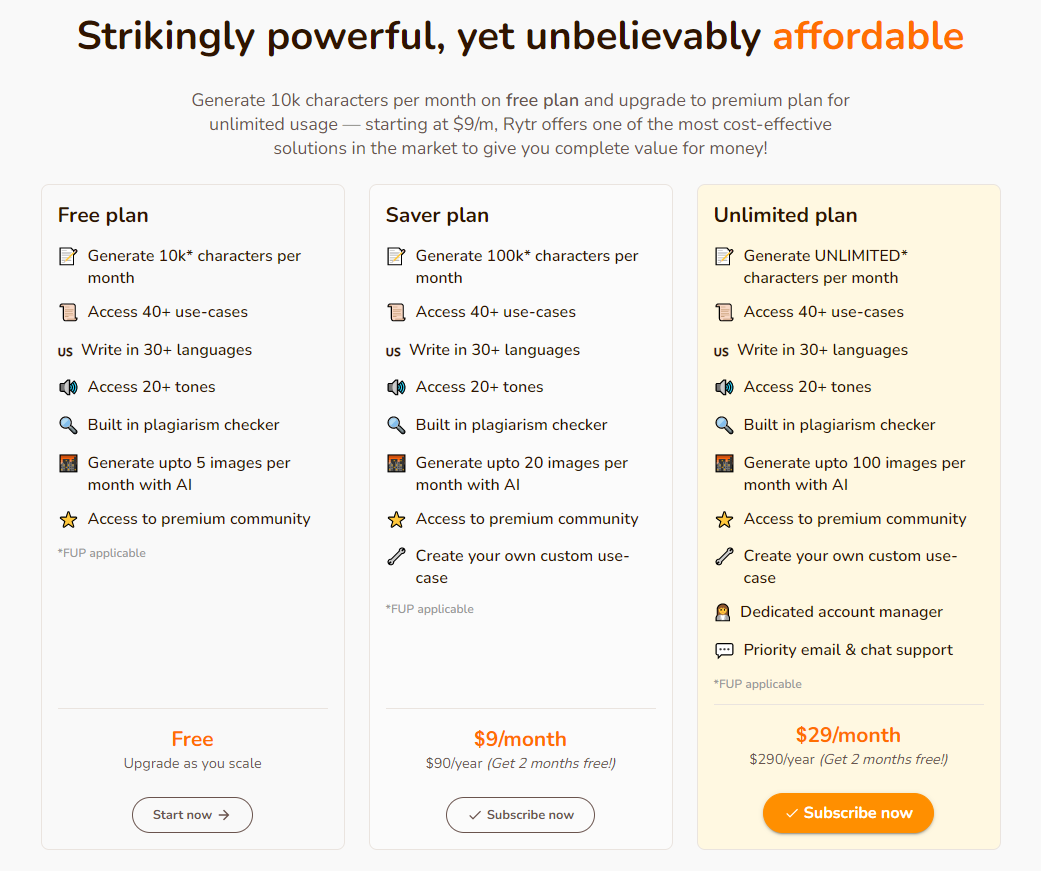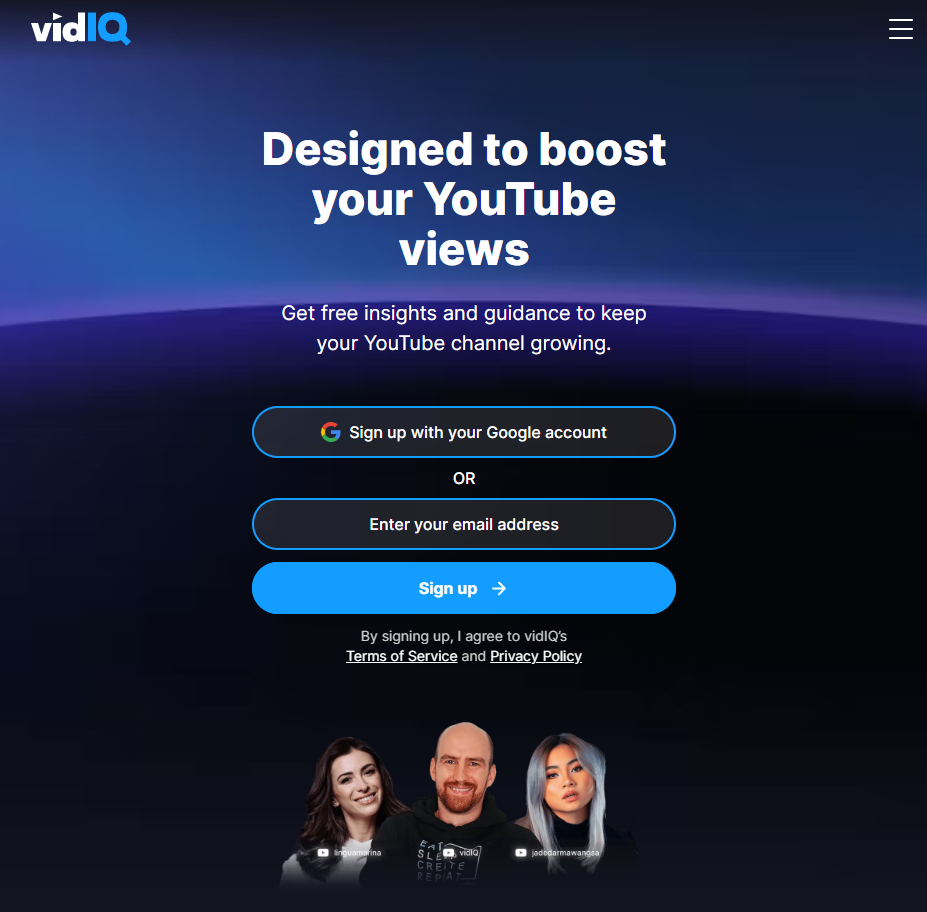 Overview
VidIQ is a state-of-the-art tool for YouTube content creators who want to enhance their channels and generate more video ideas. Integrating cutting-edge technology with human knowledge, can enhance productivity and amplify viewership.
With its extensive range of YouTube SEO features, it makes it simple for you to create search-engine-optimized titles, tags, and descriptions, helping your videos to gain more visibility and reach a broader audience.
Highlights
VidIQ provides powerful keyword research capabilities to help you discover the best keywords to use for your videos and stay up-to-date with trending video ideas.
With VidIQ's comprehensive SEO features, you can optimize your YouTube videos for search engines and reach a broader audience, equipping you with the necessary tools to outrank your competitors on YouTube.
Analyzing your competitors' trending content with VidIQ helps you stay ahead of the game in your niche and adapt your strategy for maximum impact.
VidIQ offers several features, including video analysis, keyword tracking, and competitor research, to help you evaluate your video performance and identify opportunities for improvement.
Pricing
Free and paid plans are available, with the paid plans starting at $7.50/month.

Overview
AnswerThePublic is a keyword research tool that helps YouTubers find new content ideas based on popular questions and phrases in their niche.
Its visualization tool makes it easy to see what people are searching for and generate new video ideas.
Highlights
Generates content ideas based on popular questions and phrases in your niche
Offers a visual representation of the data to make it easy to understand
Provides data-driven insights to help optimize your content for growth
Free and paid plans are available, with the paid plans starting at $9/month. Get 7-day free trials.

Overview
Google Trends is a free tool that provides insights into the search behavior of Google users.
It helps creators identify trending topics and popular search terms, which can be used to create engaging video content.
Additionally, it provides data on the popularity of keywords, allowing you to create videos that are optimized for search.
Highlights
Helps discover popular search terms and topics
Provides real-time data
Offers insights into audience behavior
Helps optimize content for SEO
Pricing
Google Trends is completely free to use.

Overview
Social Blade is a social media analytics tool that helps you track your Youtube channel's performance.
It provides data on the number of subscribers, views, and engagement for any YouTube channel, making it easy to identify popular video topics and creators in your niche.
You can use Social Blade to analyze your channel's growth, track your competitors, and identify new opportunities for content creation.
Highlights
Social media analytics tool
Tracks channel growth and performance
Provides insights into audience demographics
Helps identify new content opportunities
Offers competitor analysis
Social Blade is free to use, but they also offer premium plans starting from $3.99 per month.
Best YouTube Idea Generator Tools: Frequently Asked Questions
Q: What is a YouTube video idea generator tool?
A: A YouTube video idea generator tool is a tool or software that provides content creators with ideas for creating videos on YouTube. These tools help creators brainstorm ideas for video topics, titles, descriptions, and keywords.
Q: How does a YouTube video idea generator work?
A: YouTube video idea generator tools work by analyzing the performance of other YouTube channels and videos in your niche. They provide data on keywords, search terms, and trending topics, allowing creators to create videos that resonate with their audience.
Q: What are some popular YouTube video idea generator tools?
A: Some popular YouTube video idea generator tools include TubeBuddy, VidIQ, Google Trends, AnswerThePublic, and Social Blade.
Q: What features do YouTube video idea generator tools offer?
A: YouTube video idea generator tools offer a range of features, including keyword research, competitor analysis, video optimization, analytics, and personalized content suggestions.
Q: Can YouTube video idea generator tools help me grow my channel?
A: Yes, YouTube video idea generator tools can help you grow your channel by providing you with ideas for creating engaging and relevant content that resonates with your audience. They can also help you optimize your videos for search and improve your channel's performance.
Q: Are YouTube video idea generator tools free?
A: Some YouTube video idea generator tools are free, while others require a subscription or one-time payment. The features and capabilities of each tool can vary, depending on the pricing model.
Q: Can I use multiple YouTube video idea generator tools?
A: Yes, you can use multiple YouTube video idea generator tools to maximize your content creation efforts. Combining the features of multiple tools can help you get more ideas and insights into your audience's preferences and behavior.
In Conclusion
Using YouTube Idea Generator tools can help content creators and businesses come up with fresh video ideas.
The tools listed in this blog provide features such as keyword research and trending topics to create engaging content.
By incorporating these tools, channels can stay relevant and attract more viewers in 2023 and beyond. Give them a try to boost your video content.