How To Build An Audience From Scratch in 2023 
Have you ever tried building an audience without much luck?
Nowadays, it has become extremely difficult to capture the attention of people.
There are a ton of creators pumping out content fighting for eyeballs. And with the increasing use of AI, people are creating at a much faster rate.
However, this also means that when you do build a loyal audience, it is worth a lot more in this environment.
In this article, I will talk about different strategies I have learned and used over the years to build an audience for myself and my clients.
Why Build An Audience?
A loyal following is pretty much like a superpower these days.
If you have an audience, you can launch a new business with just a tweet and get your first customers.
If you're an entrepreneur, content creator, or a brand, an engaged audience can help you grow your operation.
It also provides you with an opportunity to network with like-minded people and explore new opportunities!
Strategies For Building An Audience
People often think that going viral is complete luck but there is a bit more that goes into it.
Obviously, there is no guarantee that any content you make will go viral but you can greatly increase the likelihood of it happening.
Here are some of the strategies I follow and recommend to build a solid and engaged audience:
Pick a Niche & Platform
When building an audience, one of the most important decisions you make is the niche you want to target and the platform for your content.
Your niche can be a reflection of your personal interests and areas you believe offer opportunities.
Identifying your target audience and narrowing down your niche is like laying the foundation for a successful journey.
Whether you're aiming to start a blog, a YouTube channel, or any other form of content creation, specificity is your friend.
It is important to know who you want to reach and what you want to provide them with.
In this video, Gary Vee talks about how your niche is who you are and emphasizes focusing on your interests when picking a niche.
In this video, Matt Diggity shows us how he searches for profitable niches for affiliate marketing. He takes a more data-driven approach:
In my opinion, a combination of these approaches is the way to go. Being in a niche you're not interested in can be tiresome. Whereas, picking a niche you like but which doesn't have much monetizability won't give you the results you want either.
When it comes to selecting a platform, you need to consider the preferences and behavior of your target audience.
Do they prefer visual content on YouTube, bite-sized information on Twitter, or in-depth articles on a blog?
Different platforms have their unique advantages and marketing strategies.
For instance, if you're passionate about food and your target audience loves video content, a YouTube channel could be your golden ticket.
On the other hand, if you like writing and want to explore detailed topics, starting a blog might be the way to go.
Create Amazing Content Regularly
To keep your audience engaged and eager for more, you must create content consistently.
Regularity in content creation is a fundamental aspect of audience growth.
Why is it so crucial?
Well, think of your favorite TV show or the social media accounts you follow; what keeps you coming back for more is the expectation of fresh and exciting content.
The same principle applies to your content—consistency builds anticipation.
Whether it's social media posts, YouTube videos, or blog articles, your audience needs to know that they can rely on you for valuable and engaging content on a regular basis.
Here are two key tips to help you maintain consistency:
Establish a Content Calendar: A well-organized content calendar will help you plan your content creation schedule. It allows you to allocate time for brainstorming, creating, and posting your content, ensuring you stay on track.
Plan Your Content in Advance: Planning your content in advance helps you tackle creative blocks and ensure you can continue publishing content. Remember, the quality of your content is extremely important so you need to make sure that the quality doesn't suffer.
Outsource and Scale: If you have the budget, outsourcing repetitive tasks can help you scale your content creation. A higher content publishing velocity can do wonders for your growth.
Here is a graph comparing the impressions for my website for June 2023 and July 2023:
The solid line shows the impressions for June and the dotted line shows the impressions for July.
As you can see, my website performed much better in July and grew much faster.
The biggest difference here is how often I was posting:
2 posts in June
2 posts per week in July
Collaborate With Other Creators
Collaboration is a powerful catalyst for audience building.
Working with other creators allows you to expand your reach and tap into new audiences.

Collaboration can include co-hosting a podcast, participating in joint YouTube videos, guest posting on each other's blogs, and social media takeovers.
A great example is one of my favorite comedians, Andrew Schulz. He hosts one of the most popular podcasts, Flagrant with other comedians.
The Flagrant crew often has guests on their podcast and appears on other podcasts as well.
This allows them to reach new audiences and has resulted in amazing growth.
By combining their expertise and creating content that appeals to both their target audiences, they expand their reach and strengthen their online presence.
Collaboration can take many forms and plays a big part in content marketing, from a blog post on another website for Search Engine Optimization to audio content, etc.
Going to networking events to meet like-minded individuals is a great way to expand your network.
This is something I often try to take advantage of. Consider using a digital business card to make it easy for you to share your contact details.
Some of my favorite business cards are:
Build Your Brand
When building a thriving audience, people often overlook building their personal brand.
How often have you been asked what you do by someone you meet? Is this a question you have struggled to answer?
Your brand is not just about logos, headshots (although those are important), or slogans; it's the essence of what you represent and the value you bring to your audience.
Your personal brand statement should clearly define your unique voice, perspective, and mission.
Remember, not everyone is your target audience, and that's perfectly fine.
In fact, honing in on your brand will allow you to make deeper connections with a smaller audience with higher engagement rather than trying to appeal to everyone.
Here are a few tips to help you build an effective brand:
Define Your Unique Value: What sets you apart from others in your niche? Identify your unique perspective, strengths, and what you can offer to your audience.
Be Consistent: Consistency in your messaging, visual identity, and content style helps reinforce your brand in the minds of your audience.
Engage and Interact: Interact with your audience, respond to comments, and engage in meaningful conversations to foster a sense of community and trust.
Building your brand takes time, but the benefits are immense. It allows you to connect with a large audience of like-minded individuals who resonate with your message and values.
A good example of a solid personal brand is Shaan Puri.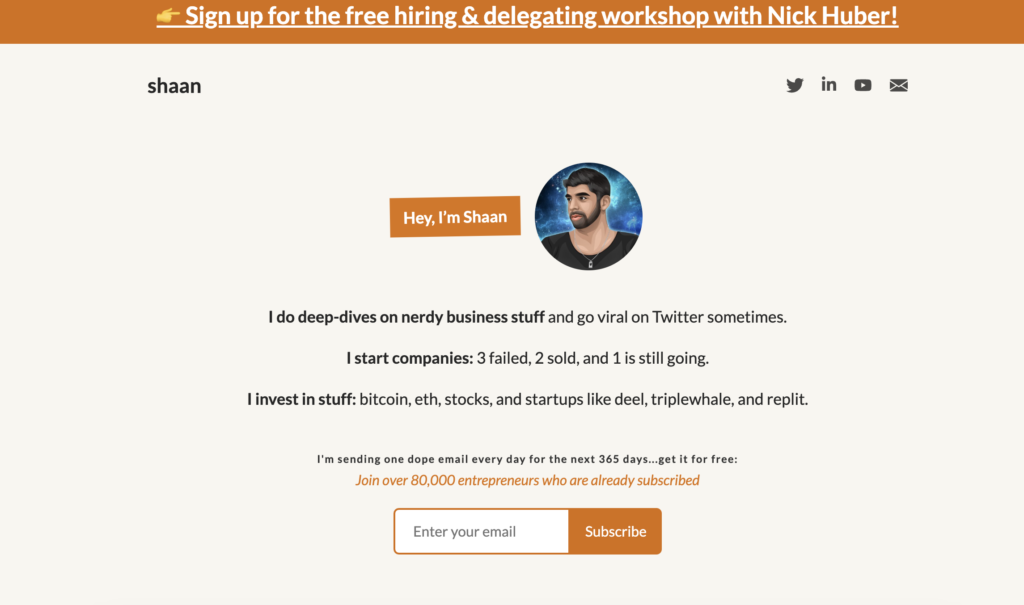 He is an entrepreneur and investor who has founded and sold multiple startups and hosts a podcast (My First Million) with Sam Parr.
The podcast talks about business ideas and frameworks that are useful for current and aspiring entrepreneurs.
His audience consists mostly of people who are involved with startups or hope to start their own businesses.
He has a much smaller audience compared to many other creators but it is a very valuable group of people. This is because Shaan is a trustworthy figure in the startup world and his audience has very similar interests.
This makes him a great candidate for sponsors as they can get access to an audience who has a comparatively high net worth and similar interests.

Repurpose Content for Different Platforms
Content creation is an extremely dynamic space and the more content you can create the better your edge is.
For example, breathing new life into your popular videos by creating clips doesn't just allow you to create more content but also provides viewers with more access points to you.
A great example of this is how Shaan Puri and Sam Parr repurpose their podcast episodes for My First Million into clips and videos for other channels.
They record audio and video for their podcast episodes. They post the audio of podcast platforms and the video on YouTube. Also, they post shorter clips from these episodes on platforms like Instagram, TikTok, and YouTube shorts.
Repurposing your well-received videos for different platforms is a game-changer with several benefits.
Extended Reach: Transforming your videos into diverse formats allows you to reach audiences across various platforms. What works on YouTube might resonate differently on Instagram or TikTok, widening your audience.
Catering to Different Preferences: Every platform has its unique user behavior. Repurposing content enables you to tailor your message to suit the preferences of each platform's audience, ensuring maximum engagement.

Time and Energy Efficiency: Utilizing existing popular videos as a foundation saves time and energy while maintaining the quality that resonates with your audience initially.
Benefits of Building an Audience
Building an audience isn't necessarily about getting a bunch of followers.
It's more about creating an asset that can evolve into a solid business model. Your engaged audience is like a diversified savings account that offers more than just social currency.
Some of the major benefits of building an audience are:
Monetizing Your Content: A loyal following allows you to monetize your content through different channels like sponsored posts, affiliate marketing, or even launching your products.
Product and Service Launches: Your audience's trust is a solid foundation for introducing your products or services. Whether it's an e-book, online course, or physical merchandise, a supportive audience can turn these ventures into successful businesses.
Collaborations and Partnerships: An engaged community can open doors for collaborations and partnerships. This can not only expand your reach but also create additional revenue streams.
Diversifying Platforms: Beyond your initial platform, consider expanding to other mediums. A successful YouTube channel could lead to podcast opportunities, blog features, or even live events, providing avenues for further growth.
Final Thoughts
Building an audience can be your to entrepreneurial and financial success.
But more importantly, it offers you the ability to start new ventures with much less fiction.
This can give you a sense of safety. You can lose businesses or money but if you have access to a loyal business you can always make a comeback.
A solid audience is one of the greatest assets you can build as an entrepreneur and I recommend everyone to learn the skills needed to do so.