EverBee Etsy SEO Tool: Full Review 2023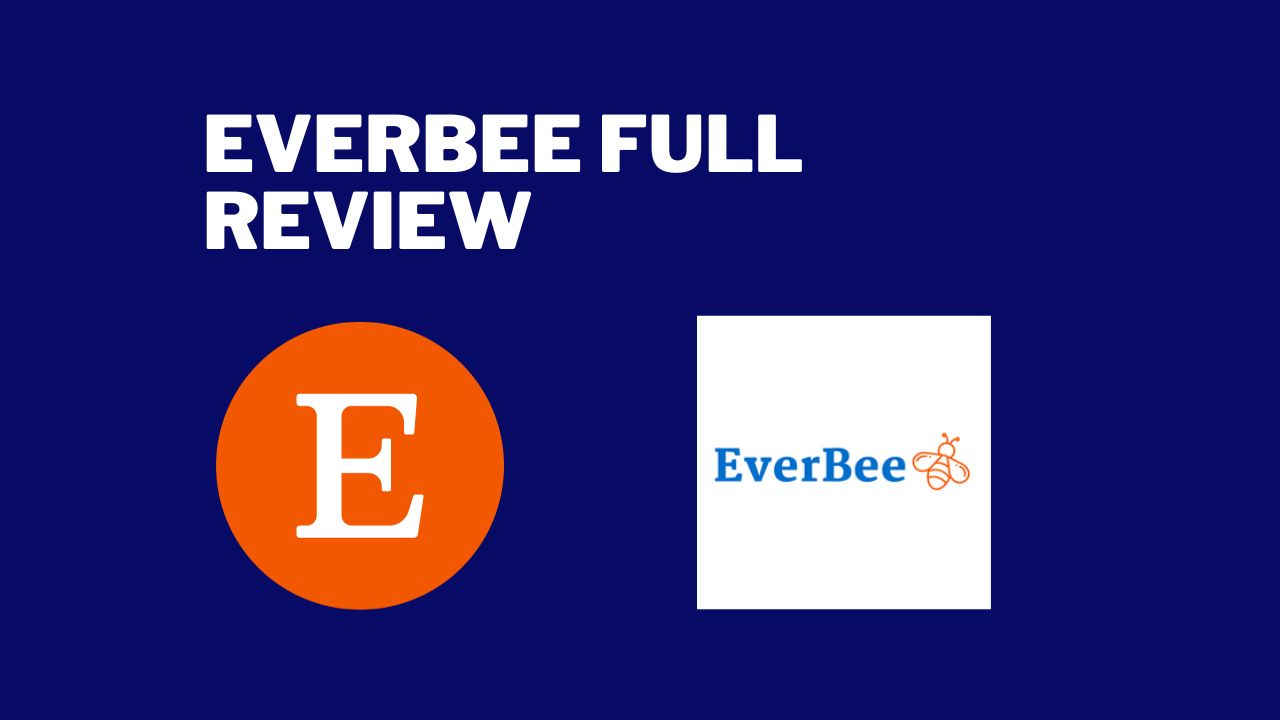 Tired of your Etsy shop feeling like a digital ghost town?
Standing out in this competitive market can be difficult for new Etsy sellers.
The foundation of a successful Etsy business is strong keyword and product research. So, I have gone ahead and reviewed EverBee to make your life easier.
Buckle up and get ready to take a deep dive into our EverBee review and discover everything it has to offer and how it can help you take your Etsy shop to the next level.
What is EverBee?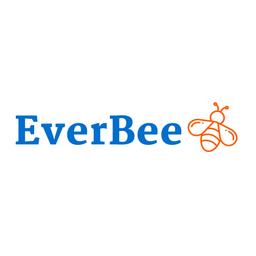 EverBee | Overall Rating 9/10
UI: 10/10
Features: 10/10
Pricing: 8/10
Support: 8/10
Imagine you're an Etsy shop owner, eager to understand what's selling like hotcakes and what's not. EverBee offers you a crystal-clear view of the Etsy landscape. It's like having a trusted advisor at your side, helping you navigate the e-commerce waters.
EverBee is a comprehensive product analysis tool for Etsy that allows sellers to find opportunities and ways to optimize their existing Etsy listings.
Users can leverage EverBee to conduct keyword research, revenue analytics, search for product ideas, and much more. It will allow you to make data-driven decisions to increase your Etsy sales.
EverBee's main function is to give you insights into the Etsy marketplace. You can enter keywords related to your product and it will show you details on listings related to that keyword.
You can see data like estimated revenue, traffic, and other analytics. This data can guide you through the marketplace's twists and turns.
You can see how your competitors are performing and find gaps in the market to exploit for your business.
How Does EverBee Work?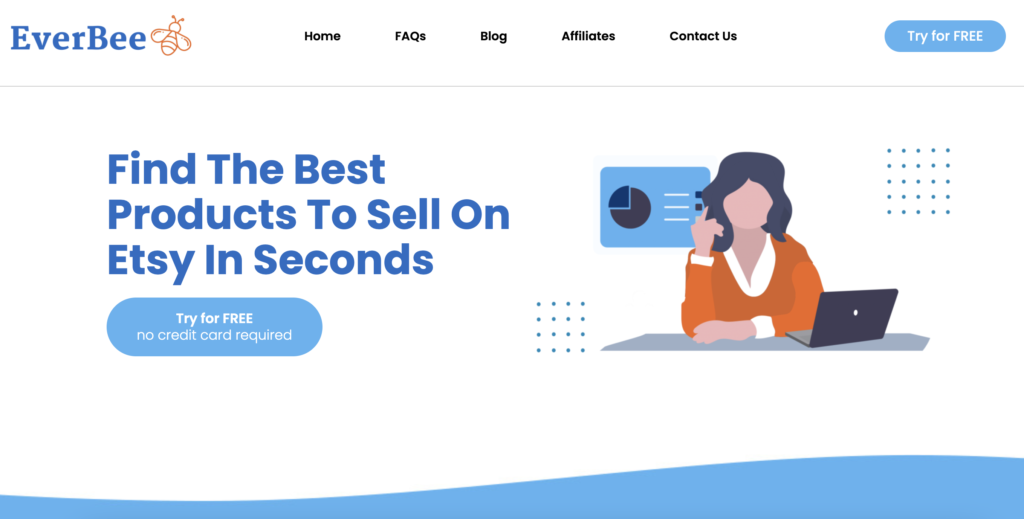 EverBee is a powerful Etsy analytics tool that simplifies the complicated process of running an Etsy business. Here is a breakdown of how it works:
Chrome Extension Integration: Etsy sellers can easily integrate EverBee into your existing Etsy shop using the Chrome Extension. The EverBee Chrome extension will help you directly get insights into products and listings on the Etsy platform
Time-Saving: You can save tons of time using EverBee as it organizes useful data for you while also giving you insight into what's in demand. So, you don't waste your time making products no one wants.
Efficient Product Research tool: EverBee's product and keyword research tool allows you to conduct in-depth product research to find opportunities and see why current sellers are successful.
Revenue Analytics: With EverBee, you can find out how much a particular listing is earning. This can help you with market research by providing you with new ideas to optimize your own listings.
EverBee Tools:
Chrome Extension: You can add EverBee to your browser and get important insights into products and listings while browsing Etsy.
Web Tool: With EverBee's web tool, you can conduct in-depth product research and use EverBee's suite of tools to build your Etsy marketing strategy.
What is Etsy SEO?
When buyers start their journey on Etsy, they typically start looking for products through its search bar.

Etsy SEO (Search Engine Optimization) refers to the art and science behind optimizing your Etsy listings so they appear high in the search.
Keyword research is at the core of Etsy SEO. EverBee gives you all the tools you need to optimize your listings to help you climb up those rankings.
EverBee In-Depth Review
Now that we have a basic understanding of what EverBee is and how it can help your Etsy business, let's take a deep dive into what it offers.
We will be taking an in-depth look into the different features and how they fit in the big picture. So, let's dive in.
Dashboard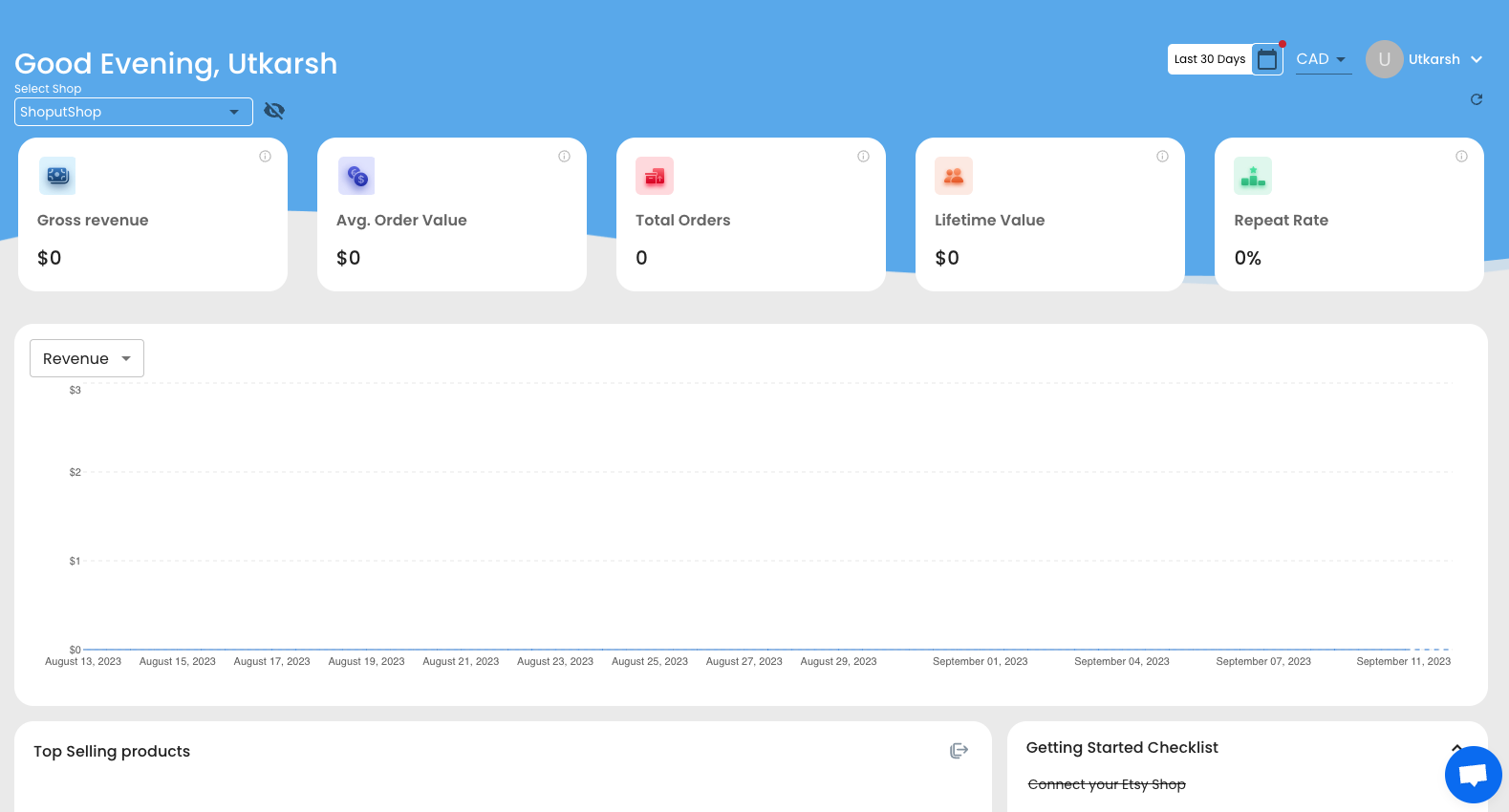 The EverBee dashboard gives you a quick overview of your Etsy store. You can easily connect your Etsy account with EverBee and get access to your store-related data.
The dashboard shows you the following metrics:

Gross revenue
Average order value
Total orders
Lifetime value
Repeat rate
You can also see your most recent reviews, and upcoming holidays and EverBee also has a news section that displays articles that are relevant for Etsy sellers.
Sales Channel
EverBee allows you to connect with multiple Etsy shops. Etsy sellers with multiple shops can easily switch between these shops or "sales channels" to track your performance.
Here is a video tutorial to show you how to connect more than 1 Etsy Shop with your EverBee account:
EverBee Etsy Product Analytics Tool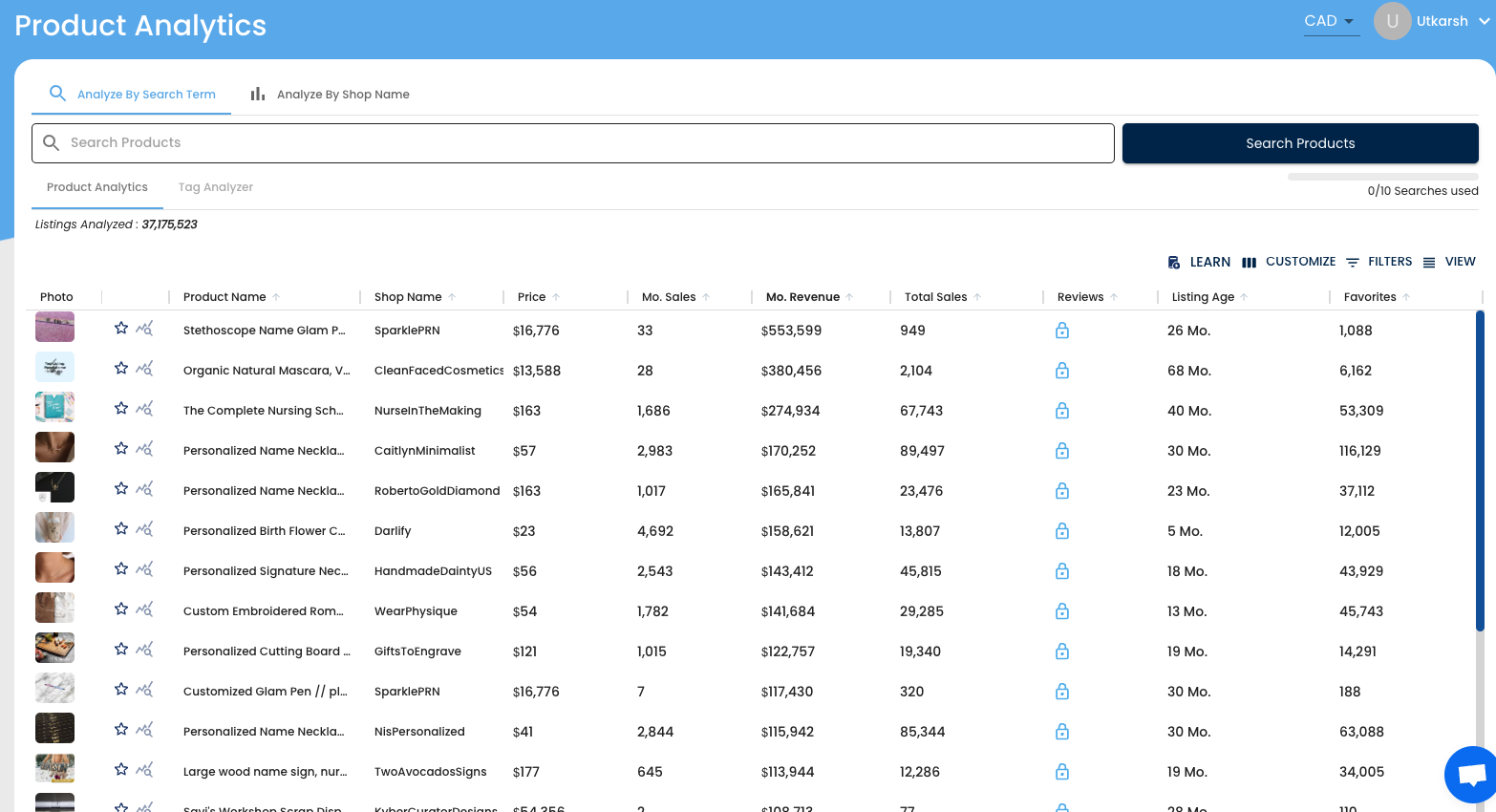 Etsy shop owners need to understand what's hot in the marketplace to make the decisions that will help them build a profitable business.
EverBee's product analytics tool helps you gain crucial insights into your competitors' performance and the broader Etsy landscape. It is one of the most powerful tools offered by EverBee.
Here's a closer look at the features:
Analyze Competitor Performance:
If you've ever wondered what's making your competitor's products tick, EverBee's Analytics tool provides you with the answers. You can track metrics like total Etsy sales, average prices, customer reviews, and more.
Data-Driven Decision Making:
With EverBee, you can get into the weeds of things and discover patterns and trends that will help you make informed decisions. This way you won't waste time on products that don't have any demand and focus on things that will move the needle for your business.
Market Saturation Analysis:
With EverBee, you can extend your analysis to find out whether a certain product category is saturated. This data is invaluable for creating a killer product lineup.
How To use EverBee Etsy Product Analytics Tool
Using EverBee is extremely easy. When you are using Etsy's Search to view listings, EverBee will display stats for that specific listing.
You can take this one step further and asses an entire shop's performance using the shop Analyzer tool. This allows you to get insights into how a shop is performing, which can be especially helpful for determining the direction of your business.
EverBee Keyword Research Tool
EverBee's keyword research tool is the perfect way to find product and tag ideas for your shop. It is a great research tool as it allows you to discover what people are searching for and what the competition is like for a particular keyword.
You can see the following metrics for your keyword research:
Search volume: This is the estimated monthly searches for a specific keyword.
Competition: This is the number of other Etsy listings that are targeting this keyword.
Keyword Score: The keyword score shows you how lucrative a keyword can be based on the competition and the search volume. This is the ratio of the search volume and competition. The higher the score, the better the keyword is.
My Listings
With EverBee's My Listings feature you can keep track of all your listings. You see all relevant stats related to your listings individually and overall. Some of the key metrics are:
Average Total Sales
Average Price
Average Views
Average Favorites
Average Reviews
Average Conversion Rate
Listing Rank Tracker
It is important to note that this feature is not available with the free version of EverBee.
The Listing Rank Tracker tool helps you monitor and improve rankings for your product listings for specific keywords over time.
You can keep track of 100 listings and see where the listing is ranking for different keywords. You will be able to see how your listing is performing.
This can be massively useful as you can evaluate changes you make to your listing by tracking the performance after these changes.
Here is a video to show you how to use the listing rank tracker tool to your advantage:
Trademark Monitor
EverBee's trademark monitor is designed to help you search for any potential copyright infringements that your listing could cause.
This tool scans your listing against a database of known trademarks to see whether any keywords or tags added to your listing are trademarked.
When you run the scan, you will be able to see which listings of yours may have potential copyright infringements. You can find more information on these copyrights and trademarks by visiting the uspto.gov website with just a click through the Trademark Monitor tool.
You see the following information in the tool:
Listings scanned
Listings with alerts
Total alerts
Etsy Calculator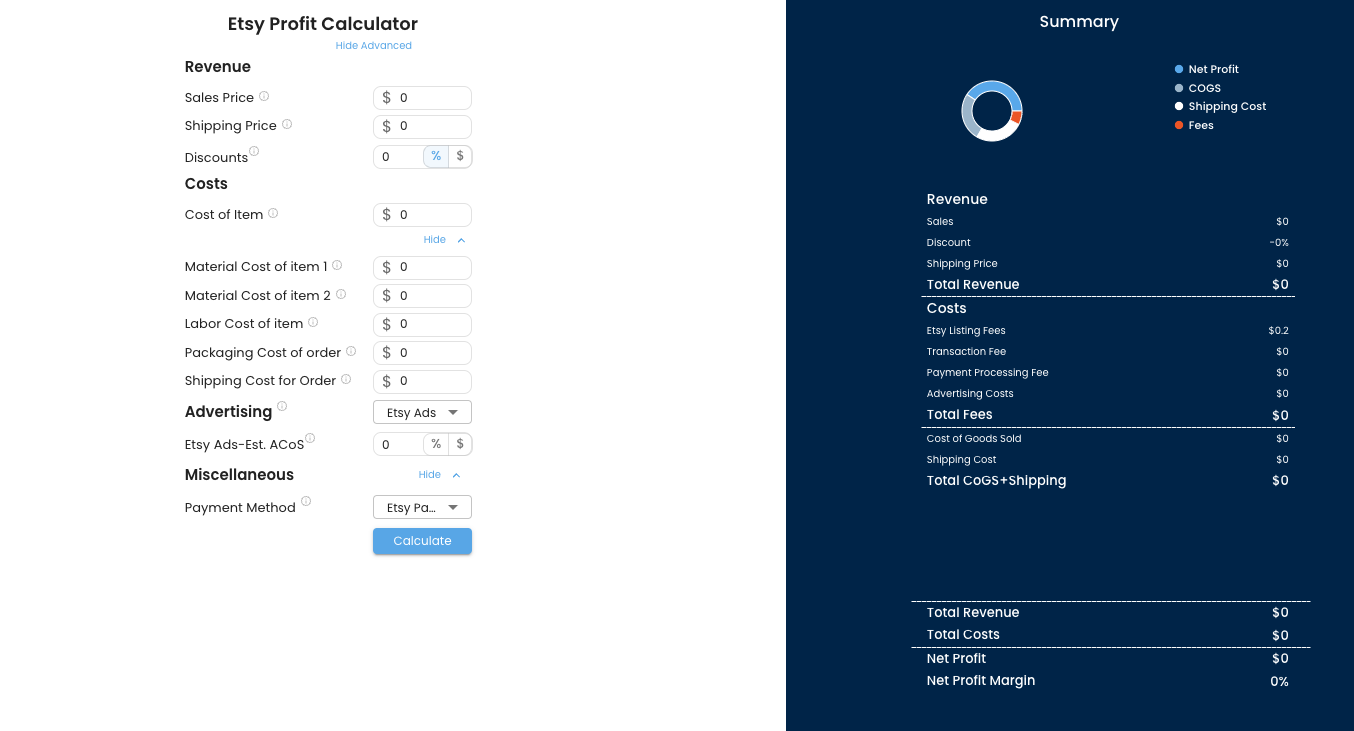 The Etsy Profit calculator is exactly what it sounds like. It allows you to enter data related to your product to calculate how much profit you'll make per sale. This can help you calculate your estimated monthly revenue and come up with a better pricing strategy.
You can add information like:
Sales Price
Shipping Price
Discounts
Cost of Item

Material cost of items
Labor cost of items
Packaging cost of order

Shipping Cost for Order
Advertising Costs
Payment methods
Once you've entered all this information you can see a complete breakdown of your total revenue, costs, shipping, net profit, and margin.
Here is a video tutorial on how to use the calculator tool:
EverBee Pricing
EverBee offers a free tier and two paid plans. Here is a break down of you each of these plans offer:
| Hobby Plan (Free Tier) | Pro Plan ($7.99/month) | Growth Plan ($29.99) |
| --- | --- | --- |
| | | |
| 10 Analytics Searches per month | 30 Analytics Searches per month | Unlimited Analytics Searches per month |
| Revenue Analytics | Revenue Analytics | Unlimited Revenue Estimates |
| Tags Analytics | Tags Analytics | Unlimited Listing Tags per month |
| | | Unlimited Favorites folder uses |
| | | Additional List Data such as Listing Reviews, Processing times, Shipping Location and much more |
| | | Additional Shop Data such as shop age, shop review count, and much more |
EverBee Pricing Breakdown
Everbee Customer Support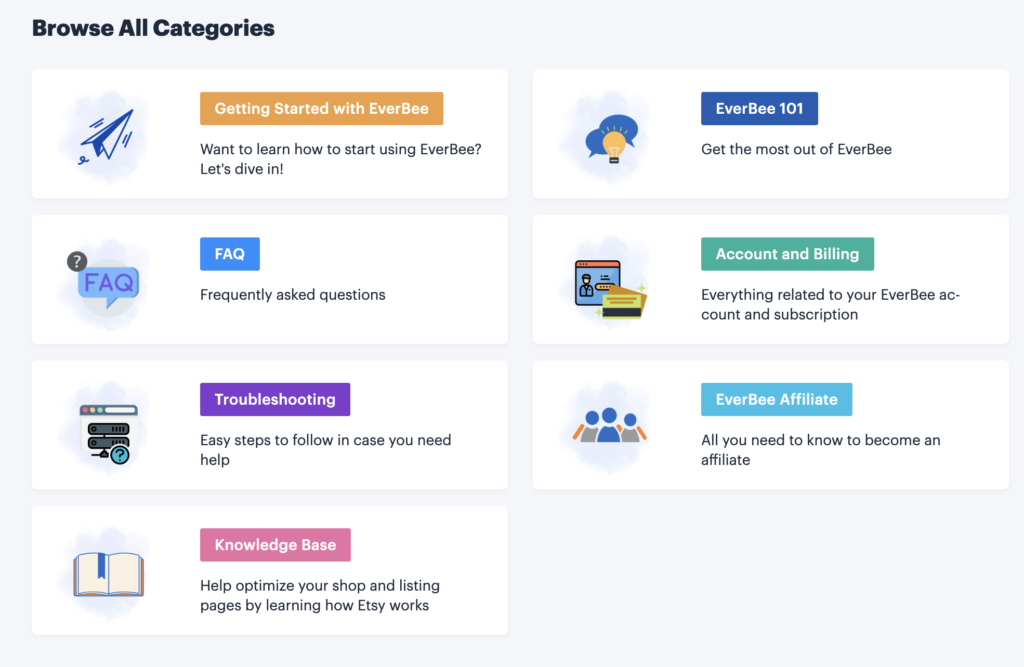 EverBee offers a comprehensive knowledge centre which has a ton of resources to help you with your EverBee related questions. They offer in depth tutorials to use different features, instructions on setup, FAQs, and much more.
Here are the categories they cover:
Getting started with EverBee: Instructions on setting up EverBee.
EverBee 101: Tutorials on how to use different features within EverBee.
FAQ: Answers to frequently asked questions.
Account and Billing: Information related EverBee account and subscriptions.
Troubleshooting: Information on troubleshooting common issues you might run into.
EverBee Affiliate: Everything about becoming an EverBee affiliate.
Knowledge Base: Resources to help you grow your Etsy business.
They offer a great knowledge centre but if you need to speak with a real person you will need to submit your question along with your contact information to find an answer.
You can't get on a call with a customer support representative.
Everbee Pros and Cons
Pros
Efficient Market Research:
EverBee streamlines the research process for Etsy sellers. It provides valuable insights into product performance, search trends, and competitor data, saving time and effort.
Data-Driven Decision:
With access to analytics on product listings and competitor performance, EverBee helps sellers make informed, data-driven decisions for their Etsy strategy.
Keyword Optimization:
The tool helps users identify high-performing keywords and tags, improving the visibility of their listings in Etsy search results.
Competitor Analysis:
EverBee's ability to track competitors' rankings and strategies allows sellers to stay competitive and adapt their own approaches accordingly.
Browser Extension:
The Everbee extension seamlessly integrates into the Etsy browsing experience, making it convenient to access market insights while searching for products.
Free Plan:
EverBee offers a free plan with basic features, making it accessible to Etsy sellers with different budget constraints.
Cons
Limited Free Feature:
The free plan is beneficial but has limitations compared to the paid plans. Users may need to upgrade to access advanced features and data.
Estimates Not Always Accurate:
EverBee relies on estimates for certain data, such as revenue and search volume, which are not always accurate. Users should be cautious when making decisions based solely on these estimates.
Learning Curve:
New users may require some time to fully grasp the tool's features and functionality, particularly if they are new to Etsy SEO and analytics.
Data Availability:
The availability of certain data points and features can vary depending on the plan, which might limit access to crucial information for some users.
EverBee Alternatives:
If you're looking for the best tool to help you run your Etsy business, there are a ton of options in the market for you.
There are some solid alternatives to EverBee that you can use. Many of these tools offer similar features but also there are some things that make them unique. Here's a quick overview:
EverBee Vs eRank
ERank and EverBee are very similar. Some of the key features of eRank are:
Bulk Rank Checker
Keyword Tool
Listing Audit
Tag Report
EverBee Vs EtsyHunt
EtsyHunt is another Etsy tool to help you optimize your shop. But they do offer great pricing and some unique features you don't see everywhere:
Inactive Etsy Products: This shows you product listings that are inactive. This is a great way of seeing things that are out of stock maybe because they are selling very well.
Etsy Product Database: EtsyHunt claims it's the largest database of its kind. Pretty cool.
Etsy Shop Database: You guessed it, a database of shops on Etsy. You can use to query shops of different types and sizes to get new ideas.
And much more!
EverBee Vs Marmalead
Another solid alternative. It also offers similar features as its counterparts.
EverBee Vs Alura
Alura also offers similar features such as keyword research tool, listing tracker, etc. But it offers some unique features that allow you compare and evaluate different products and listings.
Etsy EverBee Review: Final Thoughts
EverBee is one of the most comprehensive Etsy tools you will find in the market. They offer a complete package when it comes to the tools you need to build a successful Etsy business.
It's a powerful tool to help with your Etsy strategy. And the best part is that you can try it out for free!
The free tier offers some of the basic features to get you started but if you're serious about Etsy, you'll need to upgrade to the premium plans. But the free tier will give you an idea on what to expect with the paid plans.
EverBee: Frequently Asked Questions
What does Everbee do?
EverBee is a powerful research tool designed specifically for Etsy sellers.
It helps you gather valuable insights into your Etsy shop, product listings, and the broader marketplace.
With EverBee, you can access information about your product rankings, keyword performance, competitor analysis, and much more.
It's your go-to companion for optimizing your Etsy shop and boosting your sales.
How much does EverBee cost a month?
EverBee offers different pricing plans to cater to various needs.
They have a free plan with basic features, and their paid plans, such as the Pro and Growth plans, come with more advanced features and capabilities.
These plans are currently priced at:
Pro Plan: $7.99 per month
Growth Plan: $29.99 per month
But the pricing can change over time, so it's a good idea to visit EverBee's website for the most up-to-date information on their subscription plans and pricing.
Is the EverBee browser extension free?
Yes, EverBee provides a free Chrome extension that you can use to access some of its features.
However, for more advanced functionality and access to a wider range of data and insights, you may need to subscribe to one of their paid plans.
What is the best Chrome extension for Etsy?
EverBee is one of the popular Chrome extensions for Etsy, known for its research and analytics capabilities.
However, the "best" extension can vary depending on your specific needs and preferences.
Some other popular Chrome extensions for Etsy include Etsy SEO tools like Marmalead and eRank.
It's a good idea to explore different extensions and choose the one that aligns best with your Etsy business goals.
Is it safe to use EverBee?
EverBee is designed with user privacy and data security in mind.
The tool does not share any personal or shop information.
However, as with any online tool or extension, it's advisable to use caution and follow best practices for online security to protect your Etsy shop and personal information.
Do you need an Etsy shop to use EverBee?
Yes, EverBee is specifically tailored for Etsy sellers, so you need to have an active Etsy shop to make the most of its features.
It's a valuable tool for Etsy shop owners looking to optimize their listings and improve their sales performance.