9 Best AI Resume Builders in 2023 | I Tested Them Myself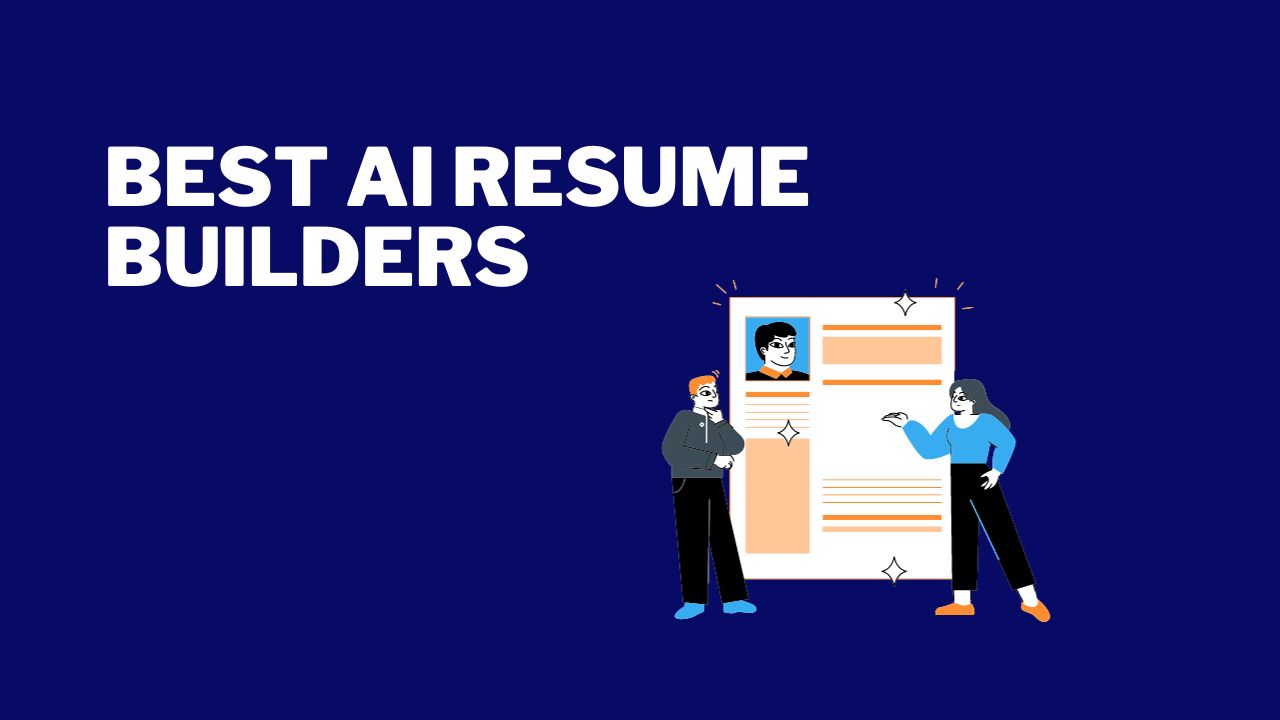 Do you need help putting an amazing resume together to get that next job?
A perfect resume should showcase your personal brand, skills, and strengths to potential employers in a way that paints you as a great candidate for the job. Creating a resume can be stressful and very time-consuming if you're starting from scratch. 
I have tested some of the best AI resume builders on the market to help you choose the one that suits your needs.
In this article, I will be evaluating resume builders on the following criteria:
are they easy to use
do they do a good job of explaining your experience and skills
are they a bang for your buck
and much more
So, let's dive in.
Lamest Blog's Top Choices:
Pick #1
Rezi AI
Rating: 9.5/10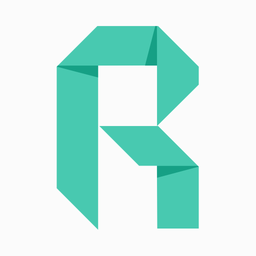 AI Suggestions | Metrics Inclusion | Tailored Resumes
Pick #2
KickResume
Rating: 9/10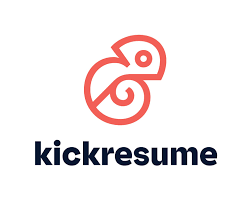 Great UI | Resume Design Customization | Section Reordering
Pick #2
Resume.com
Rating: 8/10
Completely Free | Easy to Use | Limited Templates 🙁
I recommended Rezi AI to my friend Lovdeep Banipal and he has had some great success with his job search. Check out his LinkedIn to see how he's described his experience using Rezi.
What is an AI Resume Builder?
An AI resume builder is a tool that helps users create an effective resume using Artificial intelligence and natural language processing (NLP) technology.
These tools can help job seekers simplify their job search and stand out in the eyes of employers.
You can simply provide your qualifications and experience to an AI resume builder and it will craft a beautiful resume with formatting and further details.
So, if you're struggling to create that perfect resume to get your next job an AI resume builder can be a lifesaver.
What is the Best AI Resume Builder?
Now, let's actually get into the details and find out what's the best resume builder on the market.
I decided to do some research and test over a dozen resume makers to find the best tools I could find.
For each of these tools, I will give you my unbiased opinion based on my experience. I will also show you what the results looked like.
Are you ready to see which resume builders are worth your time?
Let's find out!
Rezi AI
KickResume
Resume.com
Novoresume
Jobscan
Zety
Resumaker.ai
Resume Genius
How I Tested These AI Resume Builders
I searched the internet to find out some of the most popular resume builders on the market.
This allowed me to come up with a list of AI resume builders to test for this article.
I had a list of over a dozen tools that I tested to be able to give you my honest opinion on the tools and their results.
Then I tried creating resumes for myself for each of these tools and tested other features they offered. I then recorded my experience to provide in depth reviews.
Rezi AI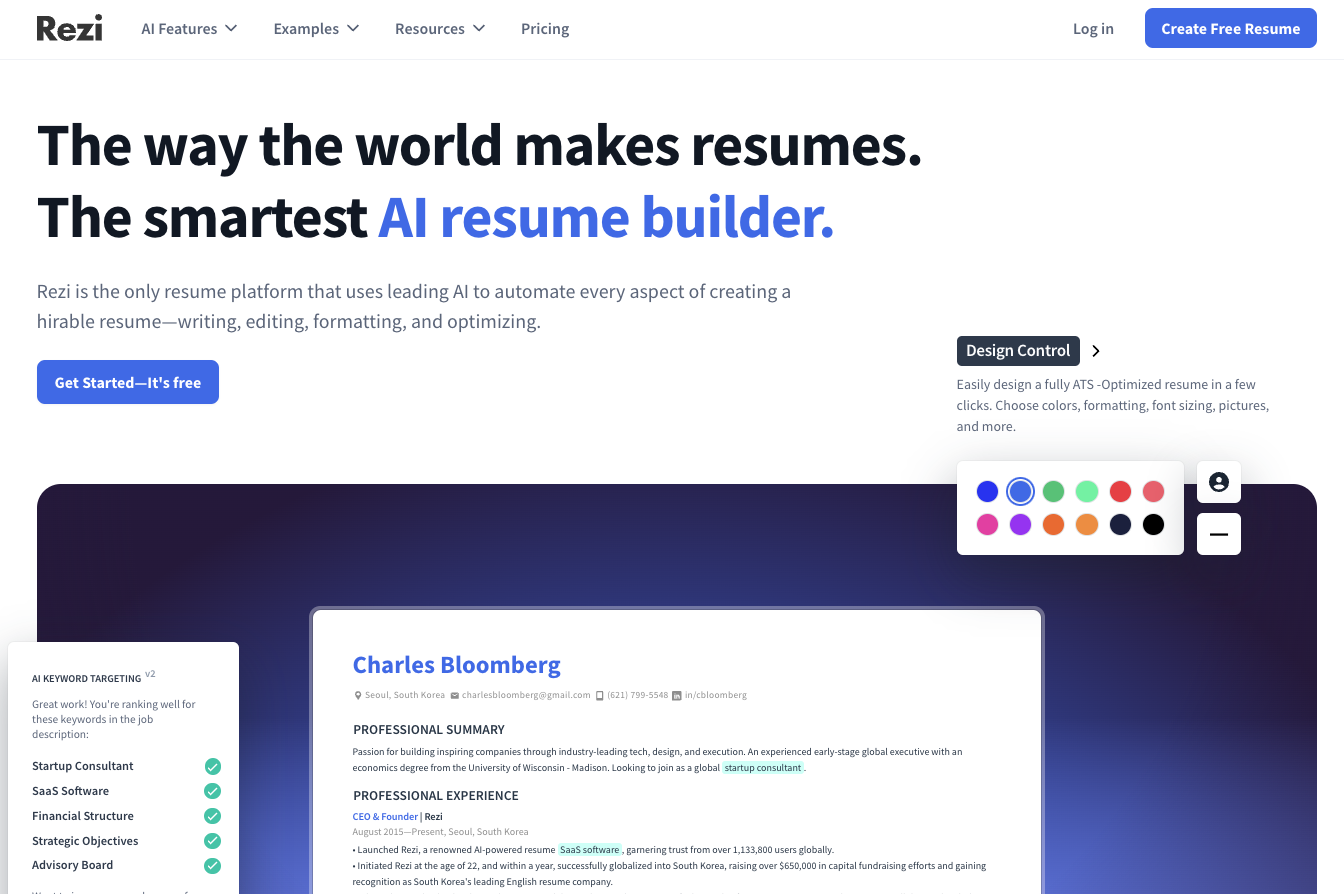 I tried Rezi AI and right off the bat loved how it allows you to import from an existing resume or even from LinkedIn. But for the sake of this review, I started from scratch.
I chose to create a tailored resume for a "Product Manager" position at Netflix. So, I entered the job title, the job description, and some information on my experience.
As you enter information about your experience and education you will be guided through video prompts. I personally, loved this touch added by Rezi as it made the process much easier.
Added some very basic information information and this is what the result looked like:
As you can see, it seems unfinished. I did this so you can see how intuitive Rezi's platform is. It provides an overall score and gives you keyword suggestions to add to your resume to align it with the job you're applying for.
You can use Rezi's AI to add more content to your resume. They also offer an expert review where a human reviews your resume and gives you suggestions.
Key Benefits:
Tailor resume to job description: Rezi AI lets you paste the job description of the job you're applying for, to create a tailored resume for that specific job.
AI suggestions: Rezi provides suggestions to make the entire resume-building process easy for you.
Quantify your experience: Rezi is especially good at including metrics (money saved or increased efficiency in your current or previous roles) in your experience.
Pros & Cons
Pros:
AI-generated bullet points: Rezi creates bullet points to summarize your work experience and enhances its relevancy for the job you're applying for using AI.
Inclusion of metrics: It also includes metrics in your experience to quantify your achievements.
Cons:
Basic templates: The templates offered by Rezi are a little basic and may not meet the needs of people looking for something very unique and visually appealing.
AI-Bullet points may be too specific or irrelevant: I found that the AI-generated bullet points are often too specific. They are however a good starting point for you to modify to meet your needs.
Pricing: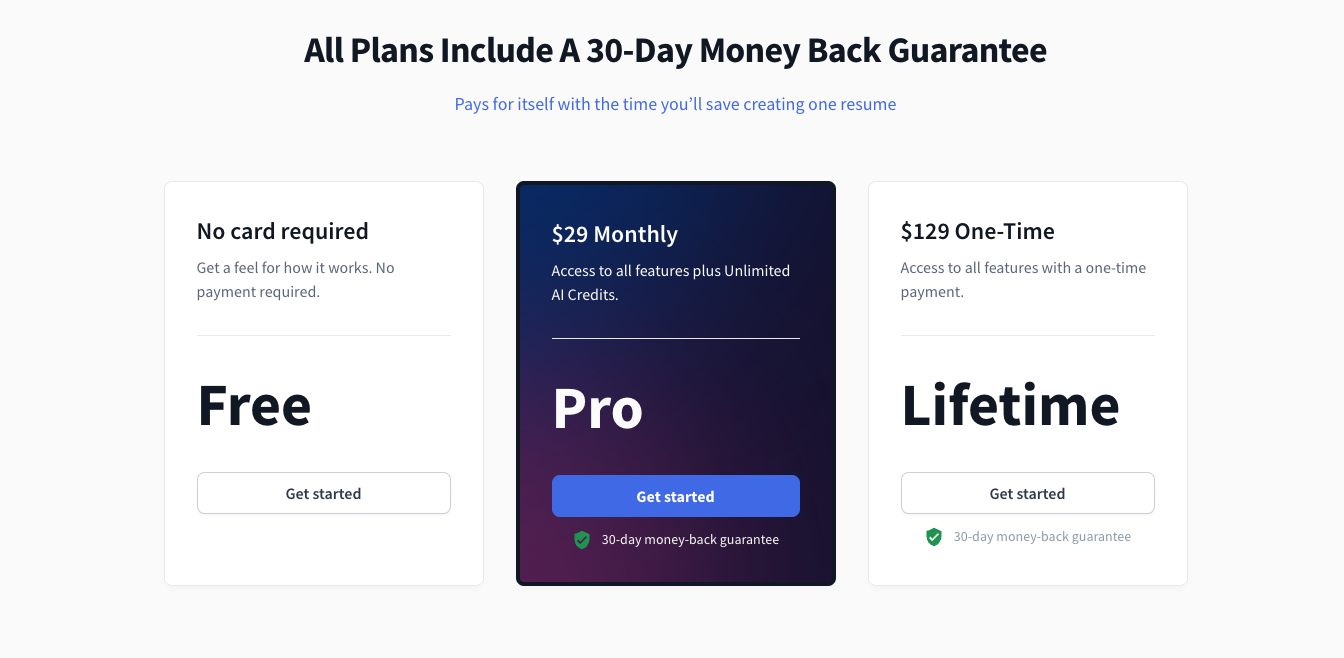 Premium: $29/ Month (Access to all features plus unlimited AI credits)
Lifetime: $129 (Access to all features forever).
Rezi AI Final Thoughts
I loved my experience with Rezi and the amount of guidance it provided during the process.
The tailored approach can be very beneficial when applying for jobs and the AI lets you alter your resume to match different jobs quickly.
Rezi AI was definitely my favorite tool out of the ones I tried. The ability to create professional resumes based on job descriptions makes it an amazing choice.
And the lifetime plan at $129 (One time purchase) sounds like a pretty good deal! Overall, Rezi is an amazing tool to make your personal brand shine.
KickResume
When I tried Kickresume, right away the Kickresume AI Wizard stood out: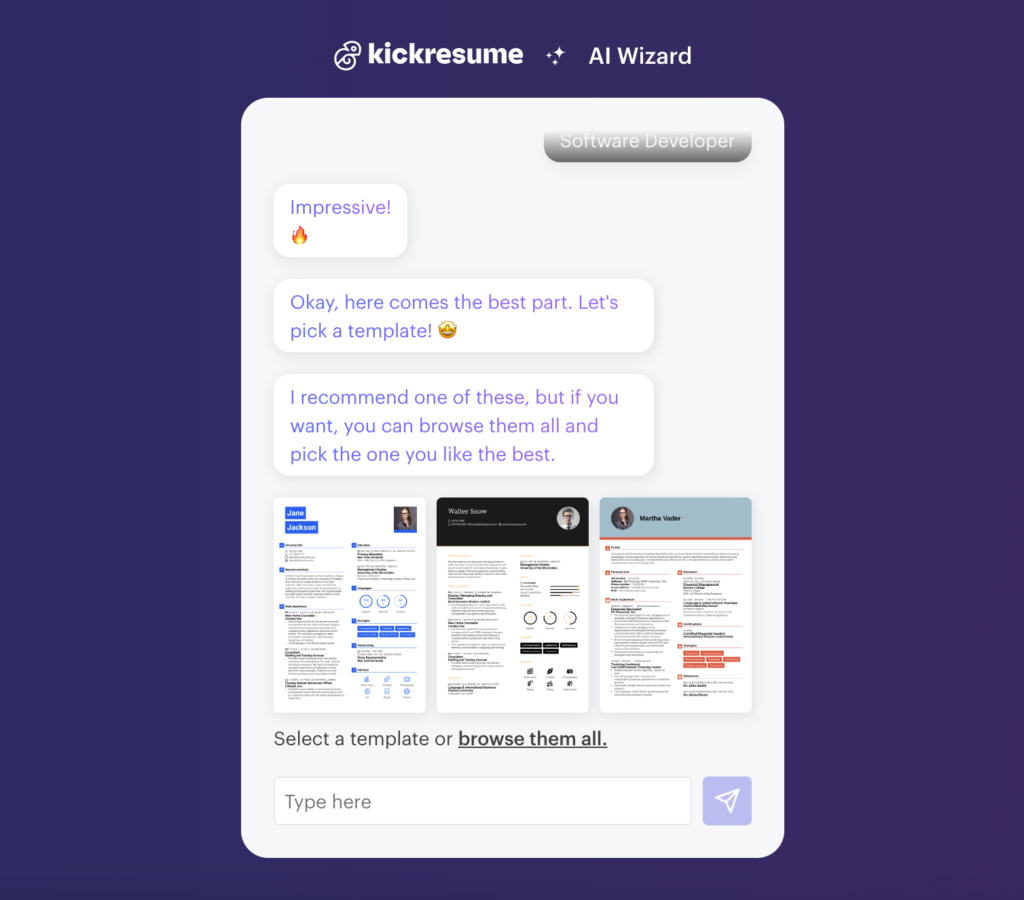 The wizard asks you some basic questions and suggests a template that best suits you. Love it!
You are then provided a template that's already prefilled with information relating to your experience. This makes the process much easier.
Kickresume provides you a list of sections you can easily add to your resume. You can also use Kickresume's AI to add descriptions to sections.
Out of all the resume makers I tried, I think Kickresume creates the best-looking resumes with the least amount of effort.
This is what my resume looked like with very minimal effort:
Not bad, eh?
I love the way it adds icons and uses different fonts and colors to emphasize certain things. Hands down, the best-looking resumes on this list.
KickResume is one of the best AI-powered resume builders on the market. It is designed to help job seekers create professional resumes that are Applicant Tracking Systems (ATS) friendly.
With KickResume you can create a resume within minutes. You need to answer a short questionnaire to get started and then you can go ahead and update this resume further.
Key Benefits:
Create a resume by answering a short questionnaire. You get a great base to start which makes this process much easier and enjoyable.
Specific bullet points for your work experience.
Amazing looking resumes that emphasize important information.
Pros & Cons
Pros:
Relevant Content: The AI generates brief yet impactful resume summaries and bullet points with relevant keywords for work experience and education sections.
Resume Design: KickResume offers over 35 resume templates designed by professionals. You can also adjust fonts, spacing, colors, and icons for a personalized touch.
User-Friendly UI: Kickresume's UI is user-friendly with intuitive steps, helpful tips, and links to comprehensive guides.
Section Reordering: Reorder sections by dragging and dropping to emphasize sections that you want employers to pay attention to.
Free Option: Create a full resume using AI for free.
Cons:
May Require Personalization: KickResume's AI-generated content is pretty good but you may need to make updates to match your actual needs.
Pricing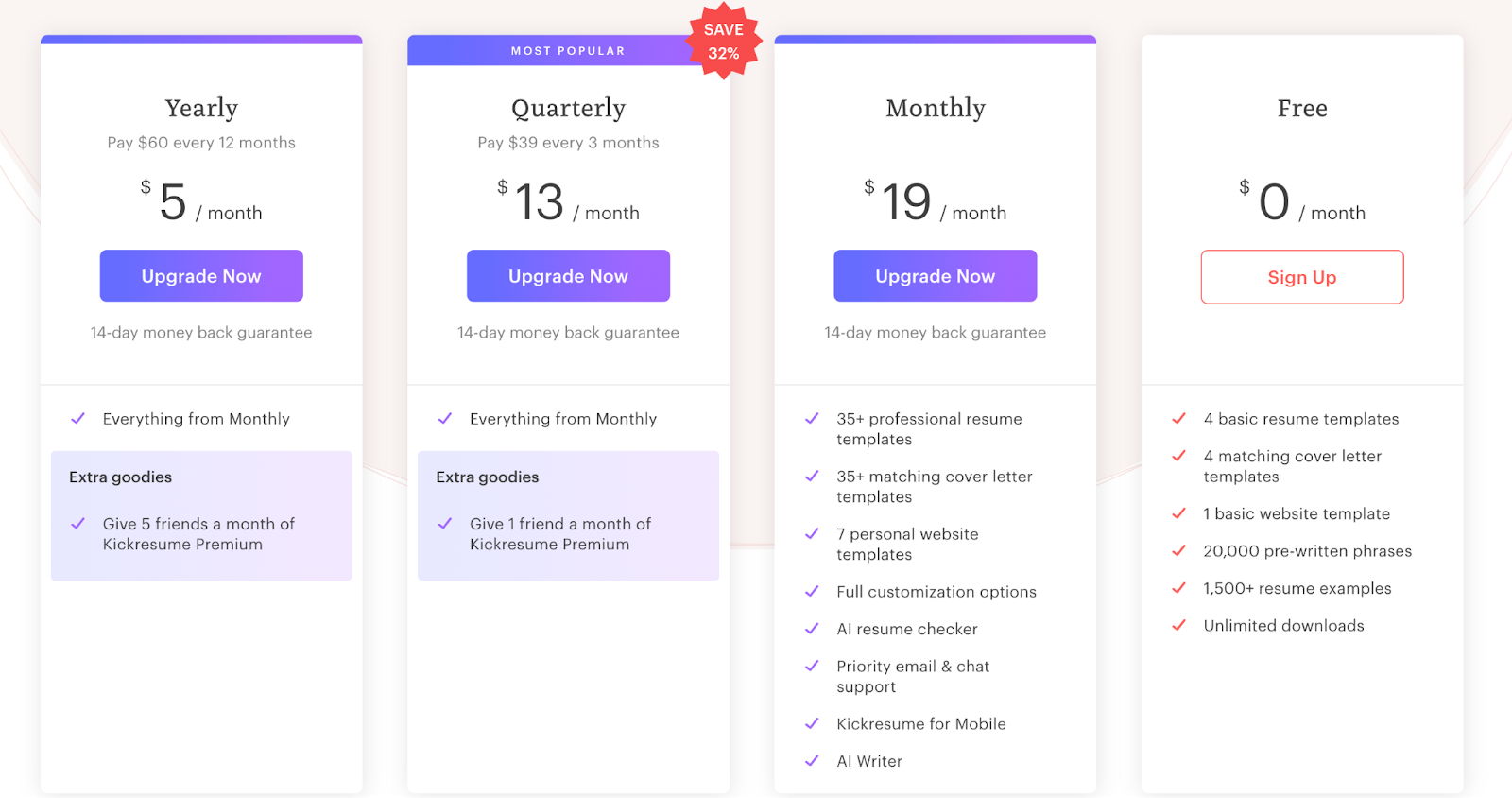 Free Tier: 4 basic templates | 4 matching cover letter templates | 1 basic website template | 20,000 pre-written phrases | 1,500+ resume example | unlimited downloads
Pay Monthly: $19/month | 35+ resume templates | 35+ cover letter templates | 7 personal website templates | Full customization option | | AI resume checker | Priority customer support | AI writer

Pay Quarterly: $13/month | Everything from monthly | Give 1 friend 1 month of premium

Pay Yearly: $5/month | Everything from monthly | Give 5 friends 1 month of premium
KickResume Final Thoughts
I think Kickresume offers one of the best resume makers on the market. The templates, ease of use, and the overall look of the resumes really stood out for me.
KickResume is an amazing resume builder if you're looking to create a custom resume tailored to specific jobs.
It gives you a great starting point to build upon and impress potential employers.

Especially, at the pricing KickResume offers, it's a great deal!
Resume.com
Resume.com is entirely free and you have access to all of their features if you sign in using an Indeed account.
I created a resume using resume.com and found the lack of templates a little underwhelming. Also, most of the templates they have are pretty basic compared to the ones offered by Kickresume.
It does have an easy-to-use interface and I quite liked how it provides you with bullet points for education and work experience. Here is an example:
You can use these suggestions as is but you can also update them to align with your personal experience.
They also have an AI writer in the works that will allow you to generate these bullet points with a click.
Here is what my resume looked like:
I like the clean and simple and the suggestions they offer. It made the process really quick and easy. But I do feel like it's missing some flair.
Key Benefits:
I really liked the UI and the suggestions it provided for my experience.
You can access all features for free.

Pros and Cons
Pros:
Customization: You can customize each section of your resume as well as the layout of each section.
Easy download: Indeed users can easily download their resume in both PDF and Word format.
Completely free: Resume.com's resume builder is completely free. You may not have access to all features as a guest but if you have an Indeed account you're all set to use all the features.
Cons:
Limited template options: Resume.com offers a small selection of templates with basic styling.

Pricing
Resume.com is a free tool. You just need a free Indeed account to access all its features.
Resume.com Final Thoughts
I liked the fact that this tool is free and the amazing UI is a cherry on top. But there are definitely better tools on this list.
However, it does offer a better solution than the free versions of other tools.
If you're on a budget or just looking to test out a resume builder tool for free it is a great choice.
Novoresume
When I Logged in to NovoResume, I realized that I had used this tool years ago. And was pleasantly surprised by how good my resume looked on this platform from about 7 years ago.
Novoresume has an extremely intuitive platform and offers beautiful templates similar to Kickresume.
They utilize icons, different fonts, and color schemes to put emphasis on the important sections of your resume.
Look how pretty this resume looks: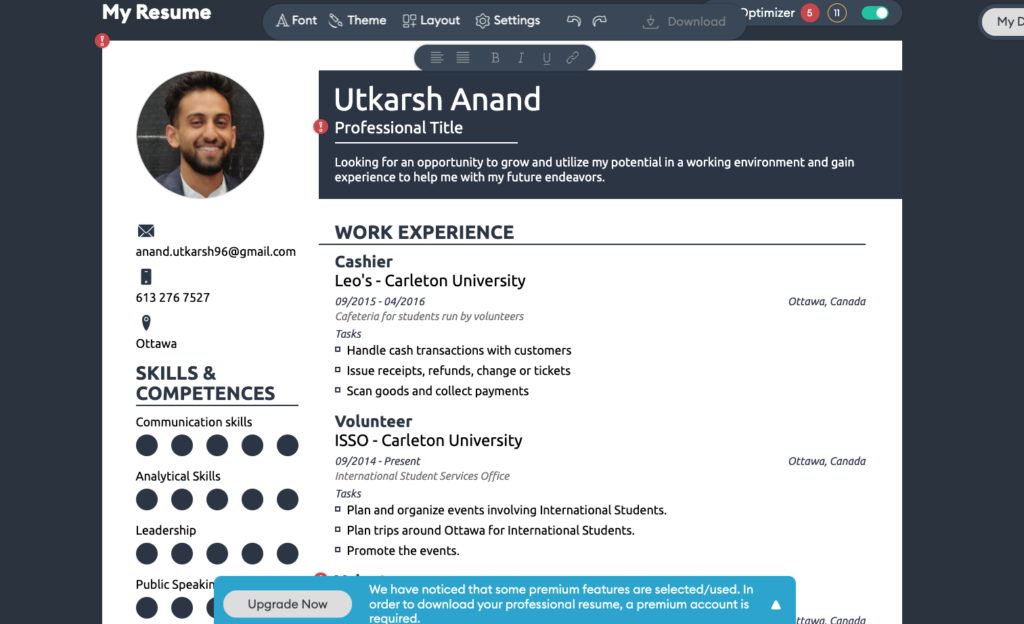 The red icons you see on the document are suggestions to improve your resume. You can click on these icons to automatically fix these issues.
Novorésumé also offers job-specific suggestions to create compelling resumes, CVs, and cover letters. The easy-to-use interface guides users through different sections of their resume.
It is extremely helpful if you're trying to tailor your resume to different job postings.
Key Benefits:
Real-time content optimization and beautiful templates
Novoresume offers suggestions to create Applicant Tracking Systems (ATS) friendly resumes.
You can export your existing resume to get started.
Pros & Cons
Pros:
User-friendly UI/UX: Novoresume offers a beautiful UI that is extremely easy to navigate, even for new users.
Customization: You can customize many aspects of your resume such as font size, color scheme, icons, etc.
Live feedback: Novoresume also provides tips and examples to help you through the process of creating a great resume.
Cons:
One download format: You can only download a PDF version of the file. This may work for most employers but some employers may expect a Word file.
Most features available with a premium subscription: Features like custom layouts, certain backgrounds, fonts, etc. are not available in the free version.
Pricing
1 Month: $19.99
3 Months: $39.99
12 Months: $99.99
Novoresume Final Thoughts
Novoresume is a great contender for that top spot. But sadly there are just too many solid tools on this list.
I do believe that it has some of the best resume templates and a great UI to help you through the process of creating a resume.
If you're looking to create an attractive resume to highlight your skills and expertise. Along with the live suggestions, it is an amazing candidate if you're looking for an AI-powered resume builder.
Jobscan
I started with uploading my current resume and providing the job description of a job I want to apply for.
Jobscan then provided me with a comprehensive review of my resume based on the job I am applying for. It gave me suggestions to improve my searchability, align my skills with the job and general tips to improve my resume.
Here are some of the tips I was given: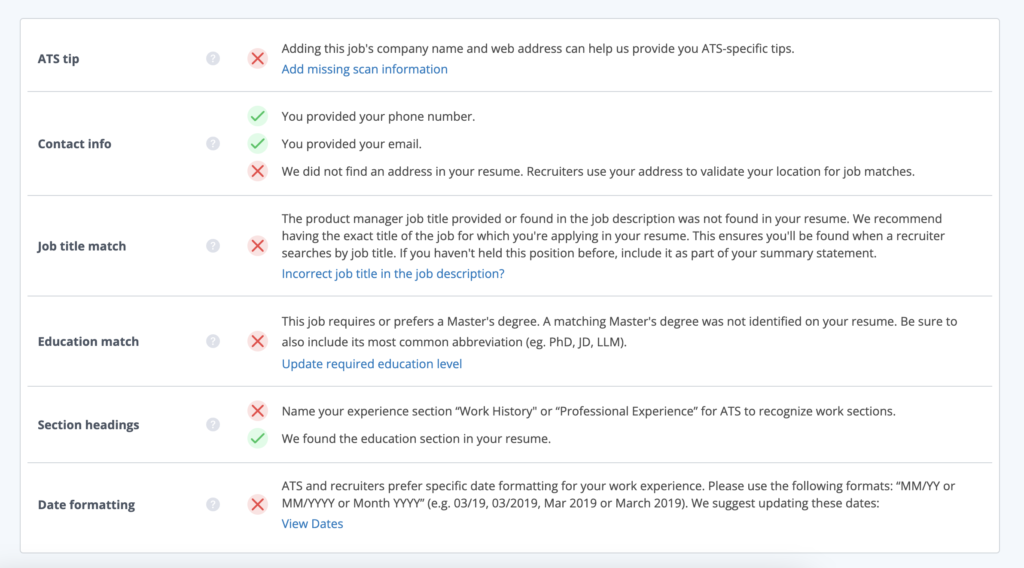 You can then apply these changes and upload your resume again to see the results. Or you can choose to build and ATS friendly resume from scratch in the Jobscan platform.
It is a resume builder that uses AI to create optimized resumes to stand out in front of hiring managers.
Highlight:
Keyword scanner to suggest keywords to match the job description you're applying for.
ATS Resume checker to ensure that your resume is ATS friendly.
Pros & Cons
Pros:
ATS Resume Scan: Jobscan provides a Resume Optimization Report which helps you tailor resumes for specific jobs and ensures they won't get rejected by ATS screening.
Free Resume Templates: Jobscan offers free resume templates.
Additional Features: Premium Jobscan users have access to products designed to simplify the job search process. For example, the LinkedIn Optimization Tool provides tips on improving your LinkedIn profile's visibility to recruiters.
Job Tracker: This tool allows you to track jobs in one place. You can download the Chrome extension and choose jobs you want to track from platforms like Glassdoor, LinkedIn, and Indeed.
Cons:
Difficult Navigation: Jobscan's UI is not the best out of the platforms we tested. Editing job applications and accessing information about premium features can be challenging.
Limited Templates: Jobscan's resume builder offers only three templates.
Lack of Content Suggestions: Jobscan's resume builder does not offer many real-time suggestions. If you're not a good writer this tool might not be the best fit for you.
Pricing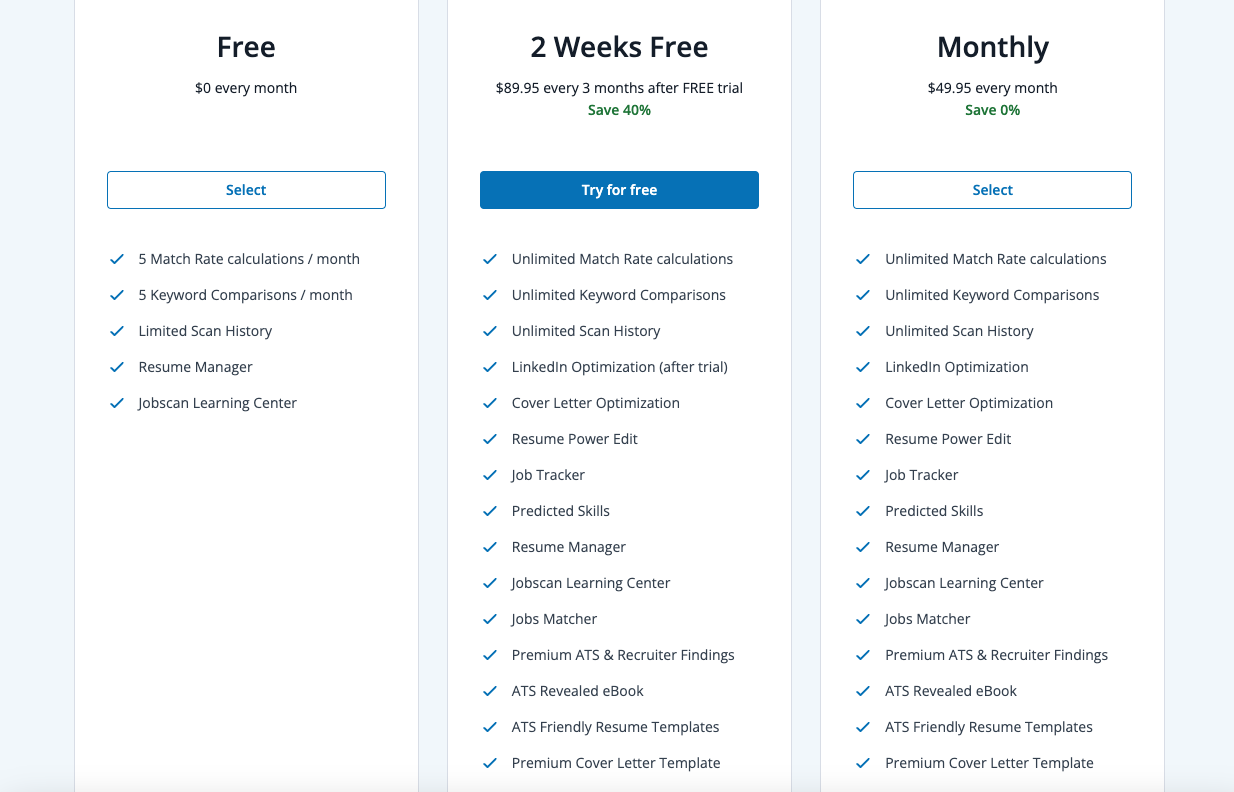 Free Tier: $0.00

Monthly plan: $49.95
Jobscan Final Thoughts
I really liked what you can do with Jobscan. However, it isn't the most user-friendly platform on this list.
Jobscan can be a great choice for you if you are okay with the lack of real-time suggestions and if you're a good writer.
They offer a comprehensive solution that makes your job hunting process easier beyond creating a resume.
Zety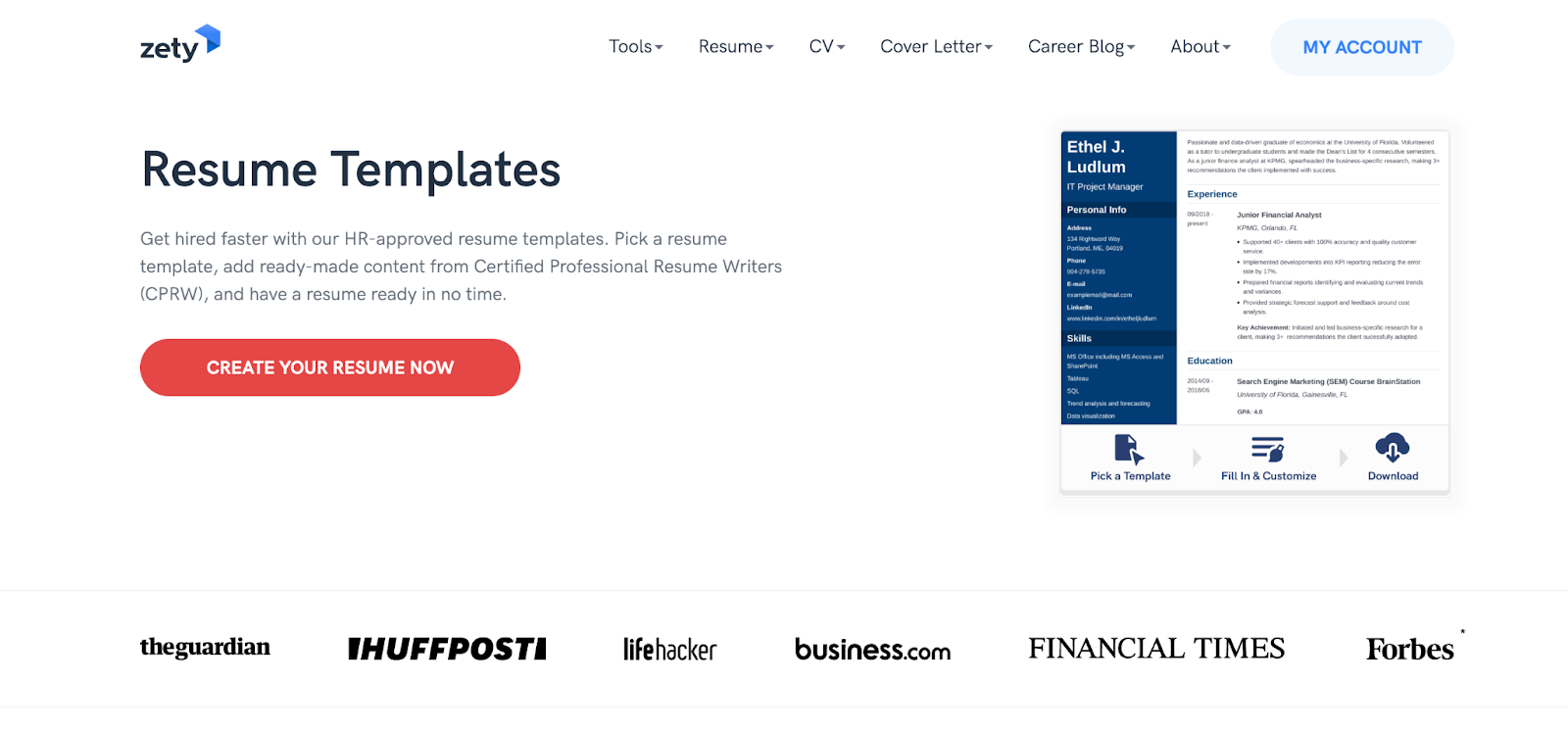 Right of the bat, I will say that I really liked the templates Zety offers.
The process of creating a resume with Zety was a breeze. I picked a template and uploaded my current resume.
Zety provides suggestions at every step of the way. It will suggest you add sections to your resume and also tell you what you can add in there. I was able to create this beautiful resume within minutes: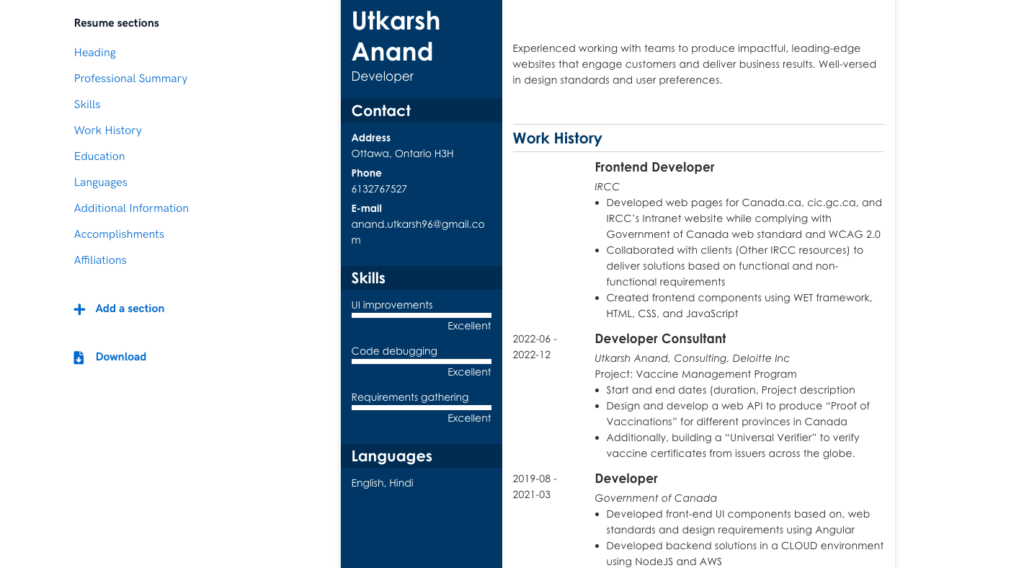 The content you see above was pulled from my current resume. I did do a bit of clean up and Zety is pretty good at pulling information from a document.
Zety is a great AI resume builder to help individuals build resumes quickly and efficiently. It offers a wide variety of templates and features to help you create attractive resumes.
Pros & Cons
Pros:
Template Variety: Zety offers tons of templates to fit the needs of most users.
Reverse Chronological Order: Your experience and education are added in reverse chronological order. Your most recent information is prominent.
AI-Generated Content: Zety's AI resume builder generates lists of duties and concepts based on the job title and information you provide.
Customization: Users can add their own content to the AI-generated material and switch templates during the CV creation process.
Preview: You can preview your resume at any stage.
Cons:
Sign-up Required: You need to sign up to access Zety's resume-building features.
Payment for Printable Formats: You can create resumes for free but there is a fee for downloading printable formats.
Pricing
Zety Final Thoughts
I truly enjoyed using Zety and loved how easy it was to add my experience and qualifications to my resume.
Zety's templates are great for creating an eye-catching resume quickly and importing content from an existing resume makes it even quicker.
Also, the 2-week trial for $2.70 is a great deal if you're looking to try it out!
Resumaker.ai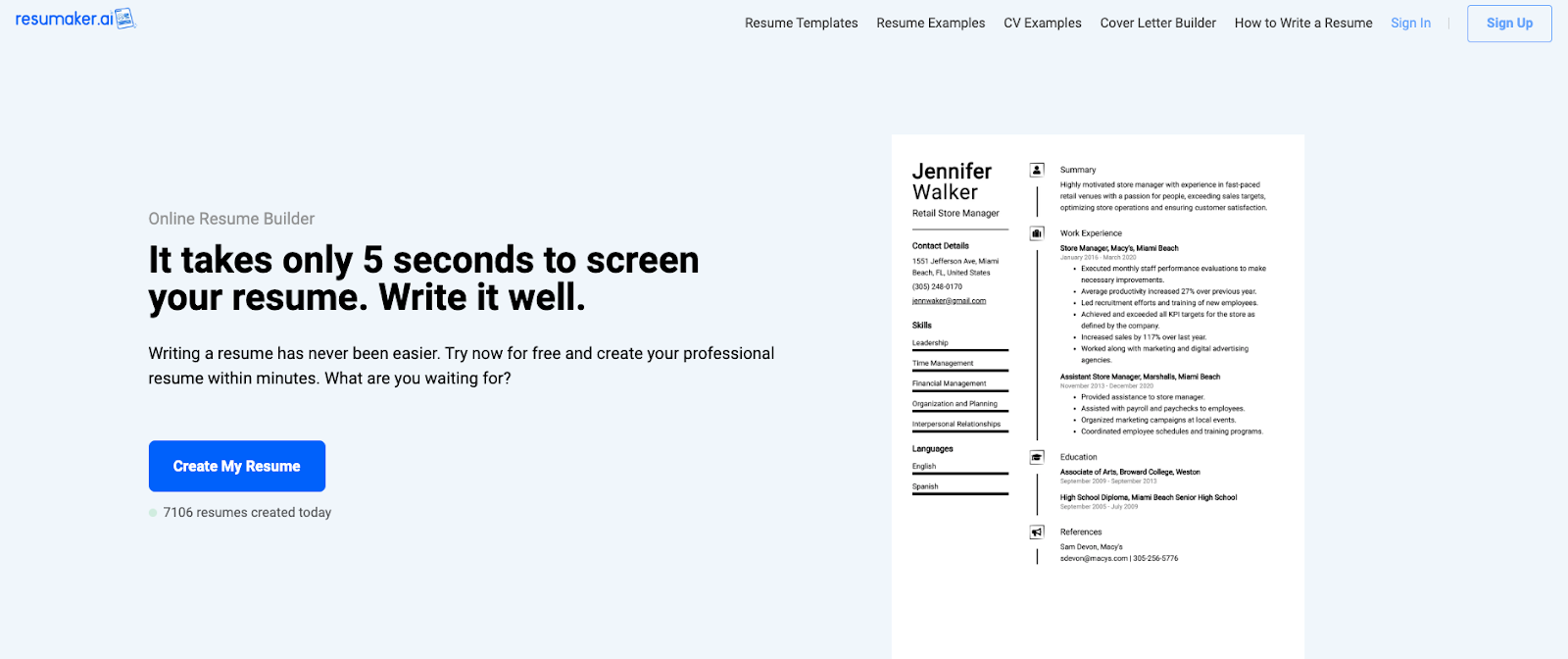 The templates offered by Resumaker.ai are quite similar to what Zety, Kickresume, and Novoresume offer, which is a great thing.
But I found that it lacks when it comes to the User interface. Although it is not bad but I found the process to be a little more tedious than the tools I mentioned above.
Here is what my resume created by Resumaker.ai looked like:
The resume turned out amazing and the descriptions I have provided for my work experience are all suggested by the platform. Pretty neat right?
Pros & Cons
Pros:
Well-Crafted Templates: Eye-catching resume templates that align with your career aspirations, allowing you to create a professional-looking resume.
High-Quality Suggested Phrases: The platform provides high-quality, relevant phrases to enhance your resume's content.
Comprehensive Resume Writing Guide: Resumaker.ai includes a comprehensive resume writing guide.
Customizable Resume Appearance: You have full control over the appearance of their resumes. It also offers a Skills Suggestion Tool for adding functional skills.
Cons:
Subscription Required: Users need to subscribe to access its resume-building features.
Tedious UI: I found the User interface to be a little hard to use.
Limited High-Quality Phrases: While Resumaker.ai offers high-quality suggested phrases, it provides a limited number of choices, with five sentences available for the resume summary and ten for the work experience section.
Pricing
7-Day Full Access: $0.99 | Seven days of full access.
3 Months Access: $23.75 | Three months of access to Resumaker.ai's premium features.
6 Months Access: $45.75 | Six months of access to premium features.
Resumaker.ai Final Thoughts
Resumaker.ai's is a great tool for building beautiful resumes. But in my opinion, it loses some points for its user interface.
The AI-powered platform provides great suggestions to optimize resumes for professionals looking for jobs.
Overall, it's a suitable choice for anyone looking to build a resume quickly.
Resume Genius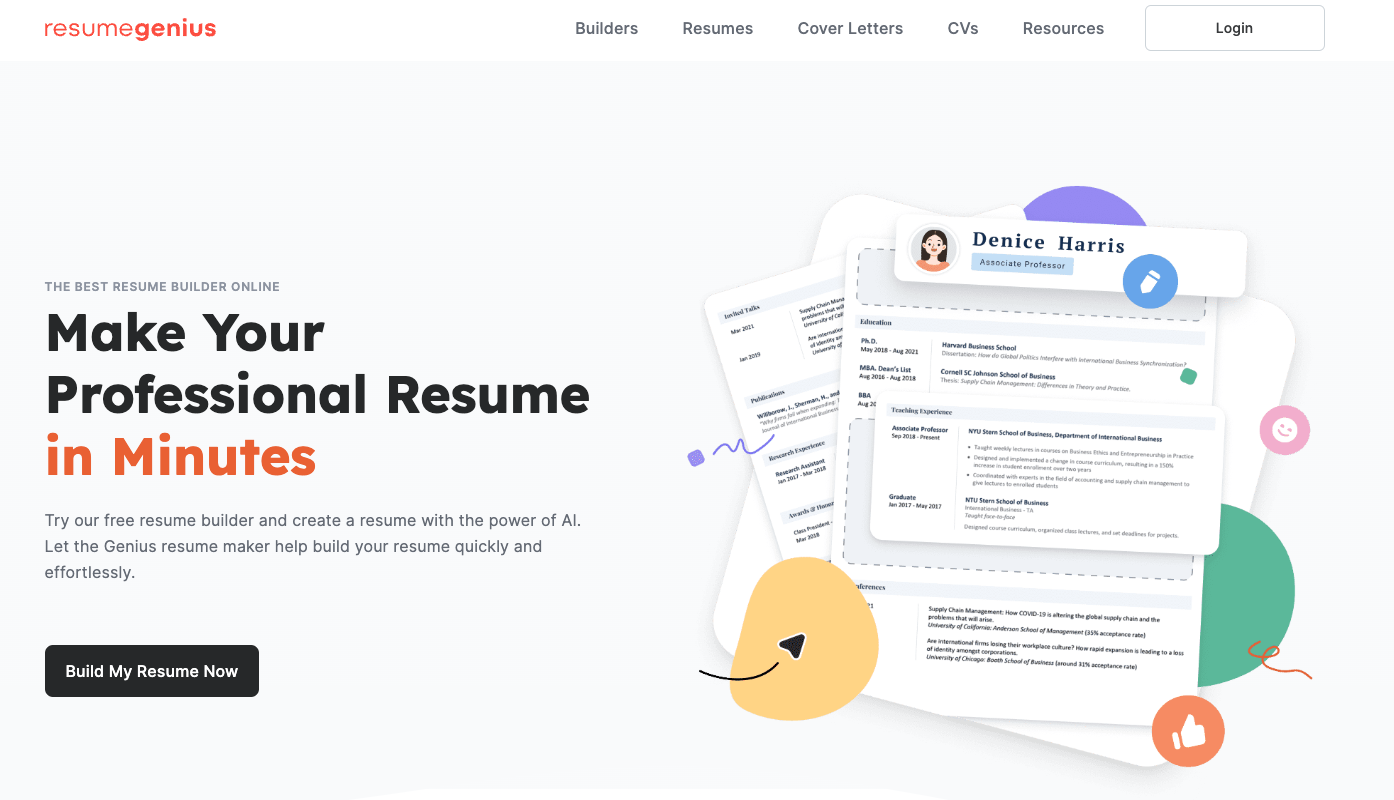 Resume Genius was one of my favorite resume builders to to test.
It was extremely easy to use, offered great suggestions, and had a good template catalog. I would say there are other tools that offer better templates but I liked the simple designs from Resume Genius.
Resume Genius is known for its simplicity and amazing layouts.
I answered a series of questions about your experience and education and they provided me suggestions for the descriptions of my experience.
Here is what it looked like: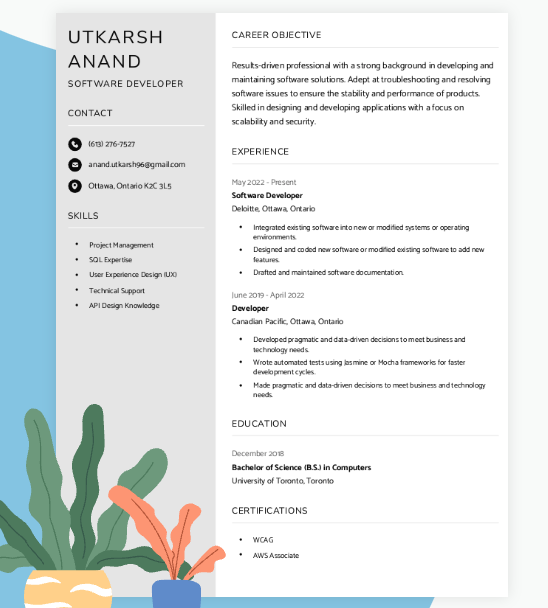 I like how this turned out. For a few minutes of work, seems pretty impressive!
Pros:
User friendly
Stylish Layouts
Export file format options
Extracurricular emphasis

Cons:
Time-consuming for Personalized Summaries
No Compatibility with Existing Resumes
Order Restrictions
Trial Requires Payment
Resume Genius Final Thoughts
I really liked the UI Resume Genius offers and the amazing suggestions. If you are looking for a laid-back design, it is a great choice.
The only thing lacking is probably the eye-catching templates like Kickresume or Zety.
Final Thoughts
In today's competitive job market standing out is very difficult for job seekers. AI resume builders can help you create resumes that can perform well with Applicant Tracking Systems and the human eye.
There are many AI resume builders on the market and they offer many similar features. However, overall our favourite was Rezi AI.
A good Resume builder offers a combination of a user-friendly interface and features that can help you craft the perfect resume. 
Our article will give you insight into some of the best AI resume builders. So, if you're looking for some help with your job search this is a great place to start!
Best AI Resume Builders: Frequently Asked Questions
Are AI resume builders any good?
Yes, AI resume builders are a great tool if you're looking for help with the process of creating a professional resume. You can use an existing resume or provide information about your experience to a resume builder to create an amazing resume that will help you get that next job!
Should I add my headshot to my resume?
Absolutely, adding a headshot to your resume is a great idea. It helps humanize a resume, which otherwise would've just been a document in the eyes of a hiring manager.
And if you don't have a professional picture use an AI headshot generator to create the perfect headshot for your resume.
What is the best AI for an ATS resume?
Based on our tests, Rezi AI was the best AI for ATS resumes. It will help you create resumes with content that is ATS-friendly.
What is the best free AI resume builder?
Resume.com is the best free AI resume builder that we tested. All its features are completely free, unlike other platforms where you need to pay to access certain features.