9 Best NFC Business Cards in 2023 | We Tested Them So You Don't Have To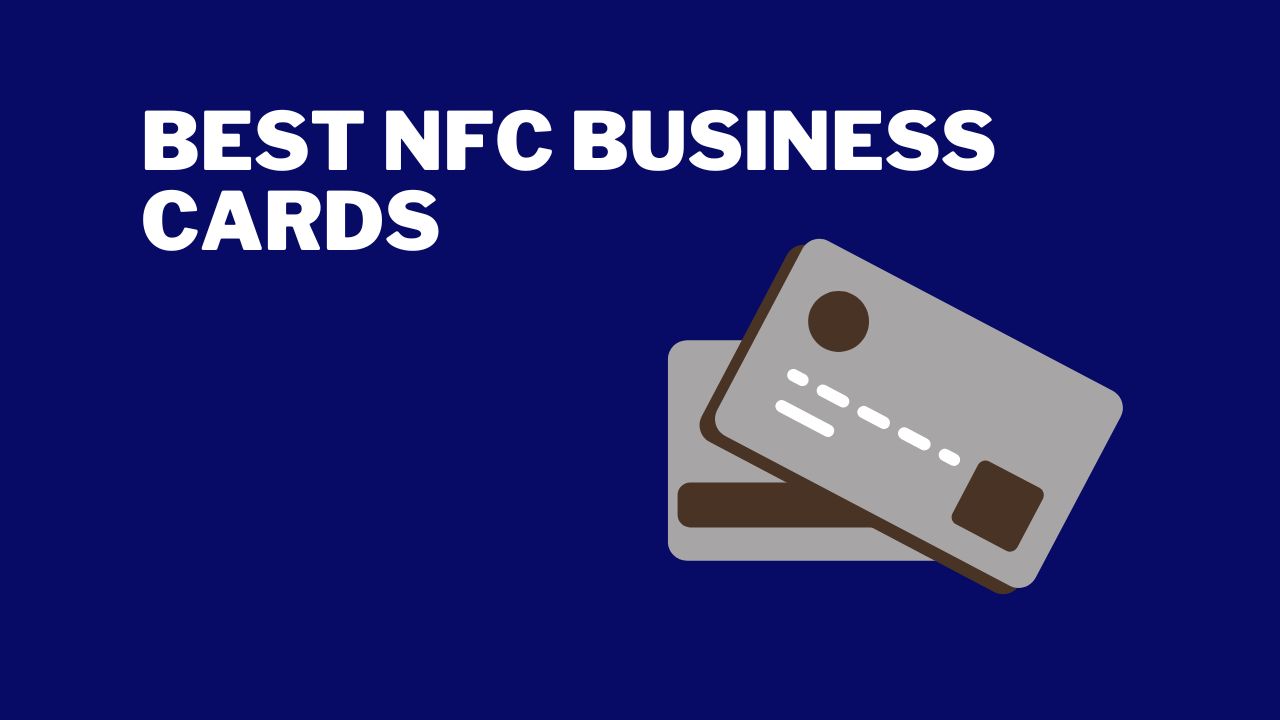 Are you looking to level up your networking game?
The business card market is changing and so is the networking, landscape. They are completely revolutionizing the way people exchange information when meeting potential clients, employers, etc. 
I have created a list of the best NFC business cards in the market and tested them myself to provide you my unbiased opinion. 
In this article, I will be reviewing digital business cards so you can find the one that fits your needs the best. 
#1 Pick | Rating: 9/10
Popl
Comprehensive networking solution
#2 Pick | Rating 8.5/10
Linq
Customize with ease
#3 Pick | Rating 8/10
V1CE
Premium built quality. Tons of options
Popl Business Card
Popl Business is our preferred digital business card.
Take your networking game to the next level!
What is an NFC Business Card?
Do you remember fumbling through your stuff to find a business card from someone you met at a networking event?
Or, have you ever experienced the classic, "I don't have any more business cards" situation?
OR, are you too young for any of that?
Either way, paper business cards are truly becoming a thing of the past. NFC business cards are taking over and offering a much more efficient and savvy way to network.
An NFC (or Near Field Communication) business card is a physical business card that is shaped like a credit card and can easily fit in your pocket or wallet.
Unlike, traditional business cards you only need one of these. You can easily share your information with just a tap using an NFC-enabled device (most smartphones these days are NFC-enabled)
These cards usually, also have a QR code printed on them which allows you to scan it to receive the card owner's information.
They use NFC technology or QR codes to communicate with other devices and share your information.
What Are The Best NFC Business Cards?
After tons of in-depth research, we have come up with a list of some of our favorite NFC business cards.
Popl
Linq
V1CE
Blinq
HiHello
Mobilo
OVOU
Dot
How I Tested These Digital Business Cards
I work for a consulting firm and go to many networking events as part of my job.
This is an opportunity for me to learn from others as well as make meaningful connections to help my career.
I used to carry traditional paper business cards but I've been taking different digital business cards to these events and using them to share my information.
While using these business cards, I took notes to make sure I could provide my review for each of them.
Overview:
Popl is definitely our favorite out of all the digital business cards that we looked into.
They are a smart business card maker that offers a wide variety of NFC cards and other devices.
Popl offers a very comprehensive networking solution that includes an app and a ton of other features.
Pros & Cons:
Pros:
Highly customizable Popl profile that allows you to add all your contact information, social media accounts, embed videos, etc.
3rd party integration with 5000+ CRM apps to help you manage customer relationships.
Lead capture mode that prompts the user to enter their information after they tap your NFC digital business card.
Offers a dedicated app that allows you to manage your profile, contacts, etc.
Cons:
Monthly subscription to access all features
Devices Offered by Popl
Popl digital business card
Popl sports band, and many more
Pricing
Devices:

Subscriptions:
Popl Teams: Dynamic pricing
Linq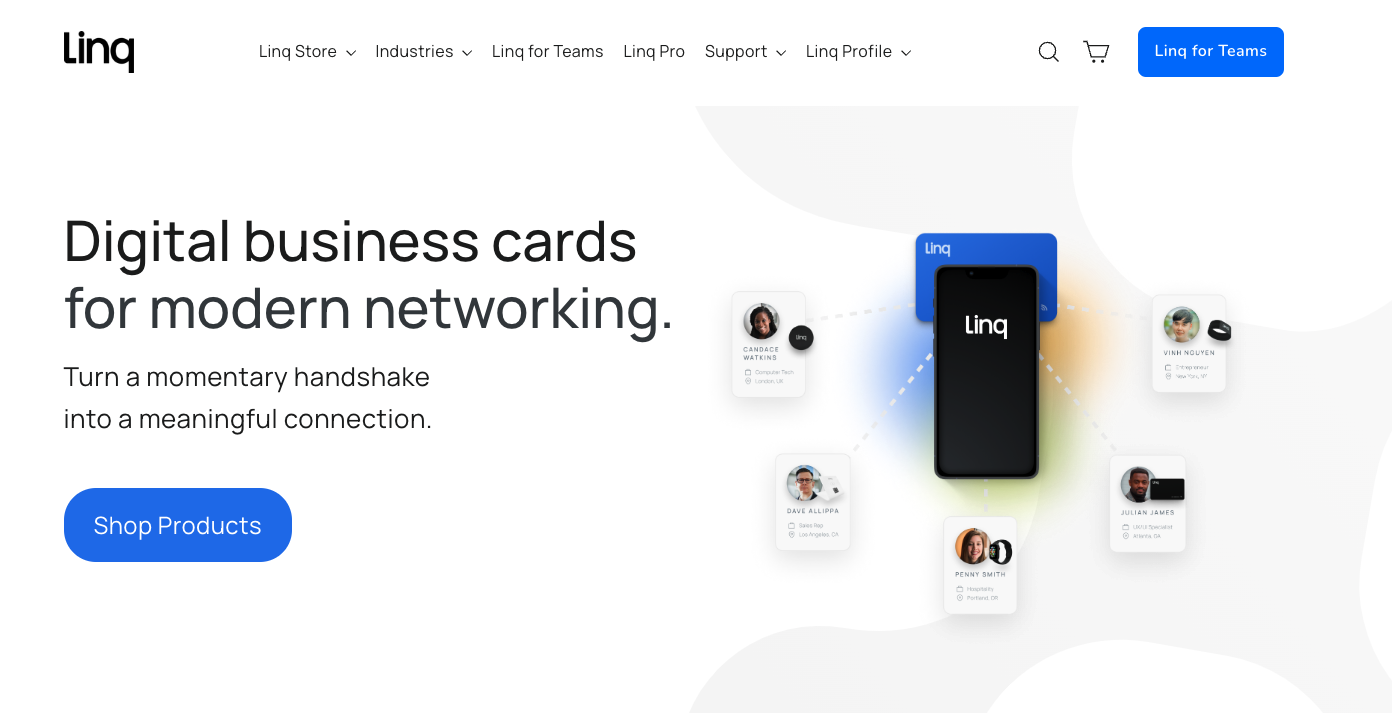 Overview:
Linq also offers a great networking solution, which is pretty close to Popl. However, we felt that it falls behind Popl when it comes to the app and its user interface.
However, we would still recommend Linq as it's a great choice for anyone looking for a solid NFC card to take their networking to the next level.
Devices offered by Linq:
Linq Tap, Stretch, Badge, Hub
Linq Best Features:
Linq's digital business cards are a great alternative to paper cards, reducing paper waste and its environmental impact.
Linq offers a variety of products, such as bracelets, tags, and watch bands, allowing users to choose the one that best fits their lifestyle.
They allow you to completely customize your own NFC business card so it reflects your brand.
With Linq Pro, you have access to analytics so you can track how people are interacting with your profile.
Linq Pricing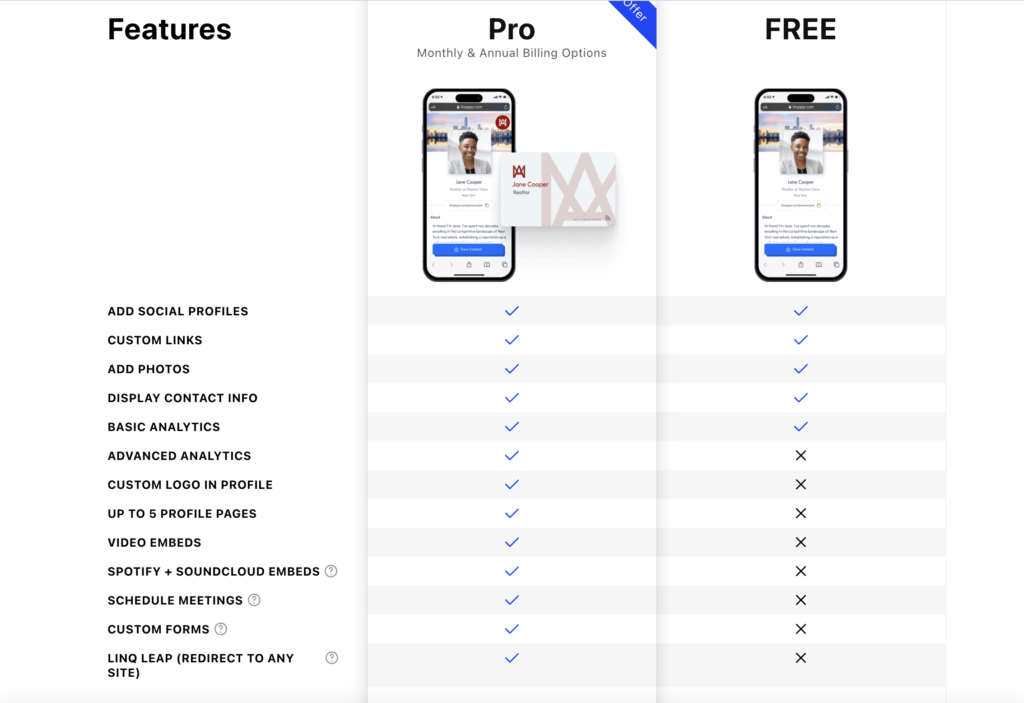 Linq Pro: $5/month or $50 if you sign up for the annual plan
V1CE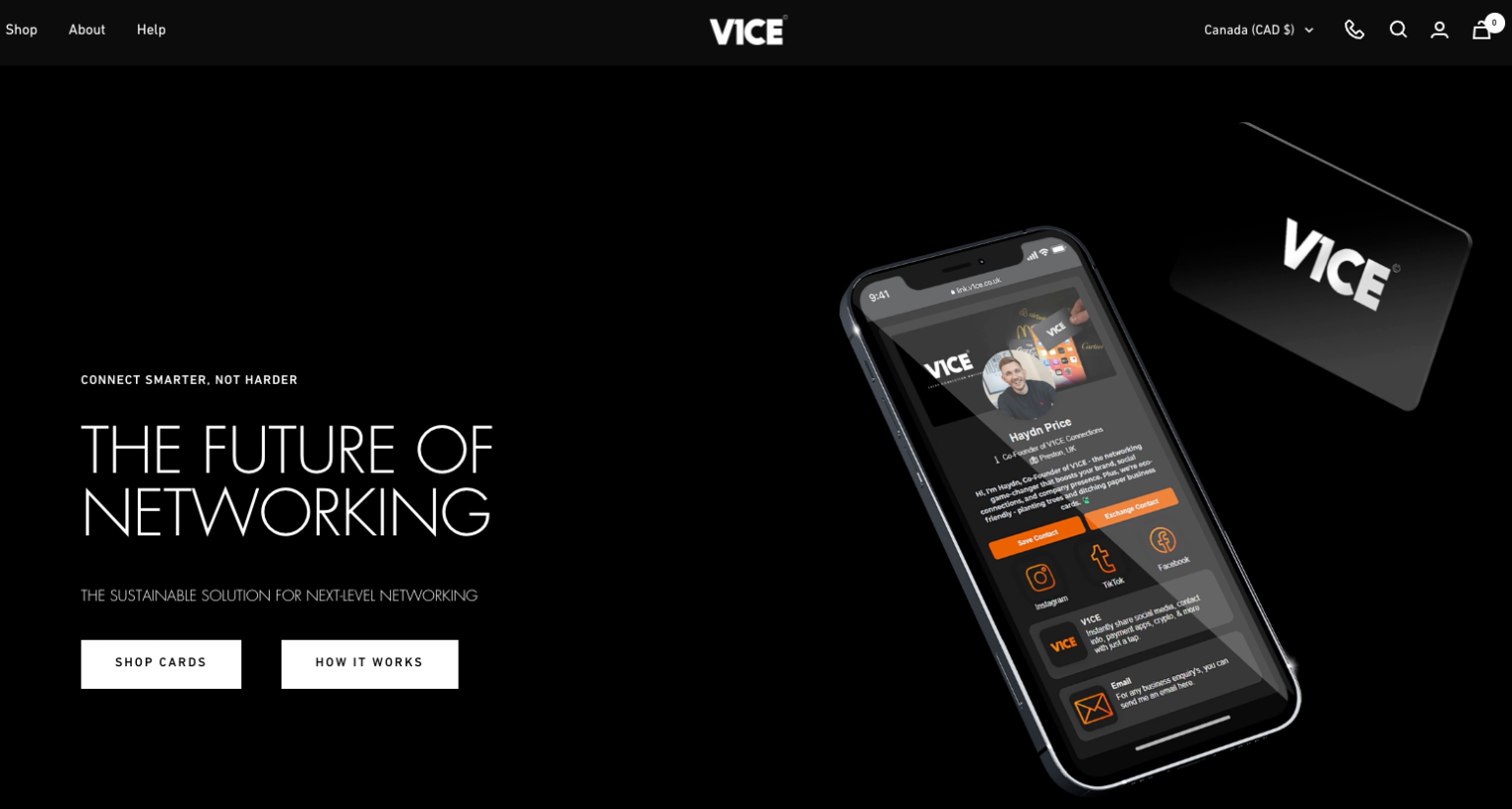 Overview:
V1CE is another digital business card manufacturer that offers a great suite of features around it to enhance your networking.
And they do it in style! They offer one of the best-looking NFC business cards with amazing built quality, including a 24K Gold business card.
The only reason they are at number three on this list is because these cards are much more expensive than their competitors.
Devices Offered by V1CE
RFID wallets and cardholders
Pros & Cons:
Pro:
V1CE offers amazing built quality and a wide range of products including a fan favorite: V1CE phone case for both iPhones and Android phones.
Highly customizable profiles. You can also create multiple NFC business cards or profiles attached to your account.
You can also customize your business cards. And how can we forget the 24K gold card (It's expensive but boy is it a conversation starter).
Cons:
I think one of the biggest drawbacks of V1CE is the high price tag. Otherwise, great products.
V1CE Pricing

Original: $50
Bamboo: $50
Metal Card: $125
24K Gold Card: $380
Blinq Business Card
Overview
Blinq is a business card platform that offers NFC technology-enabled devices and an app that allows users to network effortlessly.
They offer a great replacement for paper business cards with several features to help you exchange contact information easily.
Devices Offered by Blinq
Blinq offers 3 variations of its digital business card:
Blinq Essential: A basic NFC business card.
Blinq Infinite: NFC Business card with your logo, name, and job title.
Blinq Custom: Completely customizable NFC business card to represent your brand.
Pros & Cons
Pros:
Location sharing
Analytics tracking
3rd party integration
Customization
Affordable subscription
Cons:
Blinq Princing
Free Plan: $0 per month
Premium Plan: $2.99 per month
Business Plan: $4.99 per card per month
Enterprise Plan: Contact Blinq's sales department for more information
HiHello Digital Business Card
Overview
HiHello is a digital business card that allows you to share your contact information using NFC-enabled devices.
They offer Apps that are compatible with iOS and Android devices as well as a web version that you can access through any browser.
Pros & Cons
Pros:
Beautiful UI
Easy to use
Share via text, email, QR code, NFC tags
Highly customizable profile
Cons:
HiHello Digital Business Card Pricing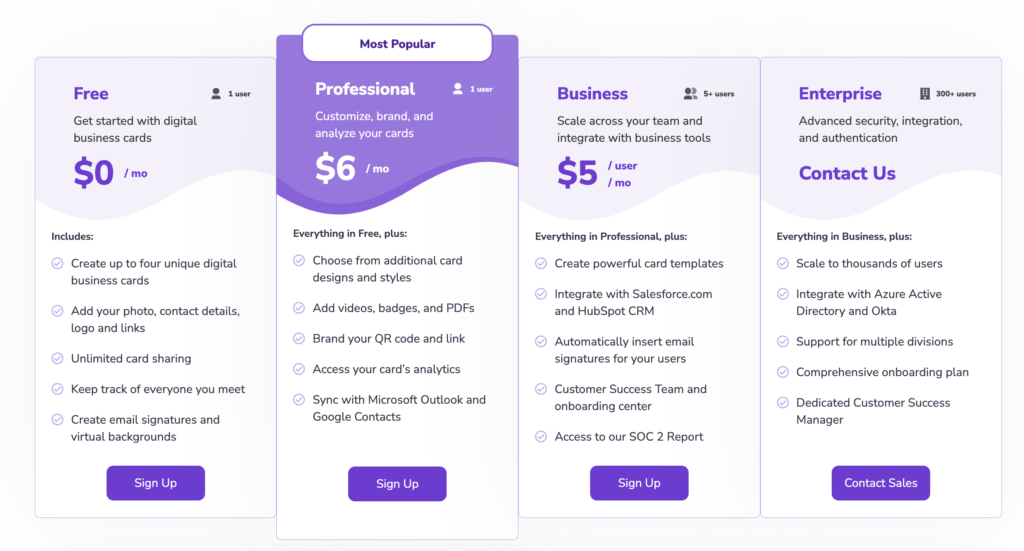 Free: $0/month
Professional: $6/month
Business: $5/month
Mobilo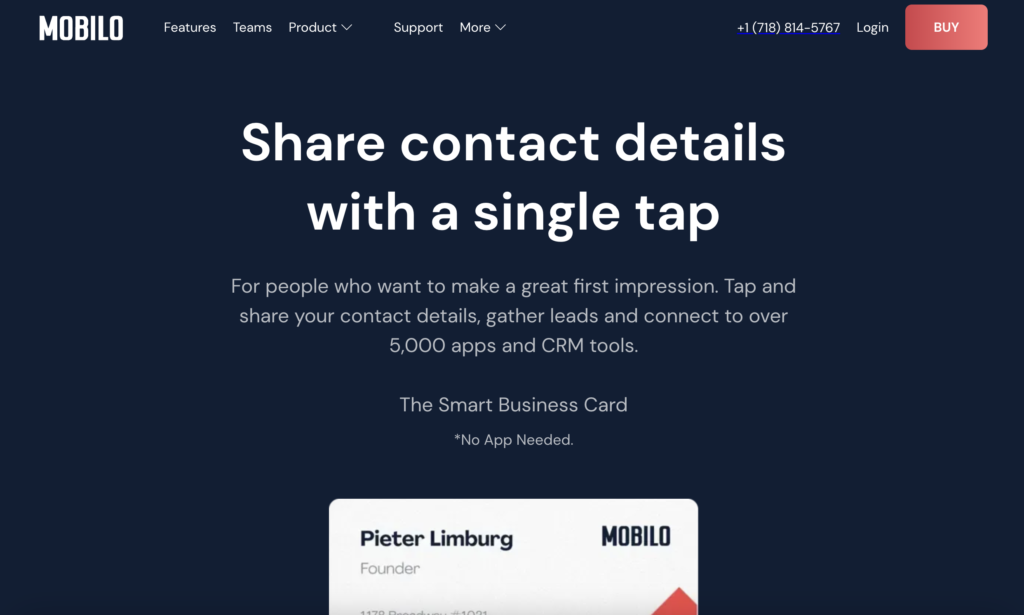 Overview:
Mobilo is a modern-day alternative to traditional paper business cards.
They offer a wide range of customizable NFC products and a business card app to help you network with ease.
Devices Offered By Mobilo
Business Card
NFC Key Fob
NFC Smart Button
Pros & Cons:
Pros:
A versatile product range that offers something for most people but other competitors offer more options.
You can use your business card for lead generation.
Highly customizable landing page.
CRM integration to easily manage your contacts and customer relations.
Mobilo Teams platform to manage a team of mobilo business card users.
Mobilo Pricing
| Product | Personal | Teams |
| --- | --- | --- |
| Mobilo Branded | $4.99 | N/A |
| Custom Designed Classic | $19.50 | $10 |
| Custom Designed Wood | $29.50 | $20 |
| Custom Designed Metal | $69.50 | $50 |
| User License | Free | $39 (per employee, per year) |
| NFC Key Fob | $2.50 | $2.50 |
| NFC Smart Button | $2.50 | $2.50 |
| Custom Branded NFC Key Fob | N/A | $9.50 |
| CRM integration & Automation | $20 per year | $10 per employee, per year |
| Lead Data Enrichment | $10 per year | $10 per employee, per year |
OVOU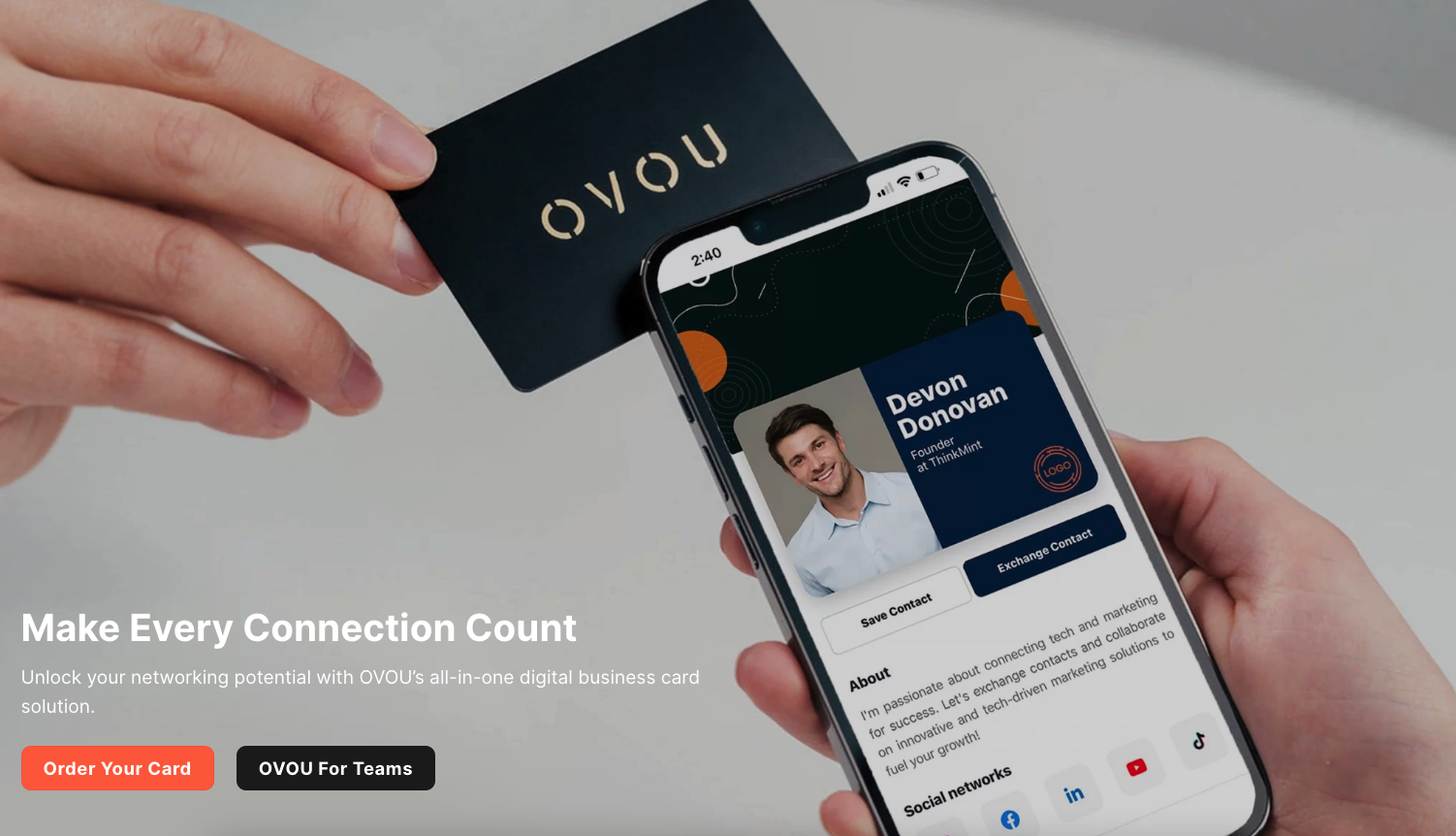 Overview:
Ovou offers digital business card that allows you to share your information with a tap and other features like most business cards.
However, one of the biggest drawbacks of OVOU is the lack of customization options you get with their products.
You can only add your name and logo to the card and the additional logo comes with a hefty $70 premium.
OVOU Pricing
Classic Silver Card: $79
Ceramic White Card: $89
Classic Gold Card: $79
Stealth Black Card: $49
Pros & Cons:
Pros:
Sleek design
Multiple profiles
Virtual Backgrounds
Analytics
Customizable Profile
Cons:
Lack of customization
Limited device variety (Only business cards)
High price tag
Dot
Overview:
Dot offers an affordable and simple solution for sharing your information using NFC cards. They don't offer many fancy features like CRM integration, lead capture, etc. like other business cards.
However, they are one of the most economical options. And if you're only looking for something to share your info with others, it can be a great option for you.
Pros & Cons:
Pros:
One-time fee
Affordable
Customizable
Simple UI
Cons:
Only digital card
No CRM integration
No App
Best NFC Business Card: Final Thoughts
When it comes it NFC business cards, there are many amazing options you can choose from. And many of them come pretty close to the top spot.
However, based on our research, Popl offers the best combination of pricing, features, and options when comes to devices.
Although the best business card for you comes down to what exactly your needs are. For example, if you are looking for a premium-looking card, V1CE might be the best option for you.
But at the end of the day, most of these NFC business cards offer all the necessary features you need for networking, so you can't really go wrong.
So, what are you waiting for? Pick one that suits you the best and happy networking!!
NFC Digital Business Card: Frequently Asked Questions
What is the difference between NFC and RFID business cards?
NFC (Near Field Communication) and RFID (Radio-Frequency Identification) are similar technologies.
But NFC has a shorter range and is often used for mobile payments and data transfer, while RFID is used for broader applications like inventory management.
How do RFID business cards work?
RFID business cards use radio waves to communicate with compatible devices.
They have a chip that stores data and an antenna to transmit that data when in proximity to an RFID reader.
Are NFC business cards worth it?
Absolutely!
NFC business cards offer easy information sharing and can make a memorable impression on clients. They're great for tech-savvy professionals.
Are NFC business cards a good idea?
Yes, if you want to stand out and show your tech-forward approach. They're particularly useful for creative industries and networking events.
Can you make your own NFC business cards?
Definitely! You can buy NFC stickers or cards, program them with your info using apps, and stick them to your existing business cards. Just make sure to follow a guide for the best results and check out some business card examples for inspiration.