I Tested Rezi AI Resume: Full Review and Guide, 2023
Are you looking for a job and finding it hard to make a resume?
In the competitive job market today, a great resume is essential.
This is the first thing that potential employers may see. Rezi AI Resume makes crafting a top-notch resume easy and the job search process a little more bearable.
I tested Rezi AI to create a resume and cover letter to give you my opinion on this tool.
In this review and guide, I will show you how Rezi AI Resume can help you create a winning resume.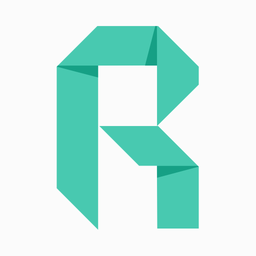 Rezi AI | Lamest Blog's Rating: 9.5/10
Rezi AI offers a comprehensive resume and cover letter builder. It also offers an amazing AI writer that lets you do most of the writing super quickly.
Lamest Blog's Thoughts on Rezi AI | Summary
Solid AI writer for creating content quickly
Great tool for job-specific resumes
Great cover-letter writer
The only drawback is the basic template designs
Final Verdict:
I would recommend this tool to anyone who is looking for a complete tool to help with their job hunt.
If the basic templates are not a deal-breaker for you, it's a great deal.
TL;DR
I have tested many AI resume builders and based on my experience, I found Rezi to be one of the best resume builders.
The AI suggestions for job responsibilities are amazing as they do a great job of quantifying performance which employers love.
The only drawback I found with Rezi is that the resume templates are a little basic.
What is Rezi AI?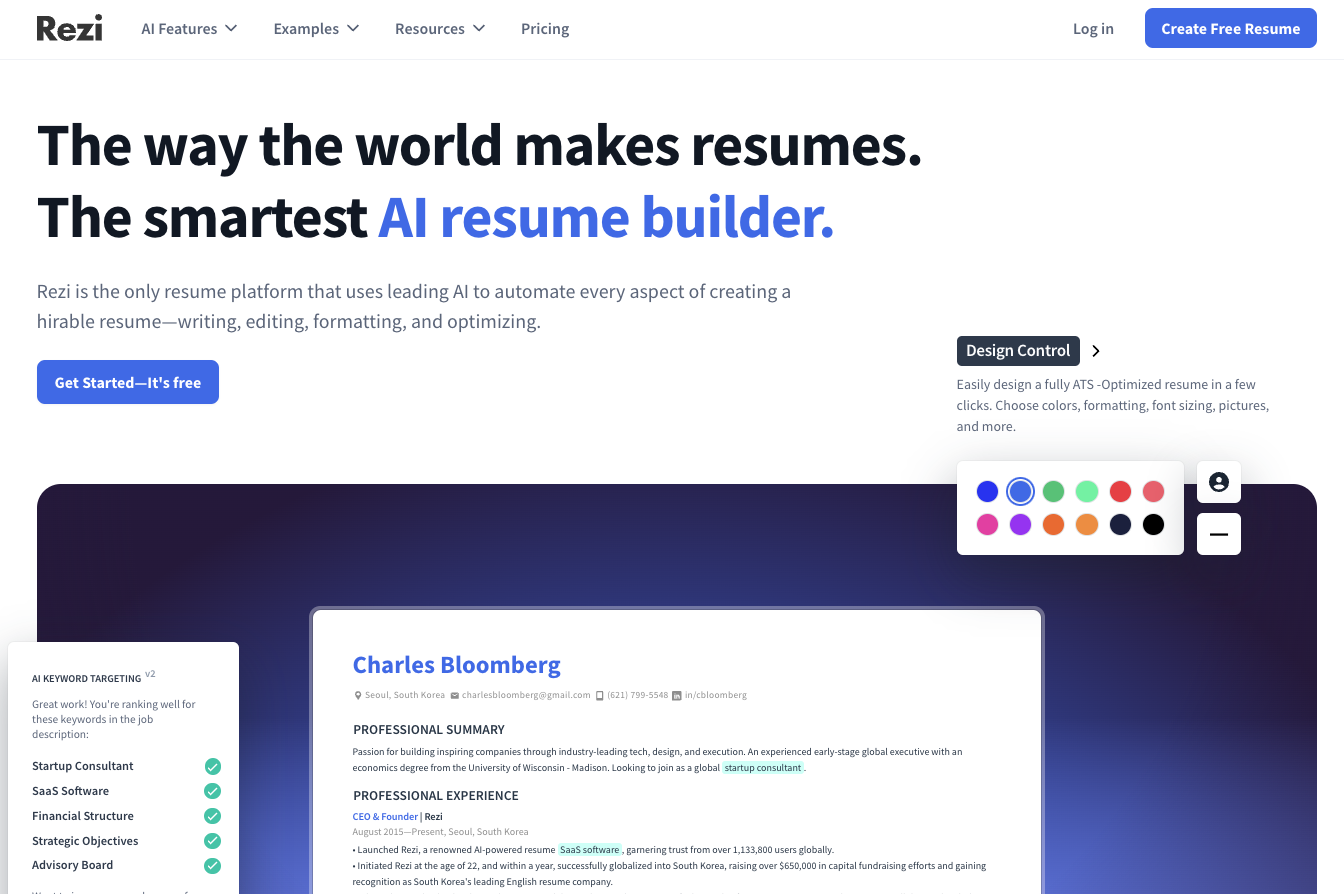 Rezi AI is an AI resume builder that makes creating a professional resume a simple process by incorporating cutting-edge AI technology.
Rezi AI can help you enhance your personal brand and ensure your resume stands out in a competitive job market.
You start by entering your relevant details, such as your work experience, education, and skills, OR you can start by uploading an old resume.
Rezi's AI then processes this information and generates a customized resume based on the data you provided.
Rezi AI Features
Let us see the features Rezi AI provides.
AI-Powered Resume Optimization: Rezi AI uses artificial intelligence to monitor your resume for formatting, content, and keywords. It offers real-time suggestions to enhance your resume's visibility and readability.
ATS Compatibility: The platform assures your resume can easily pass through ATS (Applicant Tracking Systems), the software employers use to screen job applications.
Customization: Rezi AI provides a range of templates and customization options, allowing you to adjust your resume for specific industries and job positions.
Cover Letter Builder: In addition to resume optimization, Rezi AI includes a cover letter builder. This feature assists in crafting persuasive cover letters that complement your resume.
LinkedIn Profile Optimization: The platform offers insights and guidance to improve your LinkedIn profile, aligning it with your optimized resume for a consistent professional image.
Keyword Analysis: Rezi AI Resume conducts in-depth keyword analysis to identify the industry-specific keywords and phrases you should include in your resume for higher search ranking.
User-Friendly Interface: The platform is easy to navigate, making it accessible for job seekers of all levels of technical expertise.
Rezi AI Pricing
The pricing for the PRO version is highly affordable. For just $29 per month, you gain access to all features, unlimited AI credits, and a complimentary monthly review.
There is also a free version with, of course, limited features and benefits. Rezi also offers a one-time payment and lifetime access for $129.
How I Created a Resume With Rezi AI
Step 1: Sign Up and Select Your Purpose
Begin by creating an account, verifying your email, and then deciding what you want to create. Or you can simply log in through your Facebook or Google account, as I did.
You have the option to choose from the following: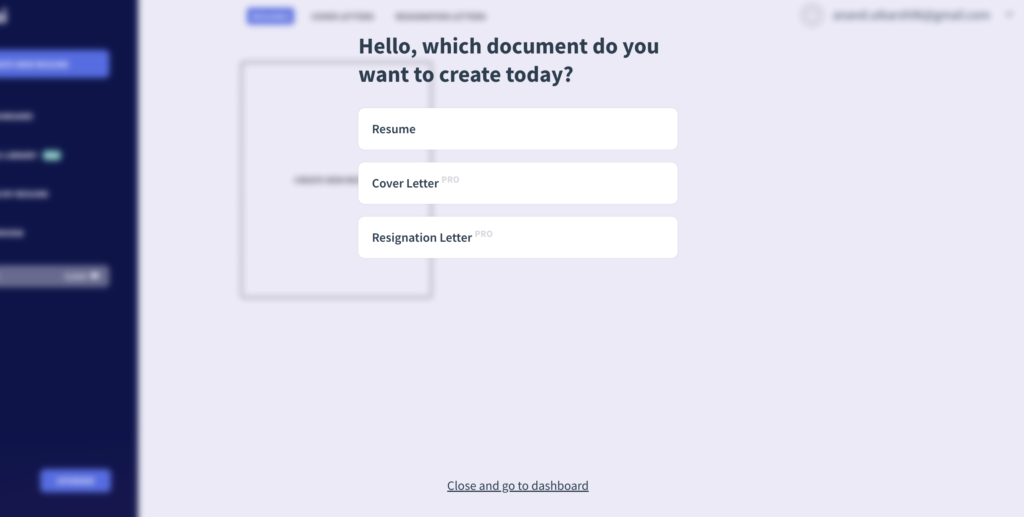 You can see that while creating a resume is free, cover letters and resignation letters require the PRO version.
Next, choose how you want to create your resume, for which you have four options.
You can start from scratch, which is recommended by Rezi, pick a resume sample, start with an existing resume, or import information from your LinkedIn profile.
Since Rezi recommends starting from scratch, I decided to go with that option.
Next, it asks you to choose between a job-specific or general resume. I decided to follow the recommended option and chose a job-tailored resume.
Then you'll have to enter the following information:
The name of the role you want
The company you are applying for
The job description
I used a software engineer job opening at Netflix for this review.
Step 2: Navigate the Rezi Resume Dashboard
After choosing your preferences, you'll access an intuitive dashboard that guides you through the entire resume creation process.
I particularly liked the video guidance in certain sections.
The videos were of great help for crafting a professional-looking resume that aligned with my skills (or the ones I entered for this review).
This is what the Rezi Dashboard looks like:
As you can see, you have to fill out the information for the following sections:
Contact Information
Experience
Project
Education
Certifications
Coursework
Involvement
Skills
Step 3: Leveraging Rezi's AI Writer
Within the Experience section, add your previous job roles and Rezi's AI resume software will help you fill out the tasks for each role.
If any of the bullet points created are not to your liking, you can generate a new one.
You can also save your progress and return later to complete the process.
I used Rezi's AI writer to generate the job duties for my experience and it turned out pretty good. Here's what it looked like: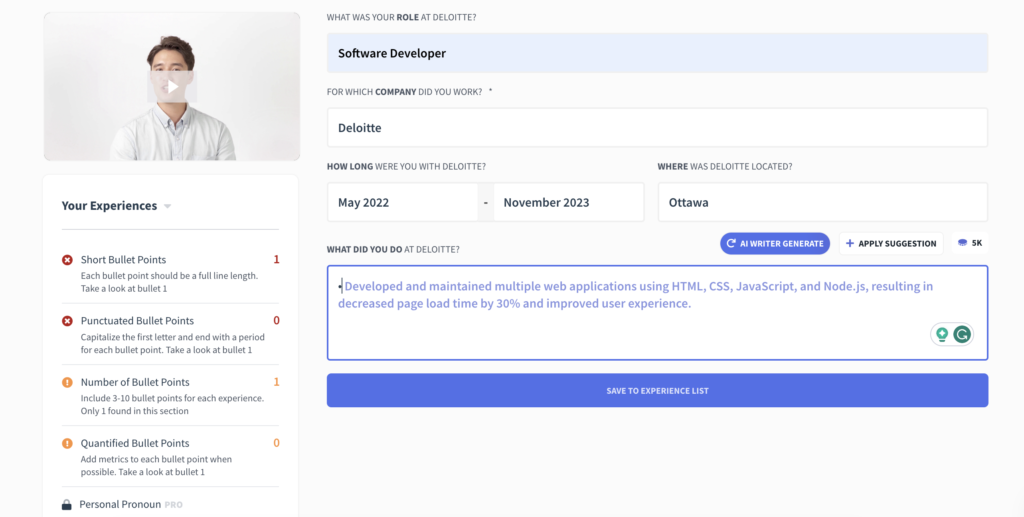 As you can see above, it also offers suggestions to improve your resume at every step.
Step 4: Finish Up!
Once you've completed the process of adding your hard and soft skills, experiences, and project history, you're all set to finish up.
At this point, the system will provide you with a preview of your resume and calculate your "Rezi Score."
This score serves as an indicator of how employers will perceive your resume compared to other candidates.
Note: I used made-up information for the sake of this review as I didn't want to add my personal information. Here's how it turned out:
I found the "Rezi Score" to be incredibly helpful for making improvements to my resume. It's a great tool for job seekers to tweak their resumes and get their dream job.
Additionally, you have the option to make direct edits within the platform if you wish to add or remove content.
Rezi doesn't have a ton of resume templates to choose from but you do get access to a few more when you pay for the premium version.
How I Created a Cover Letter With Rezi AI
I also wanted to test Rezi's cover letter generator so I could give you a more complete overview of Rezi.
Let's be honest, not everyone has the time and patience to write a cover letter specific to the company and job you are applying for. Especially when you are applying for dozens of them.
It is my least favorite part of the process.
I simply added the name of the company and the job title I was applying for.
After that, you can sit back and watch the AI writer work its magic, generating a compelling, one-page cover letter that can significantly enhance your prospects of securing the new job.
Watch the video below to see how you can use Rezi's cover letter writer:
The final result was pretty good, but to make it outstanding, I needed to change a few things and do a few tweaks here and there.
Here are. some of the major things I changed:
I added some human touch to the content as Rezi used too many "big" words which made the letter look a little bland.
I also added more specific details about my experience to align with the job.
Pros and Cons
Let's explore what left a positive impression and where there's room for improvement.
Pros
Keyword Targeting: Rezi helps you target keywords with AI recommendations. This is crucial for creating resumes that pass through ATS systems.
Job Specific Resumes: I loved how Rezi asks you for information on the job you are applying for and offers suggestions based on the job description.
Cover Letter: Rezi's cover letter generator is one of my favorites. I personally hate the process of customizing my cover letter for different jobs but Rezi makes it super easy and quick. And I really liked how the cover letter turned out.
AI writer: I was truly impressed with the AI writer as it created super relevant bullet points. It also does a great job of quantifying my performance which I really liked.
Video Guides: Rezi provides video guides at every step where they give you tips and tricks to optimize your resume.
Cons
No CV: Rezi currently doesn't allow you to create CVs.CVs are preferred for experienced professionals and in certain industries.
Only PDF Export: You can only export your resume as a PDF file. Rezi allows YouTube to fine-tune your resume on the platform but you can't edit it after the export. Google Doc or Word formats would be much more convenient.
Limited Templates: Although I didn't mind the templates Rezi has the options did feel limited. I find that platforms like KickResume & NovoResume have much better templates.
What Is an AI Resume Builder?
An AI resume builder is a software tool that uses artificial intelligence (AI) and machine learning to assist people in formulating and improving their resumes for job applications.
These tools simplify and enhance the resume creation process, and offer a range of features and advantages.
In my honest opinion, after using these AI resume builders I don't think I will ever go back to writing a resume completely on my own.
Tips and Tricks to Make Your Resume Stand Out
You want your resume to stand out from your competition. It's important to try to connect with whoever reviews your resume on a human level.
Adding a headshot to your resume can be a great idea. However, hiring a professional photographer can be expensive and tedious. We have reviewed the best AI headshot generators to help you create professional headshots from the comfort of your home. It helps you humanize your resume and give it a face.
You can also add links to your business card or a QR code linking to it. It makes it easy to share your contact details and saves space by giving access to more detailed information about you to potential employers.
Optimize your summary section and make it striking to get the reviewer's attention right away. You can you a personal branding statement generator to create this section for you quickly.
Final Thoughts
Rezi AI stands out as a valuable tool for making beautiful resumes effortlessly.
Its intuitive features and AI writer streamline the resume creation process.
Rezi is my favorite resume builder and it can be a top choice for any job seeker. The only thing I would wanna add is if you want something that is more visually striking you may have to look at other tools.
I recommend this product for its user-friendly interface and the ability to tailor resumes that capture employers' attention.
Frequently Asked Questions
Is Rezi AI free?
Creating a resume with Rezi AI is free but with only basic features and limited AI credits. It is highly recommended to upgrade to the PRO version to get access to all features plus unlimited AI credits and a free monthly review.
What AI does Rezi use?
Rezi employs its own AI system fueled by natural language processing (NLP) and machine learning to enhance resumes for job applications.
Is Rezi AI safe?
Yes, Rezi AI is designed with security measures to protect user data and follows strict privacy protocols, ensuring a safe user experience.
Is Rezi a good resume builder?
After trying it out myself, I discovered that it can produce an excellent, polished resume in just a fraction of the time it takes to do it manually.
What is the best AI resume builder?
There are various great AI resume builders, but out of all the tools I tested Rezi AI Resume Builder is highly recommended.