How Big is a Business Card? Standard Size and Exceptions
Business cards are an important tool for networking.
They're like tiny, professional contact information cards.
They show you're serious and help you make good first impressions on potential customers. They're easy to carry and add a personal touch in this digital-dominated world.
Business cards come in many different sizes too. If you're wondering how big business cards are, we have put together this guide to answer your questions.
Standard Business Cards Sizes
The standard business card sizes may seem straightforward, but there's more to it than meets the eye.
It is typically measured in inches or millimeters (if you like the metric system). The most common dimensions are 3.5 x 2 inches or 88.9 x 50.8 millimeters.
These dimensions ensure your card fits into standard cardholders and wallets.
Mini Cards: Breaking the Mold
While the standard size is widely accepted, some people prefer to stand out by using smaller business cards.
These tiny cards, often measure 3 x 1 inches or 76.2 x 25.4 millimeters. This can be a cheaper option as they require less material but also a great way to stand out.
Oversized Cards: Making a Statement
On the other end of the spectrum, oversized business cards are gaining popularity. These cards, usually around 3.75 x 2.25 inches or 95.3 x 57.2 millimeters, provide more space for creativity and information.
Aspect Ratio
A proper aspect ratio is extremely important for any business card design.
The standard aspect ratio is 1.75:1, ensuring that the card maintains an appealing and balanced appearance.
While most business cards stick to the standard aspect ratio, square cards with a 1:1 aspect ratio are becoming increasingly trendy.
They offer a distinctive look that can set your business card apart from the crowd.
Common Business Card Dimensions
US Standard Size
Image Source: SizeKeg
The Classic Dimensions
The most common and traditional size for business cards in the US is 3.5 x 2 inches (88.9 x 50.8 millimeters).
This size is popular because it easily fits into wallets and cardholders, making it convenient for recipients to store and carry.
Mini Cards
For those who want to make a memorable impression, mini business cards measuring 3 x 1 inches (76.2 x 25.4 millimeters) offer a unique twist on the standard size.
Oversized Cards
If you're looking to stand out and have a slightly larger space for creativity, oversized cards measuring around 3.75 x 2.25 inches (95.3 x 57.2 millimeters) are a good size.
European Standard Size
Across Europe, the standard business card size typically differs slightly from the US standard. European business cards are commonly sized at 3.346 x 2.165 inches (85 x 55 millimeters).
Other Non-standard Sizes
People often opt for unconventional business cards to stand out. You can use different designs or sizes to achieve this result.
Check out some of the best examples of business cards that stand out.
Square Cards
Square business cards are gaining popularity and often measure 2.5 x 2.5 inches (63.5 x 63.5 millimeters) or 3 x 3 inches (76.2 x 76.2 millimeters). They offer a unique and memorable look.
Miniature Masterpieces
Some individuals prefer exceptionally small business cards, with dimensions as tiny as 1.5 x 1.5 inches (38.1 x 38.1 millimeters). These miniature cards are compact and intriguing.
Die-cut Cards
Die-cut cards come in various shapes and sizes, allowing for limitless creativity. Popular die-cut options include rounded corners or custom shapes tailored to your brand.
Things to Consider When Designing a Business Card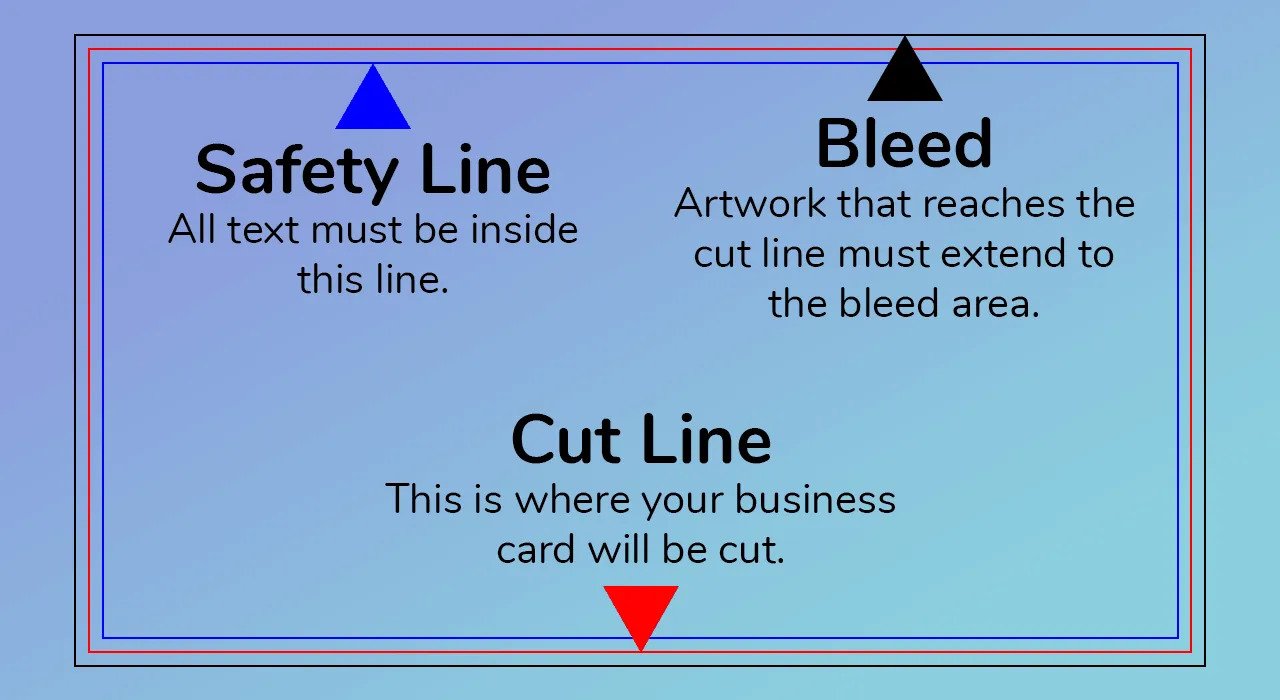 Image Source: gimm.io
Bleed Area
The bleed area is an essential concept in printing.
It is the extra space around the edges of a printed document that extends beyond the final trim size.
This area is intentionally included to ensure that when the document is trimmed to its final size, there are no unwanted white borders or unprinted edges.
Bleed is crucial for designs that have elements, such as images or background colors, that extend to the edge of the page.
Without bleed, there's a risk of white edges appearing due to slight variations in the cutting process.
The standard bleed size is typically 0.125 inches (3.175 millimeters) on each side of the document. However, it's important to check with your printing provider, as bleed requirements may vary.
Safe Zone
The safe zone is an area within your document where you should keep all critical text and important elements.
It is a margin inside the printable area to ensure that no essential information gets cut off during the trimming process.
Placing vital information, such as contact details or headlines, within the safe zone guarantees that they remain fully visible and legible even after trimming.
The standard safe zone size is typically 0.125 inches (3.175 millimeters) inside the trim line. However, like bleed, the safe zone may vary depending on your printing provider.
Resolution for Printing
Resolution is the level of detail and clarity of an image, typically measured in dots per inch (DPI). When preparing images for print, it's crucial to have a high resolution to ensure sharp and clear results.
For most professional printing, a resolution of 300 DPI is considered standard.
This resolution ensures that images and graphics are crisp and well-defined when printed.
Increasing the size of a low-resolution image can lead to pixelation, which degrades image quality. Always use high-resolution images for print materials.
Materials and Finishes
Paper Types
The paper stock you use for printing your business cards determines its look and feel.
Glossy Paper: Glossy paper is known for its shiny and reflective surface. It enhances the vibrancy of colors and is often used for brochures, flyers, and high-quality photographs.
Matte Paper: Matte paper has a non-reflective surface, which gives it a more subtle and sophisticated look. It is ideal for designs that require a soft and understated finish, such as business cards and invitations.
Cardstock: Cardstock is a thick and sturdy paper that is perfect for items like business cards, postcards, and greeting cards. It provides durability and a premium feel.
Recycled Paper: Recycled paper is an eco-friendly option made from post-consumer materials. It's a great choice for environmentally-conscious projects and comes in various textures and weights.
Coatings
Gloss Coating: A gloss coating adds a shiny and reflective layer to printed materials. It enhances color vibrancy and provides a polished finish. Gloss coatings are often used for promotional materials like brochures and posters.
Matte Coating: Matte coating offers a non-reflective finish, which can give printed materials a more subdued and elegant appearance. It reduces glare and is commonly used for business cards and packaging.
UV Coating: UV coating involves applying a high-gloss, protective layer that is cured with ultraviolet light. It not only adds shine but also provides durability and protection against wear and tear. UV coating is popular for items like book covers and presentation folders.
Special Effects
Foil Stamping: Foil stamping involves applying a thin layer of metallic or colored foil to specific areas of a printed piece. It creates a luxurious and eye-catching effect and is often used for business cards, invitations, and packaging.
Embossing and Debossing: Embossing raises specific parts of a design, creating a textured, raised effect. Debossing, on the other hand, presses parts of the design down into the paper, creating a recessed effect. Both techniques add depth and tactile appeal to materials like stationery and certificates.
Spot UV: Spot UV is a selective application of UV coating to specific areas of a printed piece, creating contrast between matte and glossy elements. It's used to highlight specific design elements, logos, or text, making them stand out.
Designing an Effective Business Card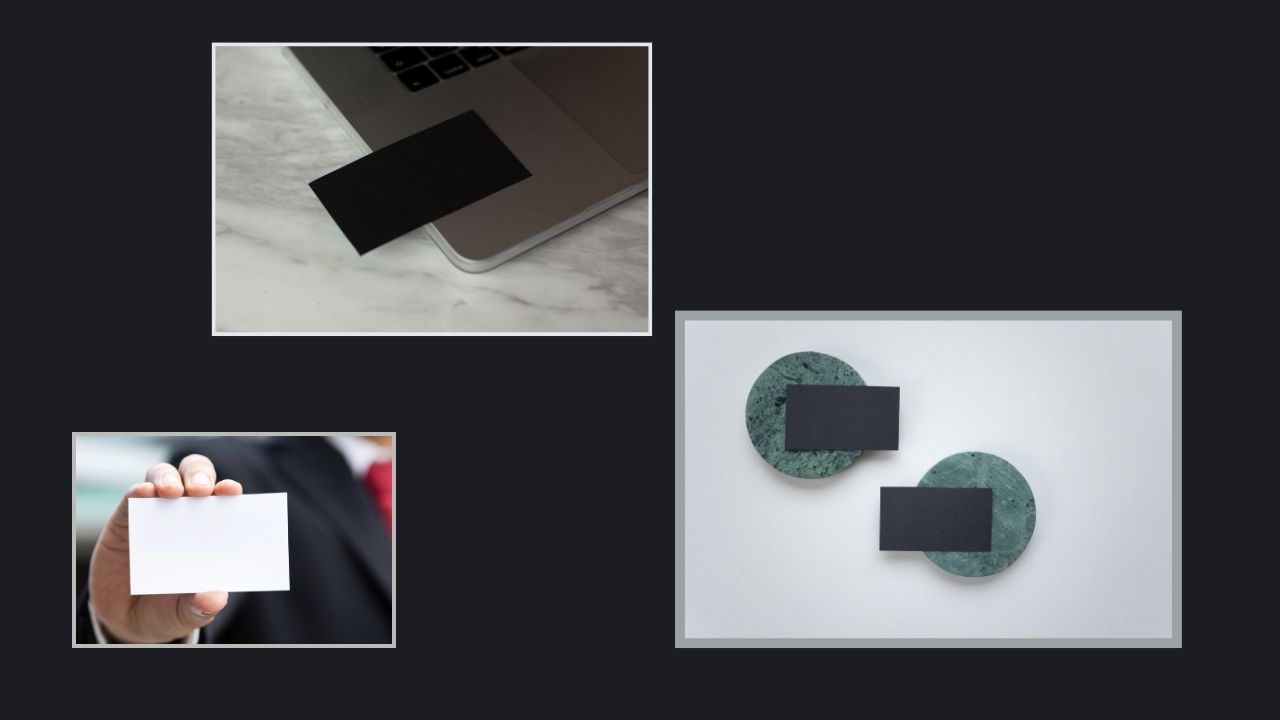 Layout and Typography
1. Clean and Organized Layout
Ensure that your business card has a clean and organized layout. Avoid clutter, and make sure there is enough white space to allow each element to breathe. A well-structured design makes information easy to read and digest.
2. Font Selection
Choose legible fonts for your card. Opt for a maximum of two typefaces to maintain consistency. Consider using sans-serif fonts for a modern look and serif fonts for a more classic and traditional feel.
3. Hierarchy of Information
Prioritize the most critical information. Use typography to establish a hierarchy, making sure your name and business name stand out. Important details like phone numbers and email addresses should also be easy to spot.
Logo Placement
1. Prominence
Your logo is a visual representation of your brand. Place it prominently on your business card, ideally near the top, to reinforce brand identity. Ensure the logo is clear and high-quality.
2. Balance and Proportion
Consider the balance and proportion of your logo with other elements. It should complement the overall design without overpowering it.
Color Choices
1. Brand Colors
Use your brand's colors to maintain consistency across all marketing materials. If you don't have set brand colors, choose a color scheme that reflects your industry or personal style.
2. Readability
Ensure that text and background colors provide sufficient contrast for readability. Avoid using too many vibrant colors that might distract or overwhelm the reader.
Contact Information
1. Essential Details
Include your name, job title, company name, phone number, email address, and website. Only add additional information if it's relevant to your business or industry.
2. Formatting
Format your contact information consistently and clearly. Use legible fonts and consider using bold or different colors for important details like your name and phone number.
QR Codes and Digital Elements
1. QR Codes
QR codes can be a valuable addition to your business card, allowing recipients to quickly access your website or contact information digitally. Ensure that the QR code is scannable and linked to relevant content.
2. Social Media Icons
If you're active on social media, consider adding icons or links to your profiles. This can help recipients connect with you on various platforms.
Digital Business Cards
Digital business cards, often referred to as e-business cards or virtual business cards, are electronic versions of traditional paper business cards.
These cards are typically stored on mobile devices, websites, or specialized apps, allowing professionals to share their contact information and other essential details digitally.
Some of the biggest advantages of digital business cards are:
Eco-Friendly: Digital business cards are environmentally friendly as they reduce the need for printed materials, thus minimizing paper waste and resource consumption.
Accessibility: They can be accessed instantly from smartphones, tablets, or computers, making it easier for recipients to retrieve and store contact information.
Interactive Elements: Digital business cards can include interactive elements like clickable links, social media profiles, and multimedia content, providing a more engaging experience.
Real-time Updates: Professionals can update their digital business cards in real-time, ensuring that recipients always have access to the latest information.
How to Create and Share Digital Business Cards
To create the digital business card:
Choose a Platform: Select a platform or app for creating and managing digital business cards. Some popular options are:
Design Your Card: Create an appealing digital card by adding your contact details, a profile picture, the company logo, and any other relevant information.
Customize Links: Incorporate clickable links to your website, social media profiles, and other online resources.
Add Multimedia: Enhance your card by including multimedia elements like videos, audio clips, or portfolio images.
Share Your Card: Send your digital business card via email, text message, or specialized digital card-sharing apps.
QR Codes and Digital Business Cards
QR codes are often used to facilitate the sharing of digital business cards. Users can scan the QR code with their mobile device, instantly saving the contact information and other details.
To make the digital business card sharing process even more seamless, QR codes can be generated and added to physical business cards, making it easy for recipients to transition from traditional to digital formats.
Tips for Creating Memorable Business Cards
Unique Designs
Creative Layout: Opt for a creative and distinctive layout that sets your business card apart from the ordinary. Unconventional shapes, sizes, and folds can make a strong impression.
Check out these free templates to create beautiful business cards.
Eye-catching Colors: Use vibrant and eye-catching colors that align with your brand and industry. Color can evoke emotions and leave a lasting impact.
Texture and Material: Experiment with different textures and materials. A unique texture, like embossing or foil stamping, can make your card more tactile and memorable.
Use of High-Quality Images
High-Resolution Photos: Ensure that any images on your card, such as your profile picture or company logo, are high-resolution. Blurry images can detract from the overall quality.
Professional Photography: If possible, invest in professional photography for headshots and product images. High-quality visuals enhance the professionalism of your card.
Visual Storytelling: Use images that tell a story about your business or brand. Visual storytelling can make your card more engaging and memorable.
Simplicity and Clarity
Clean Design: Keep your card design clean and uncluttered. Avoid overcrowding with excessive text or graphics. White space can improve readability.
Legible Fonts: Choose clear and legible fonts. Maintain consistency in typography throughout your card. Ensure that contact details are easy to read.
Essential Information: Include only essential information on your card to avoid overwhelming recipients. Focus on key details like your name, job title, company name, phone number, and email address.
Consistency with Branding
Brand Colors: Use your brand's colors consistently on your card. Consistency in color schemes builds brand recognition and trust.
Logo Placement: Position your logo consistently on your card. This reinforces brand identity and helps people recognize your business quickly.
Brand Voice: Maintain a consistent brand statement and voice in your messaging. Whether your tone is formal, friendly, or innovative, it should align with your overall branding.
Conclusion
In summary, understanding various business card sizes, from standard to unique dimensions, is crucial for effective networking.
Digital business cards offer convenience, interactivity, and environmental benefits, shaping the future of networking in a digital world.
Embracing both traditional and digital formats can enhance your networking efforts.