11 Best AI Headshot Generators in 2023: We Tested Them So You Don't Have To
A professional headshot is usually front and center of most personal brands. People use headshots on different platforms like LinkedIn, resumes, and even Twitter to portray a professional image.
Are you struggling to take that perfect headshot?
Professional photographers can be expensive and that's where AI headshot generators step in.
We have done some comprehensive tests and research to find some of the best AI headshot generators on the market. In this article, we will give you a thorough overview of these tools to help you find the tool that best suits your needs.
So, if you're looking for the perfect tool to step up your professional image I have got you covered!
Lamest Blog's Top Picks
Here are the top 3 headshot generators in our opinion if you're in a rush but feel free to read our in-depth reviews below:
Pick #1: 9.5/10
Aragon AI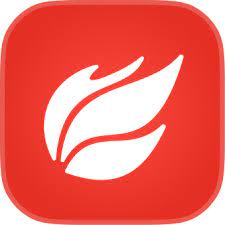 Best Picture Quality
Pick #2: 9/10
AirBrush AI

Most Affordable Option
Pick #3: 8.5/10
ProPhotos AI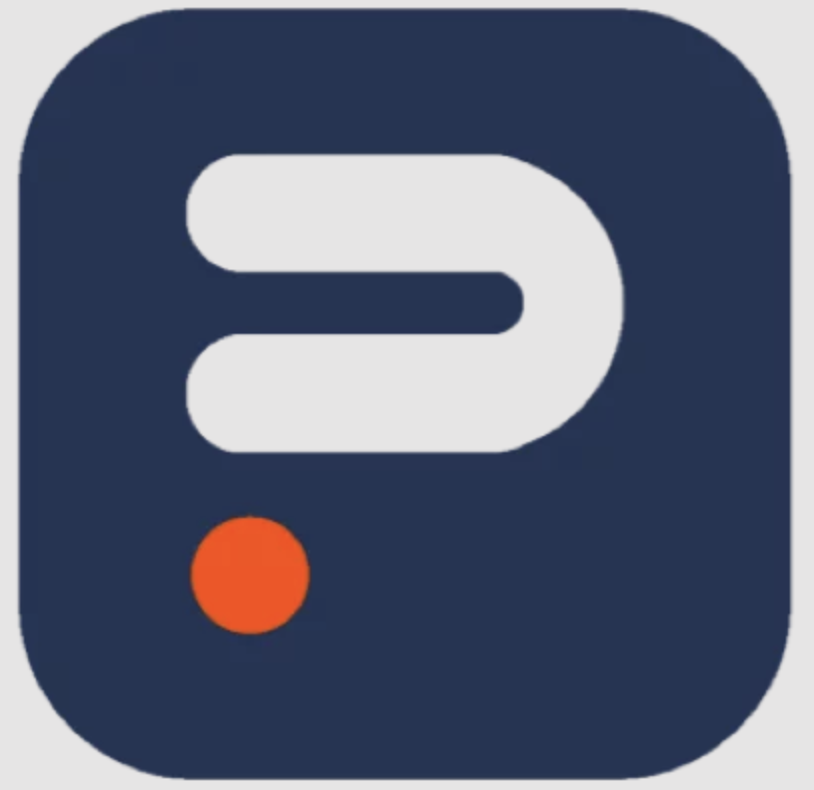 Can Use Any Pictures
What is an AI Headshot Generator and How it Works?
Before we get into in-depth reviews of the best AI headshot generators on the market let's find out what exactly these tools are.
An AI headshot generator is a tool that is powered by AI algorithms and turns regular images into professional headshots.
You need to provide images of yourself to an AI headshot generator, which uses that image to recreate your face in a photorealistic headshot. Many AI headshot tools also allow you to generate images with different angles, hairstyles, clothing, etc.
What is The Best AI Headshot Generator
We researched and tested almost all the headshot generators we could get our hands on.
To create this list we focused on a few important criteria. First, we considered the image quality as that's the most important thing. We also considered how easy these platforms are to use. And lastly, the pricing they offer.
We have some pricy options on this list but they do offer features that justify the price.
Aragon AI
AirBrush AI
Pro Photos AI
Studio Shot AI
Try It On AI
Headshots by AI
Secta AI
PFP Maker
Fotor
HeadshotPro
Dreamwave AI
Profile Bakery
How I Tested These AI Headshot Generators
I conducted some research to find a bunch of AI headshot generators.
Then I came up with a list of tools to test for this article.
Finally, I tested over a dozen tools to give you my honest and educated opinion.
I conducted my test by uploading my pictures to these platforms and creating headshots to evaluate the results.
Aragon AI
Overview
Aragon AI is the first headshot maker I tried and overall the best.
I think the pricing, the quick turnaround, and the money-back guarantee make it generally the best choice for most users.
I really liked the final headshots Aragon was able to create for me. I did notice that some images made me look a little older than the images I uploaded but I don't think it looked bad.
Aragon AI has carved out a space for itself in the market and has over 235,000 users. I was pleasantly surprised by the results we got with Aragon especially given the quick turnaround.
You need to provide Aragon 12 selfies and it will use those to create AI-generated headshots. Aragon offers a 30-day money-back option if you're not satisfied with the results.
Key Benefits:
High-quality headshots: The image quality was amazing. Some of the tools we tested made me look cartoonish but Aragon was right on the money.
Quick Turnaround: I got my headshots within an hour. So, if you're looking for good quality pictures it's just as quick as going to a professional photographer. And you don't need to leave your house.
Pros & Cons
Pros:
Swift turnaround time of under an hour.
Impressive quality headshots.
A wide array of backgrounds, poses, and clothing options.
Most generated headshots closely resemble the user.
Over 50 realistic headshots to choose from
Cons:
Some generated photos may make users appear slightly older.
Pricing
Starter Plan: $29 Per Person (40 headshots, 20+ various styles, 90-minute turnaround)
Basic Plan: $39 Per Person (80 headshots, 40+ styles, 75 minute turnaround)
Premium Plan: $69 Per Person (200 headshots, 100+ styles, 60-minute turnaround)
Aragon Final Thoughts
In my experience, Aragon AI definitely gives you a great bang for your buck! I think it offered the best overall experience from the amazing UI to the delivery of the final images. It was a breeze!
The turnaround time was pretty quick and the quality of the headshots was truly great. Also, the wide different poses and clothes do a great job of adding some quirks to your headshots.
AirBrush AI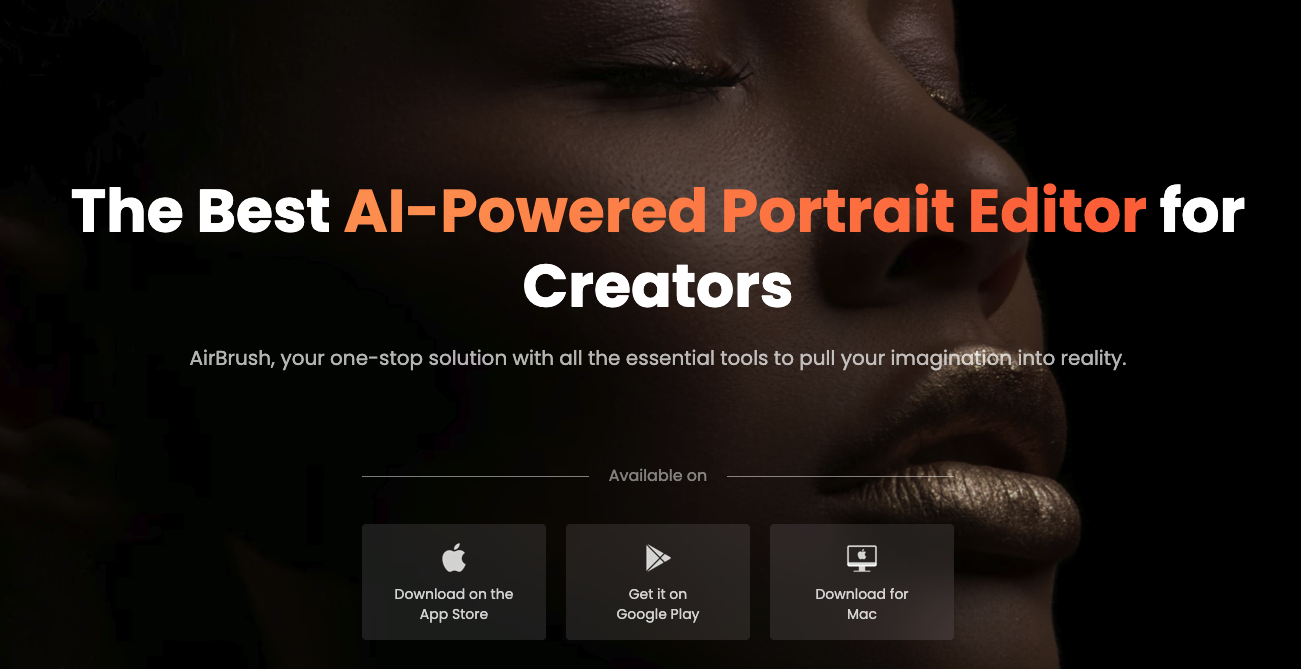 Overview
My experience with Airbrush AI was pretty pleasant. I do think for the price, Airbrush AI offers some of the best headshots on the market.
Their basic plan starts at $4.99 and the images were great! But I do feel like the lack of different backgrounds and outfits makes the 5 headshots a little redundant.
I think if you're looking for 1 professional looking headshot then this is probably the best option you have. And that is the reason we put Airbrush so high up on this list.
AirBrush AI stands out in the market because of its affordable pricing and efficiency. Even the basic plan offers amazing professional headshots.
Also, AirBrush is extremely easy to use and offers a tool for Macs as well as mobile apps that you can use on your phone.
Key Benefits:
Affordable Option: The cheapest plan on the market. It's the perfect option if you want 1 good headshot.
Professional Photos: I really liked how the basic plan kept it simple and professional.
Pros & Cons
Pros:
Extremely affordable pricing, starting at just $4.99.
Cross-platform support for Mac, iOS, and Android.
Professional style templates designed by photographers.
A diverse set of retouching tools, including 30+ options.
Customizable professional headshots with a wide range of clothing and background choices.
Quick turnaround time, with results in just 60 minutes.
Cons:
Limited to headshot generation, and doesn't offer many other customizations.
Pricing
Lite Plan: $4.99 (5 headshots, 2 hours turnaround)
Normal Plan: $19.99 (40 headshots, 2 hours turnaround, 4 styles)
Premium Plan: $39.99 (120 headshots, 2 hours turnaround, 6 styles)
AirBrush AI Final Thoughts
I loved how affordable the basic plan is. Especially, since you don't really need 40-80 headshots of yourself at once.
AirBrush is one of the most affordable options on this list.
The 2-hour processing time along with the pricing and image quality makes it a great choice.
Pro Photos AI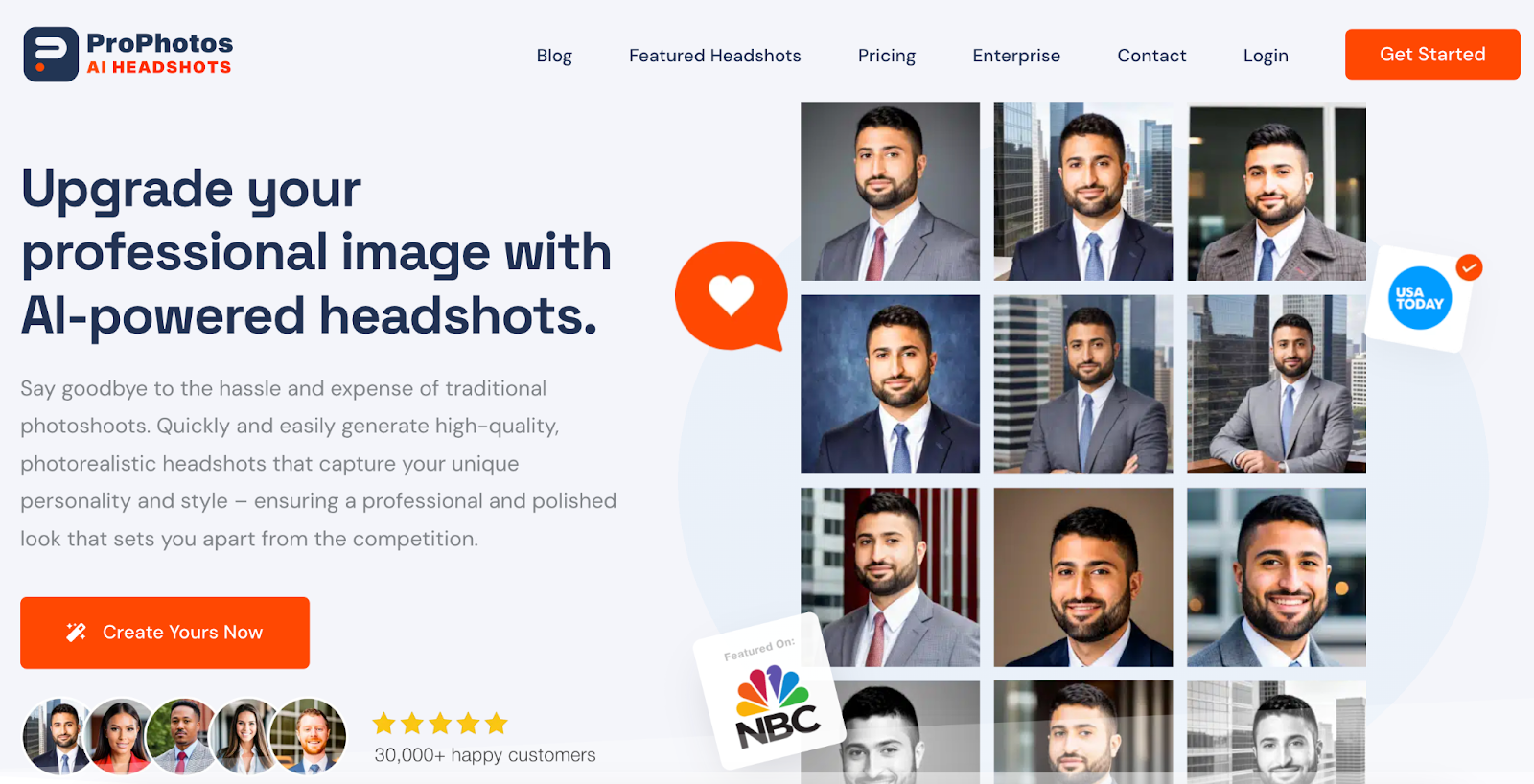 Overview
ProPhotos AI truly amazed me with how real the results looked. I think this was one of the best-looking headshots I got.
So, ProPhotos mentions how you can upload casual pictures of yourself and that should be enough for their AI to create great headshots of you.
I was a little skeptical going into it but I loved how they turned out. I uploaded around 15 pictures of myself and they weren't necessarily focused on my face and it worked perfectly.
Pro Photos AI allows you to create professional headshots by uploading casual images of yourself. You can upload a mix of casual selfies, and candid pictures and ProPhotos takes care of the rest.
The AI technology powering Pro Photos will create corporate headshots and help you take your online image to the next level.
Key Benefits:
You can upload casual pictures to create a professional headshot. I loved this part as I didn't have to go looking for "good" pictures of myself.
The platform is extremely easy to use.
Pros & Cons
Pros:
ProPhotos AI specializes in delivering headshots that actually look like you.
The AI background removal technology allows users to place their headshots on any background of their choice.
Headshots are ready in 30-45 minutes, saving users valuable time.
Users have full ownership rights and can use the generated headshots on professional documents or social media.
Cons:
The pricing is a little higher than most other tools but you get what you pay for.
Pricing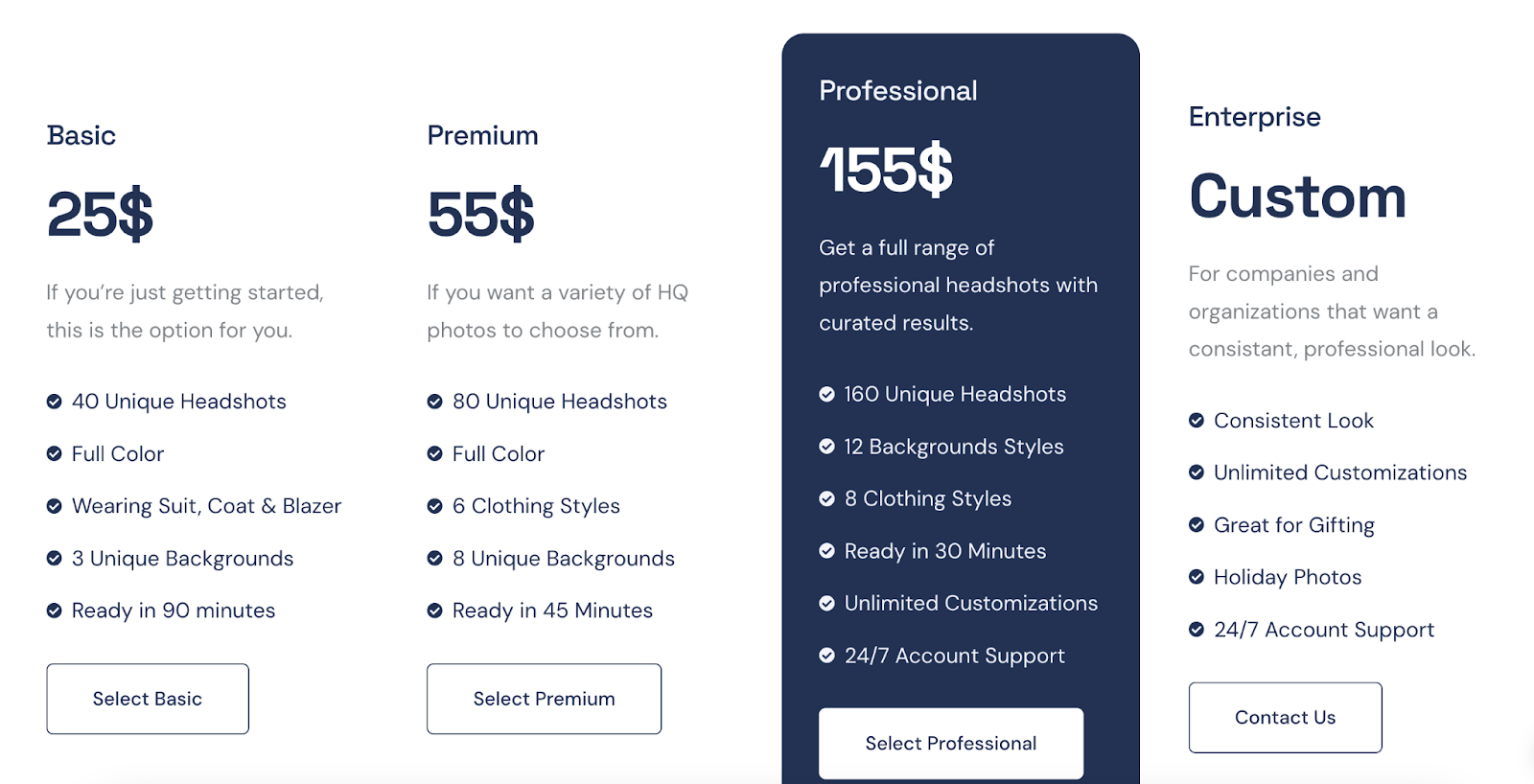 Basic: $25 (40 headshots, attire in Suit, Coat, and blazer, 3 unique backgrounds, 90 minutes processing)
Premium: $55 (80 headshots, 8 backgrounds, 6 clothing styles, 45 minutes processing)
Professional: $155 (160 headshots, 12 backgrounds, 8 clothing styles, 30 minutes processing) includes unlimited customizations and 24/7 account support.
Pro Photos AI Final Thoughts
I was honestly blown away by how good and realistic the headshots turned out.
I also loved how Pro Photos makes it extremely easy for you to generate professional headshots by allowing you to upload all types of images of yourself.
Additionally, the quick processing time also makes it a great choice.
Studio Shot.AI
Overview
I tried Studio Shot AI and was pleasantly surprised with the results. The headshots they created for me were the closest to my actual appearance as they matched my beard and my hairstyle.
I believe that they can offer such good final pictures because they have a team of human editors doing final touch-ups on your images.
Studio Shot.ai offers much more than an AI professional headshot generator. Your headshots go through final touch-ups and editing by humans to guarantee amazing results.
They combine AI technology and human touch to ensure that you get beautiful professional headshot images. This was probably our favorite feature offered by any of the tools we tested for this review.
You can also choose from a wide range of styles that are geared towards LinkedIn, executives, and real estate. We went for more professional headshots and were really happy with the way they turned out.
Key Benefits:
Unlimited adjustments: You can ask for as many edits as you want until you are satisfied with the results.
Human editing: Studio shot.ai has a team of editors who edit your images.
Pros & Cons
Pros:
A photography team adds the final touches for exceptional results.
Suitable for large printouts.
You can request as many adjustments as needed.
Photos are deleted once the project is completed.
Cons:
You can select the style but don't have options for backgrounds or clothing types.
Two-day turnaround for your headshots.
Pricing
Their pricing structure is marketed toward teams and offers better pricing for more members.
1-5 People: $29.25 per person (Includes infinite touch-ups)
5-20 People: $21.75 per person (Includes infinite touch-ups)
Studio Shot.AI Final Thoughts
Studio Shot offers a unique spin on AI headshot generators by offering human editing for the images.
If you're looking for a solution that ensures you get exactly what you need, Studio Shot is an easy choice. And quite honestly, I don't think it's that expensive.
The biggest downside I think for them is the slow turnaround time.
Try It On AI Headshots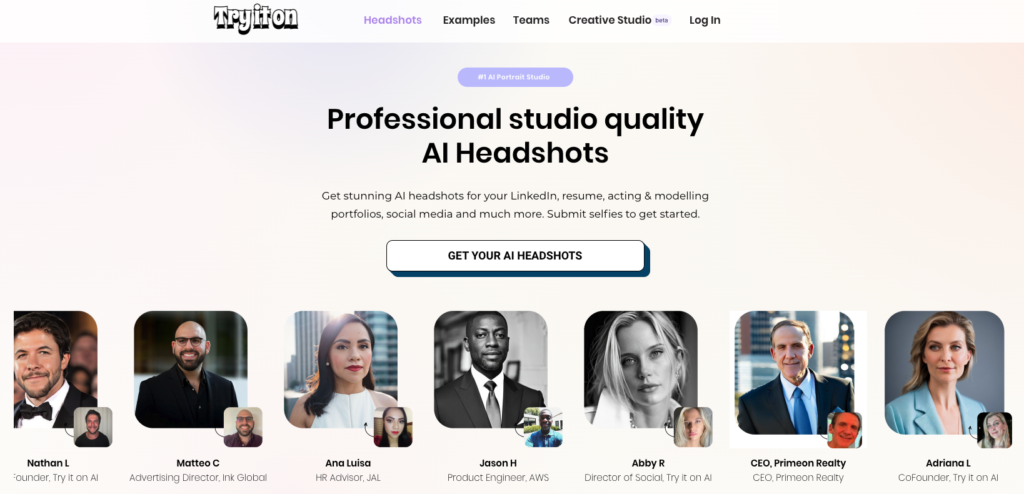 Overview
I tried (no pun intended) TryItOn AI and was pretty happy with the results. It requires you to upload around 15 pictures of yourself. It took a few hours to receive my final headshots from TryItOn.
The images I received included some amazing results but also had some weird ones that made me look a little too good. Or almost like a different person. But altogether, I was happy with the headshots I received.
I definitely have enough images that I can use. You can also opt for the more expensive plan that offers 2 human edits. We can't really say whether that's worth it since we didn't try that plan.
Pros & Cons
Pros:
Great variety in the headshots regarding outfits, poses, and backgrounds.
Affordable pricing
Easy-to-use platform
Good image quality
Cons:
Not the most professional-looking headshots
Pricing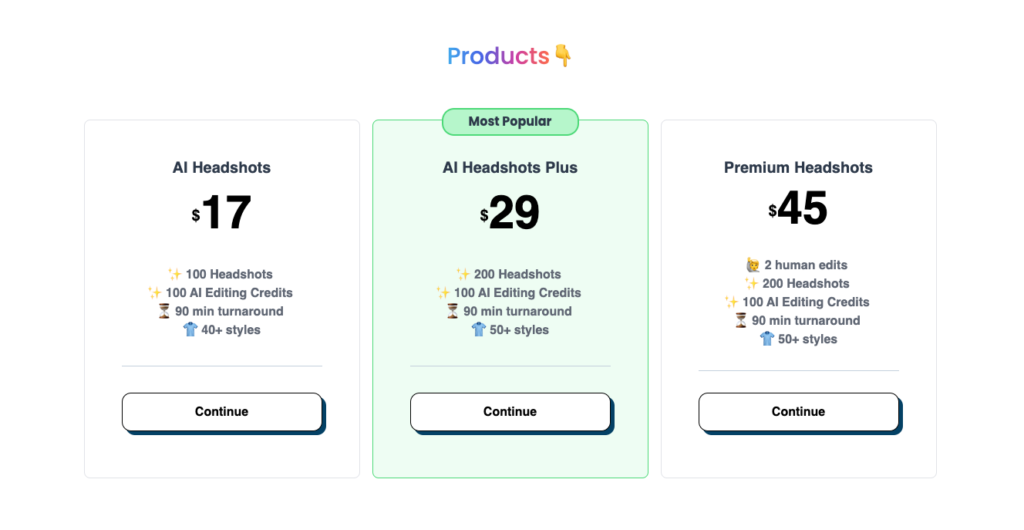 AI Headshots: $17 | 100 Headshots & 50+ styles
AI Headshots Plus: $29 for 200 Headshots & 50+ styles
Premium Headshots: $45 for 200 Headshots & 50+ styles + 2 human edits
TryItOn AI Final Thoughts
Try It On offers a solid platform that can create some beautiful headshots. Based on the results I saw, it didn't seem to be very professional headshots compared to some of the other competitors.
However, that does not mean that it's not a good tool as it can create really nice pictures. But you can expect some duds in there.
But for this price, it offers a very solid alternative for a professional photographer.
Headshots by AI
Overview
I tried headshots AI and honestly didn't think that the results stood out in any way after trying the above tools.
Headshots by AI is an AI tool that helps you create professional-looking headshots. You need to upload at least 20 pictures from different angles to cover all your facial features.
I found that uploading 20 photos from different angles was a little annoying and preferred tools like ProPhotos that allow you to upload casual pictures.
They do delete your original images after 24 hours which is quite cool if you care about your privacy.
Key Benefits:
Uses Stable diffusion and Dreambooth which offer consistently good results.
Your pictures are deleted after 24 hours ensuring security
Pros & Cons
Pros:
Automatic deletion of source images after 24 hours.
Includes the option to generate an e-business card at no extra charge.
Offers cost-effective headshot solutions.
Cons:
Fewer style options compared to some other AI headshot generators.
Requires a minimum of 20 photos for processing.
Pricing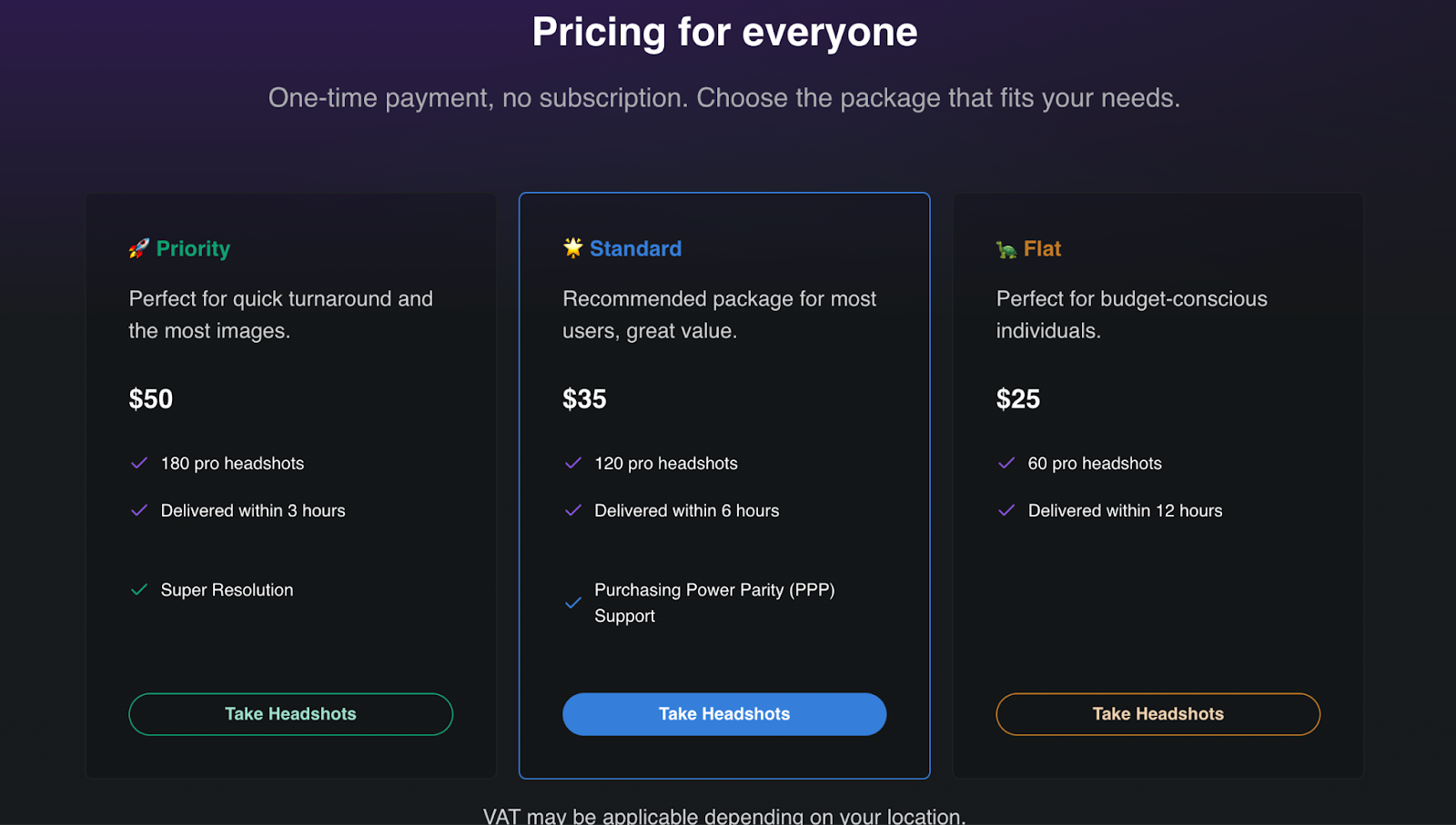 Flat: $25 (60 photos with a 12-hour turnaround time)
Standard: $35 $21 (120 photos with a 6-hour turnaround time)
Priority: $50 (180 photos with a 3-hour turnaround time and Super Resolution)
Headshots by AI Final Thoughts
Headshots by AI can create great headshots using AI technology and it does that at a good price.
Compared to many other competitors, it doesn't offer many unique features but is definitely a solid choice.
But I do like the fact that they delete your images after 24 hours.
Secta AI
Overview
I used Secta AI to create headshots and was pleased with the results. However, you do need to upload 25 pictures of yourself.
I think that's a bit of an overkill, considering other tools gave us similar results with as little as 12 images.
Secta AI offers a simple and easy-to-use tool that allows you to create professional headshots using regular selfies. You can even upload group pictures, which does make your life a little easier.
You to generate further variations of your headshots and you can edit them.
Key Benefits:
Secta creates 300+ headshots per session
Secta's remix feature allows you to create variations, recolor, and retouch your headshots.
Pros & Cons
Pros:
Hundreds of striking close-ups are generated in under an hour.
Secta AI provides a private gallery where you can save and export your preferred portraits.
The generated headshots boast impressive quality.
If you're unsatisfied with the results and haven't downloaded any images, you can claim a full refund.
Cons:
Requiring a minimum of 25 photos for processing may be a challenge for some users.
Secta is priced at $99 but even with the discount at $49, it's more expensive than other tools on this list.
Pricing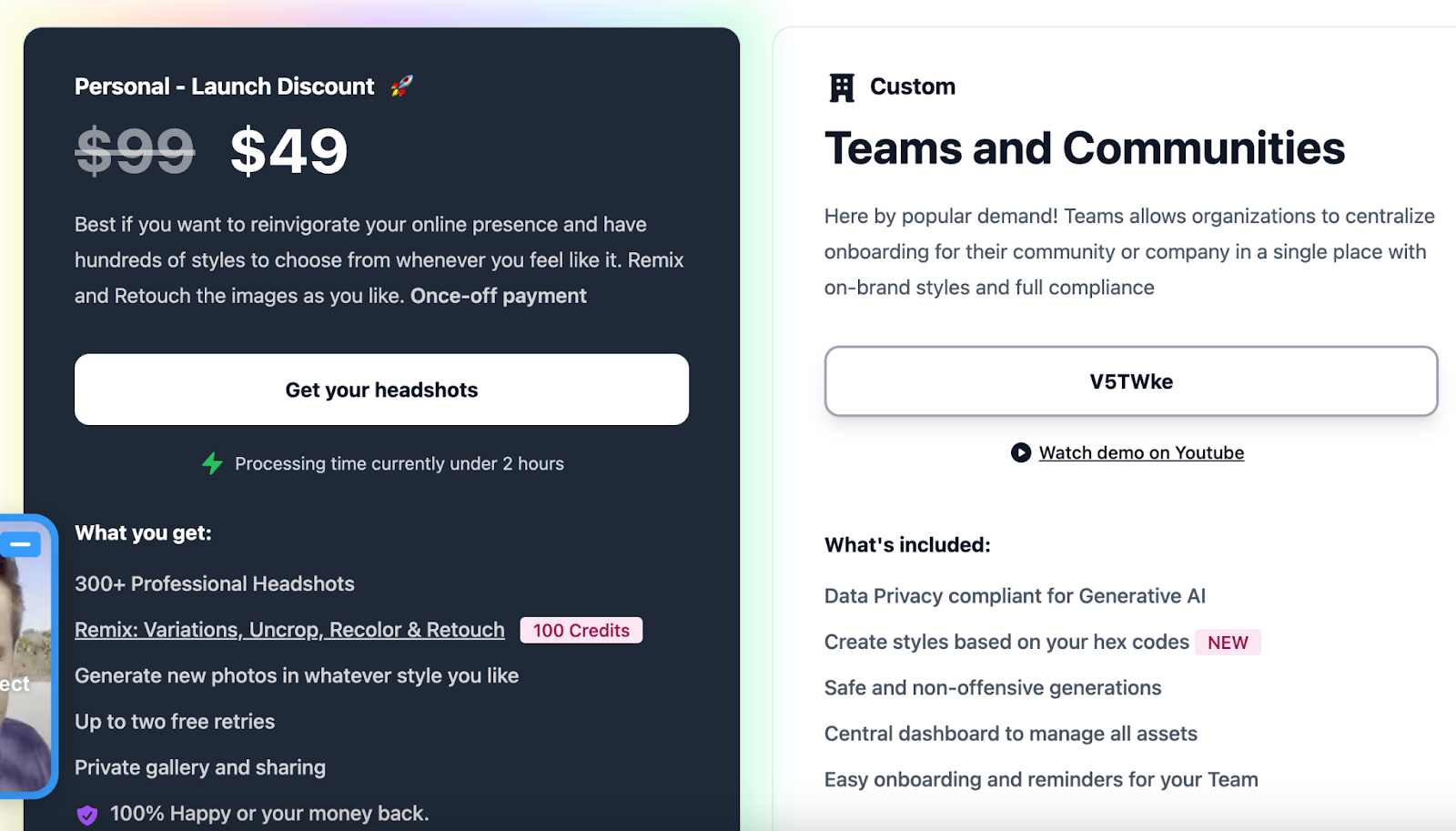 Secta AI offers its services at $49 per person for 300+ professional headshots.
Remember that it is a discounted price and is subject to change.
Secta AI Final Thoughts
I thought uploading 25 pictures was a bit of a pain but overall Secta is a solid contender and offers a good solution with a large number of headshots.
The remix feature also does a great job and allows you to create different variations.
I do think that Secta's pricing is not ideal. They do offer over 300 pictures but I personally don't think I need that many headshots.
PFP Maker
Overview
I liked PFP Maker because it allows you to create headshots for specific purposes.
I used their free headshot generator and here is what the images looked like:
I do like what they did with the background but some of the images turned out weird with the shadows. But I do realize the paid version is much better.
You can create headshots for Social media, Business cards, CVs, email signatures, etc.
Key Benefits:
You can tailor your headshots to your precise specifications.
AI Face-Enhancing Options allow you to further enhance your headshots.
PFP Maker can generate images tailored to your specific needs.
Pros & Cons
Pros:
PFP Maker can generate headshots for different platforms.
PFP Maker is a self-serve tool, that gives you complete control over the customization of your headshots.
The tool provides AI face-enhancing options for perfecting your headshots.
PFP Maker delivers results within an hour, ensuring quick turnaround times.
Cons:
Not Marketed for Corporate Use: Although capable of generating corporate headshots, PFP Maker is not explicitly marketed for this purpose.
Pricing
Basic: $15 (120 photos with 15 styles)
Premium: $25 (240 photos with 30 styles)
PFP Maker Final Thoughts
PFP maker is versatile and does more than generate corporate headshots. You also get much more control over what your headshots end up looking like compared to other tools.
I really liked how much control you have over the final results.
Overall, a great choice!
Fotor
Overview
Fotor is an impressive AI headshot generator that can create a professional headshot or an avatar for leisure.
Key Benefits:
Professional Headshots: Fotor can generate professional headshots complete with a stylish suit and an appealing background.
Creative Avatars: Fotor allows you to choose from various styles to craft imaginative anime avatars.
Pros & Cons
Pros:
Fotor caters to both professional headshots and creative avatars, offering a wide spectrum of styles.
The platform is beginner-friendly, featuring a pro guide for easy use.
Fotor employs advanced AI-powered technology to generate realistic and professional headshots.
In addition to headshots, Fotor provides various AI functions for diverse creative needs.
High-definition headshots are available for download, ensuring top-notch quality.
Cons:
While the pricing is competitive, it may not be as cost-effective as some other options.
Pricing
$8.99 (50 headshots and 5 styles)
HeadshotPro
Overview
HeadshotPro is another AI headshot generator that allows users to create high-quality headshots. They offer a ton of unique styles and clothing options that can make you stand out.
Key Benefits:
Styles: A wide variety of styles that offer different backgrounds and color schemes.
Clothing options: You can choose from tons of different types of clothing.
Pros & Cons
Pros:
Diverse Backgrounds
Natural Poses
Clothing Variety
Cons:
Photo Quantity: You need to upload 20 photos.
Color Accuracy: HeadshotPro's eye color accuracy is not great.
Pricing
Small Shoot: $29 (40 headshots, 2 hours processing)
Normal Shoot: $39 (120 headshots, 2 hours processing)
Premium Shoot: $49 (240 headshots, 2 hours processing)
Dreamwave AI
Overview
Dreamwave AI creates realistic-looking headshots and delivers them within an hour. It is one of the fastest headshot generators we've tested.
Highlight:
Accurate and high-quality images
Unlimited customization
Pros & Cons
Pros:
Minimal Photo Requirement
Eye Color Customization
Versatile Background Options
Cons:
Dreamwave AI's focus leans towards creative and artsy profiles.
Pricing
120 headshots for $39 with different outfits, backgrounds, and poses.
Best AI Headshot Generator: Final Thoughts
AI headshot generators offer an affordable and efficient solution to an age-old problem. Going to a professional photographer and paying them to take pictures of you can seem like an ordeal and it is ?

But with headshot generators, you can use pictures you already have to create professional headshots. Easy and cheap!

So, what are you waiting for? If you're looking to get yourself some professional headshots pick a tool and get going.
Best AI Headshot Generators: Frequently Asked Questions
What is the best free AI headshot generator?
The best free AI headshot generator we tested is PFP Maker. They do have a paid version but you can upload a picture and create new versions of it with different backgrounds. It may not be as good and customizable as the paid ones but not a bad choice.
Are AI headshots any good?
Absolutely AI headshots can be amazing depending on the tools you pick. Obviously, there are some headshot generators that can be hit or miss but there are many tools like Aragon AI and Airbrush AI that will give you amazing results.
What is the AI app that does headshots?
AirBrush AI offers mobile apps for both Android and iOS devices that you can use to create headshots.
Which AI is best for faces?
Aragon AI is the best AI headshot tool that we tested when it comes to the quality of the faces in headshots. There are other tools that come pretty close but Aragon is by far our favorite.
How long do AI headshots take?
AI headshots can take anywhere from an hour to a couple of days depending on the tool you're using.