7 Business Card Examples: Step up Your Networking Game
Virtual connections and online communication dominate the business landscape!
With such an emphasis on everything moving to the digital space, you may think that traditional business cards are losing their relevance.
But well-crafted business cards still hold a place in this market along with digital business cards.
In this article, we will explore different business cards and some amazing examples that can help you make a lasting impression.
So, get ready to level up your networking game!
What is a Business Card?
Before we dive into some awesome examples of business cards, let's start with the basics!
A business card is essentially, your information, which can include name, title, company affiliation, contact information, etc on a printed card or in digital form.
Your business card can also include your company logo, branding element, and anything you would like to share with a potential client, employer, business partner, etc.
Business cards are a great way to share your information at networking events or chance encounters to build your network.
Understanding the Power of Business Cards
These days our world is flooded with digital interactions with people across multiple platforms. So much sensory overload can often make us desensitized toward information being presented to us.
Sharing a business card with someone, printed or digital can stand out and leave a great first impression.
It's not just a piece of paper or a collection of pixels – it's a representation of your brand, personality, and a direct link to you. Exchanging business cards creates a personal connection that resonates more deeply than a fleeting LinkedIn request.
Best Business Card Examples
Let's take a look at some standout business card examples that demonstrate effective design and messaging.
These cards go beyond the ordinary, making them memorable and conversation starters:
Camera? Business Card?
This business card belongs to an event photographer. Definitely one of the coolest business cards we've come across!
The card immediately stands out and captures your attention. One look at it and you know what this person does.
It also presents their information neatly, where it is easy to read.
Perfection **chef's kiss**
This Business Card is a Plant
This business card is one of our favorites! Jamie Wieck designed it with a very simple idea in mind. To get the most amount of visibility from the intended audience.
When exposed to light and water the card is supposed to grow alfalfa.
Jamie is a designer and used this to network with potential employers. What better way to showcase your skillset in your business card?
Business Card That can Fix your Bike
Broke Bike Alley's business card also acts as a wrench, measuring scale, and much more!

This is a great way for building long-lasting relationships with your customers.
Their business card is made out of metal, which is much more expensive than traditional business cards. However, if you give it to a potential customer and they use it on a regular basis for their bike, guess who they will call when they need assistance?

Love this one!
A Tennis Court on a Business Card?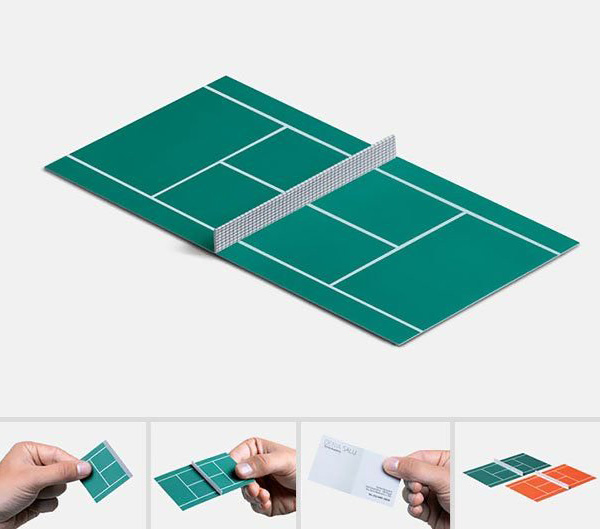 This is a simple yet extremely memorable business card. On one side, it's just a regular card with the owner's contact details, but when you flip it, it resembles a tennis court.

You're the CEO?
Aah, the infamous Mark Zuckerberg business card. Well, to be honest, we are not sure whether this is a good example of a business card.
But for the significance it holds in the startup lore, we had to mention it. It's straight to the point and lets you know exactly who the card's owner is!

Power move!
Welcome to the Digital Age
If we are talking about business cards, the conversation is almost incomplete if we don't mention digital business cards.
This is made using Linq. It lets you add a ton of information about yourself which goes much beyond your contact details. Check out our Linq Review to learn more.
Digital business cards have completely disrupted the business card industry. They are truly changing the way people network. They are easy to share and you don't need to physically carry them around with you.
Gotta get with the times!
What are the Elements of a Captivating Business Card
Crafting an effective business card involves more than just slapping on your contact details.
Here are the key elements to consider to create a captivating business card:
Striking Visuals
Your business card's design should be visually engaging and reflect your brand identity.
Use colors that resonate with your industry and convey the right emotions. Make sure the font you choose is legible and aligns with your brand's tone.
For example, a playful font might work for a creative industry, while a more traditional font could be suitable for a corporate setting.
Incorporating your logo or a relevant image can add an extra layer of professionalism.
Concise Information
While it's essential to include all your contact details, avoid cluttering the card with excessive information.
Prioritize the essentials: your name, job title, company name, phone number, email address, and perhaps a physical address if relevant.
Including your website is a good idea if you have one. Including too much detail can make your card hard to read and less effective.
Premium Materials
The texture and feel of your business card can have a significant impact.
Consider using high-quality materials that feel substantial to the touch.
You might opt for textured paper to add a tactile element or even experiment with finishes like matte or gloss.
Embossed or debossed lettering can create a sense of depth and sophistication. These details not only make your card memorable but also convey a sense of professionalism and attention to detail.
How to Design a Good Business Card
Designing an effective and memorable business card takes careful consideration. Here's a step-by-step guide to help you create a card that makes an impact:
Define Your Brand: Understand your brand identity and the message you want to convey through your card.
Choose a Design Style: Decide on a design style that aligns with your profession. Whether it's minimalist, bold, or artistic, ensure it resonates with your audience.
Select Visual Elements: Pick colors, fonts, and imagery that represent your brand. Consistency with your overall branding is key.
Lay Out Information: Arrange your information in a clean and organized manner. Prioritize the essentials while maintaining readability.
Incorporate Unique Elements: If appropriate, consider integrating unique elements like a QR code, a clever tagline, or a textured finish.
Review and Refine: Before printing, thoroughly review your design. Ask for feedback from peers or colleagues to ensure it's effective.
Best Digital Business Cards
While traditional business cards have their charm, digital ones offer innovative solutions too. If you're curious about digital business cards, check out our following posts:
Final Thoughts
The networking and communication landscape is evolving but business cards remain a powerful tool.
They not only provide contact information but can also leave a lasting impression that digital interactions often lack.
Whether you opt for a traditional paper card or go the digital route, the key lies in thoughtful design and effective messaging.
We have put together some of our favorite business card examples to inspire you and help you showcase your unique personality and step up your networking game!
Remember, your business card is more than just a piece of paper – it's your personal brand in the palm of someone's hand.