Dot vs Popl: I Tested Them Both | Full Comparison (October 2023)
Are you looking for a digital business card to step up the way you network?
Dot Card and Popl are two of the most popular digital business cards in the market.
Which digital business card is best for you will depend on how exactly you plan to use it and the type of business you are running.

So, we have done all the research for you and tested these two business cards to help make this decision a little easier.

In this article, we will give you our unbiased review of Dot and Popl. So, read on to find out which digital card will be the best digital business card for you!
Lamest Blog's Picks | Popl vs Dot:
If you don't have the time to read this in-depth Popl vs Dot comparison here is a quick overview.
I tested digital business cards offered by Popl and Dot along with the features they offer. In my opinion, Popl offers a more comprehensive solution for networking. However, dot is a simpler and more affordable tool.
Here is how I rate the two (Popl vs Dot):
Our Pick | Rating: 9.5/10
Popl
Monthly subscription, but a wider set of tools
Amazing UI
Third-Party Integration
NFC Business Card
Tracking and analytics
Monthly Subscription
Best Value | Rating: 9/10
Dot Card
No subscription, simple and easy to set up
Easy to set up
Affordable pricing
Customization
One-time fee
No CRM integration
Use Coupon Code: UTKARSHANAND for 20% off Popl
Dot vs Popl
Dot and Popl are two of the most popular digital business cards. I have spent tons of time reviewing products like this so I have a bit of a reputation among my friends.
On multiple occasions, some of my friends have asked me for my opinion on the best digital business card on the market.
So, I thought it would be a great idea to compare dot and Popl in this article to help all of you who have the same question.
How did I test these digital business cards?
I work for a consulting firm and go to many networking events as part of my job.
This is an opportunity for me to learn from others as well as make meaningful connections to help my career.
I used to carry traditional paper business cards but switched to digital business cards and took this opportunity to review these products and write this Popl vs Dot review.
I am happy to say that I will never go back to old business cards after this experience.
What is a Digital Business Card?
Digital Business cards are a modern solution to an age-old problem. Traditionally, businesses used to hand out paper business cards.
But with NFC business cards you can share your business details with just a tap with a compatible device.
Traditional business cards have been expensive to produce, even more so now that they are not as popular. And are not optimal to display a lot of information.
NFC business cards are revolutionizing modern networking while offering a much more eco-friendly alternative to traditional ways. They also let you share all the details you want about yourself or your business.
There are many players in the market but Dot digital business Cards and Popl are two of the most popular choices. And we will be breaking down what makes each of them so special!
Dot Card In-Depth Review
I tried Dot myself and evaluated the different features it offers. I loved how it was so easy to set up and the fact that there were no hidden charges.
For dot's review, I ordered their digital business card, created a profile, and used to share my details with people to give you my unbiased opinion on the product.
I truly enjoyed using dot instead of traditional cards. It made it much easier for me to share my info.
Also, when I showed people my digital business card for them to tap, it was a great topic of conversation with potential connections.
(It helped a ton and was a great ice breaker haha)
Best Dot Card Features Overview
Dot card is a digital business card company that offers NFC business cards. It is an amazing way to share your details.
dot.Profile
Dot card allows you to create a profile or as they like to call it, a dot.Profile and share it by tapping your dot devices.
You can add information about yourself or your business on your dot.Profile and share it with people with a single tap. You can add social media links, contact details, your picture, and much more to your profile.
One of the biggest advantages of NFC business cards over physical business cards is the fact that you can edit them with ease.
I created my dot profile and added a profile picture, banner, and contact information. Here is what my profile looked like: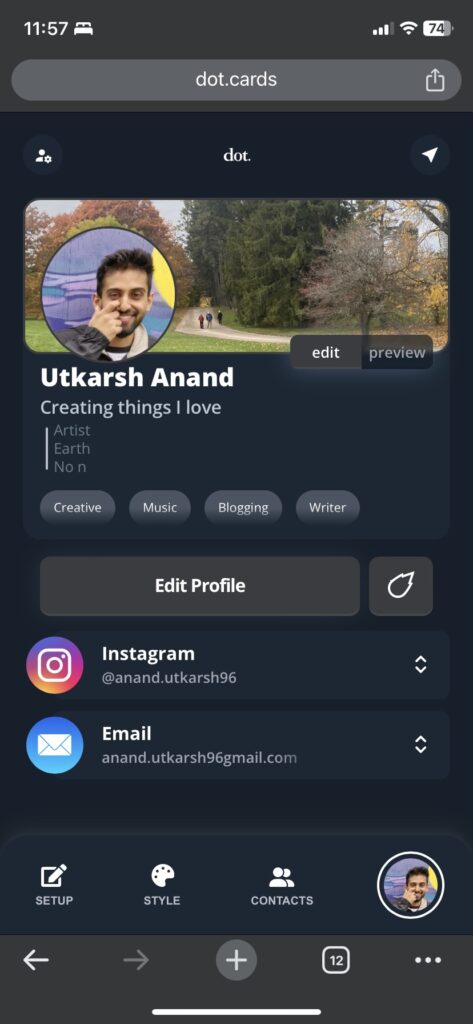 The dot Devices
One of the biggest perks of dot card is its pricing. You pay for your device upfront and there is no subscription fee. This is great if you are looking for a simple digital business card to network.
Dot card offers a few different devices. These devices are:
dot.card
Dot digital business cards are shaped like credit cards (obviously) and are a great alternative to traditional paper cards.
You can easily carry dot cards with you in your wallet like any other card. Since it has a QR code printed on it, it offers two ways to instantly share contact info. 
You can tap using any NFC-enabled dot cards or scan the QR code using your camera. NFC technology allows you to easily share your details with other devices with a tap.
I ordered a dot.card and received it within a few days. The digital business card is really well-built and I loved the customization options they offer. Here is what my digital business card looked like:
dot.classic
The dot.classic is a small circular tag that can stick to the back of your phone or any flat surface. It is NFC enabled so anyone can tap it to get your information. It is a smaller alternative to dot cards.
However, it does protrude out so you can't hide it with a phone case as you would have to stick it on your phone case or use your phone without one.
We think the colors are fun and you should definitely rock your dot.classic on top of your case.
dot.thin
If you aren't a fan of the classic and want something thinner that easily hides behind your phone case, the dot.thin is the one for you.
The dot.thin also comes in many colors so you have a variety of options to choose from.
Customization

You can also choose to customize your dot device.
Dot card offers customized versions of all of their products. You can add your name, company logo or any other graphics you'd like to your dot device.
Customized devices from dot are more expensive than their regular models. But if you are looking to keep your branding consistent the extra money might be worth it.
Dot Pricing
The dot devices are currently priced at $20 each for all three variants (dot.card, dot.classic, dot.thin).
Dot card also offers packs where you can bundle multiple devices together to get a better deal and the colors that fit your personality the best!
dot.duos
You can buy all three devices and mix and match colors for $60. This isn't exactly a discount but lets you get different colors.
dot.bundle
The dot.bundle allows you to buy all three devices but for a 12% discount, for $50. But you don't get to pick different colors.
dot.teams
The dot.teams lets you buy a pack of 5 items for the price of $75, which is a 25% discount. So if you have a large team and looking to buy multiple devices, this is the way to go.
Dot Pros and Cons
Popl In-Depth Review
I also tried Popl at one of the networking events I went to. Again, it was a great tool for sharing my info and sparked many conversations.
As great as it was, I feel like in a few years when digital business cards are more common people may not be as amazed by them. But it's a great time to take advantage of this new (ish) technology.
I did like Popl a little bit more as it offers CRM integrations which made it much easier to manage the contacts I collected.
Best Popl Cards Features Overview
Popl is one of the major players in the digital business card market. They offer a variety of different devices and a much more comprehensive suite of features that go beyond sharing your information with others.
Free and Paid Tiers
One of the drawbacks of Popl cards is that if you want to access all the features it offers, you will have to subscribe to paid tiers.
These subscriptions can range from $6.49 a month to $11.99 a month.
On the flip side, due to the subscription model, Popl is able to offer you tons of useful features that make it much more than a digital business card.
Popl Profile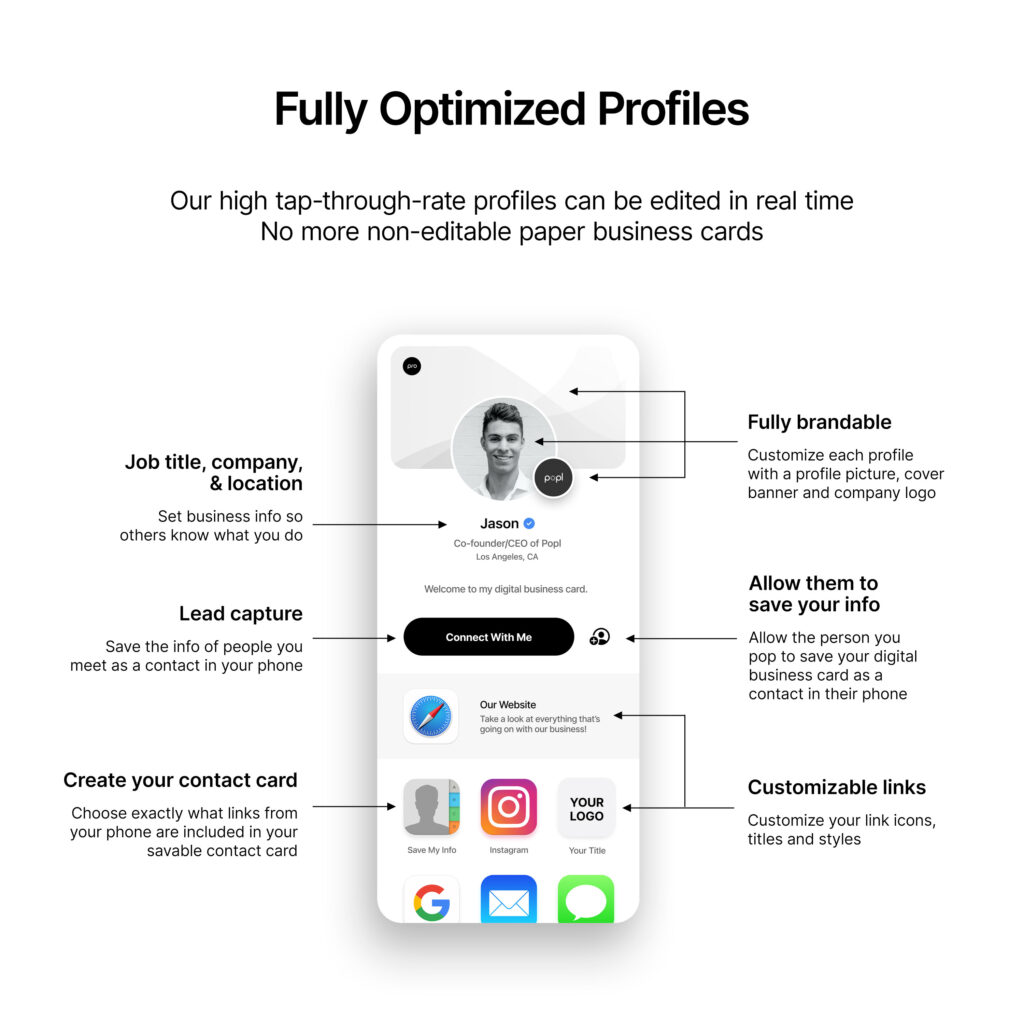 You can easily create your Popl profile that contains your personal information. You can link to your social media platforms, and website, add your contact details, etc.
The profiles are highly customizable.
You can also send your custom QR to people if they don't have an NFC-enabled device on them. 
The Paid tiers offer a more advanced profile platform. 
I created my Popl profile and added my picture and contact details. Here is what it looks like:
Lead Capture Mode
With Popl's lead capture mode, you can easily prompt people who scan/tap your digital business card to enter their information.
When you share your information with someone they receive a pop-up to their contact details.
You can then access these connections under "Leads". It really is a smart business card!
Popl App
When you buy a Popl product you get free access to the Popl app. However, not all features offered by the app are available for free.
If you opt for the paid tiers you access more features such as CRM integrations, digital business card scanners, and branded push notifications.

Analytics
Popl cards allow you to track the way people interact with your profile when you share your information with them.
You can track things like:
The number of views your digital business card got.
The number of times people clicked the links in your profile.
The number of you new connections you've made.
The click-through rate for your links.
You can you this insight to optimize your profile for better engagement.
CRM Integrations
When you opt for Popl's paid tiers you get access to 5000+ CRM integrations.
Popl offers integrations with a wide range of applications to help you with your customer relations.
You can leverage these integration capabilities to fit Popl in your sales pipeline and drive more sales and revenue for your business.
Popl Devices
Popl offers a number of different smart business card devices with the option to customize them heavily. 
These devices are equipped with NFC technology and offer versatile ways for users to connect. Some of the best-selling Popl products are:
Popl digital business card
Popl phone business card
Popl Apple watch band
Popl rope band
Popl keychain
Popl sport band, and many more
Popl Pricing
Popl Pro: $7.99/month
Popl Pro+: $14.99/month
Popl Teams: Dynamic pricing
Popl Pros and Cons
Popl vs Dot: Final Thoughts
One of the biggest differences between Dot and Popl is the amount of features they offer.
Dot is a simple, user-friendly product that allows you to share your contact information with others. Whereas, Popl offers a lot more than just a replacement for paper cards. You can do much more with Popl and use the extra features to level up your sales and grow your business.
Dot is a great option for individuals or small businesses that are looking for a way to share their contact info with just a single tap.
Popl digital business cards, on the other hand, are a great choice for agencies, marketers, or high-growth businesses. This is especially true with the subscription model. Most people don't need to pay a monthly fee just to share their personal information with others.
But remember Popl can also do the same things as Dot without paying the monthly subscription fee.
So, when you are evaluating Popl vs dot, your final decision may very well come down to the visual appeal of the two products.
Dot vs Popl: Frequently Asked Questions
Popl vs Dot: Is Popl better than dot?
Popl is a better alternative than dot if you are looking for a more sophisticated product that lets you do more than share your contact details. If you are looking to grow your business, capture leads, and are not against paying a monthly fee Popl is the product for you.
Popl vs dot is a common topic of debate among NFC business card users but the final choice comes down to your specific needs.
What is the alternative to Dot digital business cards?
Popl digital business card is a great alternative to dot. Especially, if you are looking for more features or plan on upgrading to get more features in the future. Some of these features are multiple business cards, lead capture, CRM integrations, etc. 
Does Popl have a monthly fee?
Yes, Popl has a monthly fee. There are two paid tiers: Popl Pro ($7.99/month) & Popl Pro+ ($14.99/month)
Can I use Popl digital business card for free?
Yes, you can also use Popl's free version but you will not have access to all the features.
Disclaimer: The information on this website is provided for general informational purposes only. We may earn commissions from the products or services mentioned on this site.