Linq Digital Business Card: Complete Review & Guide (2023)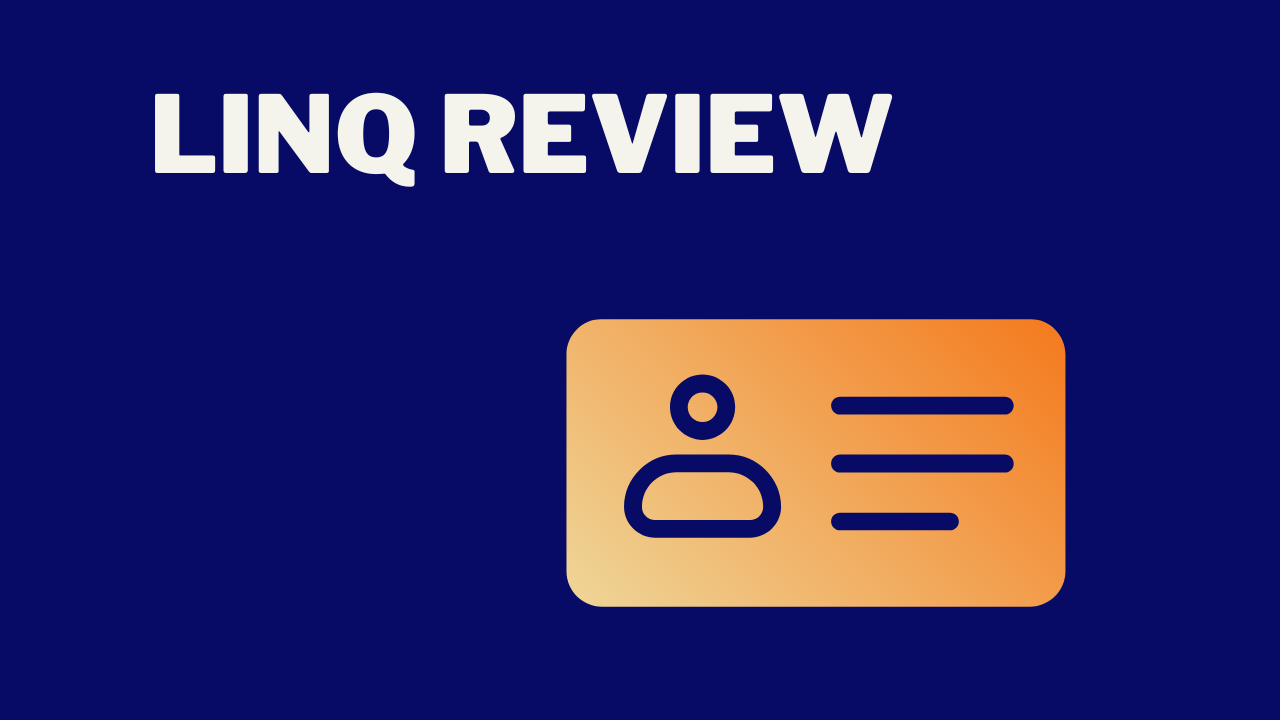 Are you looking to level up your networking game?
The networking landscape has changed greatly and people are transitioning to digital.
I have conducted thorough research and found some of the best digital cards to impress your potential clients, employers, business prospects, etc.
Linq's digital business card is one of the major players in the digital card market.
In this article, I will take a deep dive into Linq and its features. And I will provide you with my unbiased thoughts on the value it offers.
Linq Business Card | Rating: 9/10
Linq's Business Card is an eco-friendly and efficient solution for sharing your information.
Customize your profile and impress your potential clients and employers!
Lamest Blog's Personal Linq Summary:
Linq is a powerful business card that makes it very easy for individuals to network and share their information.
They offer a wide variety of devices that make it a versatile option.
Linq also offers a user-friendly and easy-to-setup app that allows you to create your profile to represent your personal brand.
Final Verdict:
Linq is a great product if you're looking for a well-built digital business card with a great app to track your interactions.
I would recommend Linq digital business cards to anyone who is looking make the switch from traditional business cards.
What is a Digital Business Card?
Business cards have been around for 100s of years. People have been handing them out as a way of networking.

But handing out paper business cards comes with a whole set of problems. You have to print them out, physically carry them around, and make sure you have enough so you don't run out.
Digital business cards, on the other hand, offer a great solution to these issues. 
They are an alternative to outdated business cards and contain your information in digital form. You can store your contact details, social media links, pictures, links to your portfolio, and much more.
It is a way for individuals or businesses to share their contact information digitally and build a successful network.
With a digital business card, you can easily share your details using a smartphone or a dedicated device.
What is the Linq Digital Business Card?
Linq is a company that offers a wide variety of sleek and visually appealing products to help people network in style and efficiently.
They also offer an app, which you can use to create your profile and share with others for free.
Linq card uses NFC technology to communicate with smartphones or other NFC-enabled devices. This is the same technology used in many other places like digital payments, public transport, etc.
However, many people prefer to use NFC business cards as they can have a physical object in their hands while using modern technology to do much more with it.
Linq Card In-Depth Review
In this article, I will take a deep dive into everything that Linq has to offer.
I will talk about the different devices they sell, the features they have, and how you can use them to improve the way you network.
How I Tested Linq's Business Card
I work for a consulting firm and go to many networking events as part of my job.
This is an opportunity for me to learn from others as well as make meaningful connections to help my career.
I ordered Linq's digital business card and brought it to one of these events and used it as my primary way of sharing my details with other individuals.
I took notes during this process and wrote this review.
Devices offered by Linq
Linq offers a ton of different products that you can use to share your details. They are not limited to traditional-looking business cards.
Linq's NFC-enabled devices come in many shapes and forms to fit your lifestyle and provide you with the most value
Some of the best-selling products that Linq offers are:
Linq Card
Linq offers a traditionally shaped business card embedded with an NFC chip.
They offer a few different options for cards. You can choose to fully customize your Linq card or pick a custom logo. These options are obviously more expensive.
But if you are looking for a more economical option, you can go for the standard cards. Linq also offers two versions of the standard non-customized cards.
The "Linq Card" is the cheaper option and the "Linq Card Color" is slightly more expensive. 
These cards are NFC enabled and also have a QR code on them, which can be scanned to share your info.
I ordered the "Linq Card" and was pretty happy with the quality of the card.
Linq Apple Watch Band
The Apple watch band offered by Linq is exactly what it sounds like. It is a replacement for the original band for your Apple watch.
It is a great way for anyone who wants to turn their Apple watch into a networking machine without having to carry any additional equipment with them.
The watch band also includes a QR and NFC chip like most of the other Linq products.
Linq Bracelet
The Linq bracelet is yet another rendition of their digital business card. It is also equipped with an NFC tag and QR code to help you build some real relationships.
Linq Tag
The Linq tag is a small, circular tag (I know it's obvious!!) that is NFC-embedded and QR-enabled. You can attach it to your keychain, backpack, purse, or anywhere else you'd like. It behaves the same way as the Linq card and you can share your contact details with just a tap. 
Linq Tap, Stretch, Badge, Hub
Linq offers a ton of more products:
Linq Tap: You can stick it to the back of your phone
Linq Stretch: This is another version of their bracelet, with a much more stretchable build.
Linq Badge: This is a traditional-looking badge with the same ability as other Linq products.
Linq Hub: This is a tabletop sign which is great for events.
Best Linq Features
Linq Profile
You can create your Linq profile using their "build your page" feature.
This allows you to easily customize your page. You can add your picture, and contact details, links to your social media accounts, email, and much more.
I created my Profile using Linq and this is how it turned out:
Your profile page is highly customizable as you can images alongside your links, add icons for your social media, and even change the placement of items.
Building a comprehensive profile is essential to impress your audience. So, you should definitely pay attention to this part.
Linq Mobile App
The Linq mobile app allows you to easily customize your Linq profile and share your details. 
However, when you do share your digital business card the other person does not need to have the app.
The Linq Mobile App also allows you to track analytics related to your shared cards such as open rates, link taps, etc. 
Contact Capture
When you share your details with someone, they are prompted to enter their contact information.
Their information is then saved and can be sent to a CRM to develop client relations.
I used this feature when I was sharing my details and got over 70% of the people to fill out the form and receive their contact details.
Linq Pro
Linq Pro is a subscription service that provides you with premium features in the Linq app. The subscription costs $5/month or $50 if you sign up for an entire year.
With Linq Pro, you can use features like embedding videos, advanced analytics, calendar integrations, up to 5 profile pages, and much more!
If networking is crucial to your objective and you want to stay connected with professionals that can help you achieve your goals you can consider paying for Pro and using the premium features.
Linq Pricing
Linq Pro Subscription: $5/month or $50/year
Linq Digital Business Card: Look and Feel
Linq offers a range of products that can fit most lifestyles and help most people network. The quality of the product is at par with other NFC companies such as Popl and Dot.
They do a good job of creating solid, durable devices that can withstand regular use.
We were only able to use the Linq card and we can assure you that it was of great quality. 
Linq Business Card
Linq's Business Card is an eco-friendly and efficient solution for sharing your information.
Customize your profile and impress your potential clients and employers!
How Linq works
Linq's digital business uses Near Field Communication (NFC) technology. NFC allows devices to communicate with each other by bringing them into close proximity. 
Here's a brief overview of how Linq works:
Setup: First, you need to create your Linq profile using their app. This involves adding your contact details, social media links, portfolio information, and any other relevant information you want to share.
NFC Communication: Once your profile is set up, you can connect it to your Linq device. It is stored in the NFC chip embedded in your Linq device.
Sharing Information: To share your digital business card with someone, simply tap your Linq device on the back of their NFC-enabled smartphone or other compatible devices. This action triggers the exchange of contact information between the devices.
QR Code Backup: In case the recipient's device does not have NFC capabilities, Linq also provides a QR code on their devices. The recipient can scan the QR code to access your digital business card using their smartphone's camera.
Linq App Integration (Optional): While Linq has its dedicated app to manage your profile and track analytics, it's not necessary for the recipient to have the app installed to receive your digital card. The app is mainly for your convenience and additional features.
Linq Pros
Eco-friendly: Linq's digital cards eliminate the need for paper cards, reducing paper waste and its environmental impact.
Convenience: They offer a convenient way to share contact information with just a tap, making networking faster and easier.
Versatility: Linq offers a variety of products, such as bracelets, tags, and watch bands, allowing users to choose the one that best fits their lifestyle.
Customization: Users can customize their digital cards with images, social media links, and more, allowing for a personalized and professional touch.
Analytics: Linq Pro subscribers can access valuable analytics using the Linq mobile app to track how recipients interact with their shared cards. It's a great way to get insights into the effectiveness of their networking efforts.
Linq Cons
NFC Compatibility: NFC business cards are becoming increasingly popular. But not all devices support it, this can limit the audience that you can share info with.
Dependence on Technology: Using digital cards relies on smartphones and other NFC-enabled devices. Some people still prefer traditional cards.
Security Concerns: Some users might be concerned about the security of their contact information stored in digital form, although Linq likely implements security measures to protect user data.
Linq Digital Business Card: Wrapping it Up
Linq's business cards offer a modern and eco-friendly replacement for traditional paper business cards.
You use their products to create a banger profile and easily share your information while streamlining your networking process.
Additionally, the customization options and analytics available through the Linq app, especially for Linq Pro subscribers, enhance your overall networking experience.
As networking practices continue to evolve, Linq's digital business card stands as a strong contender in the market.
Linq Business Card Alternatives
There are many alternatives that offer similar features and great pricing like Linq business cards. Check out our in-depth reviews for the following:
Disclaimer: The information on this website is provided for general informational purposes only. We may earn commissions from the products or services mentioned on this site.