How To Make Business Cards on Canva | Complete Walkthrough
Are you trying to make a stunning business card but unsure where to start?
People often resort to hiring professionals to design their business cards, which can be pretty expensive.
With Canva, you can design your own business card that leaves a lasting impression on your connections.
In this article, we will dive into a step-by-step guide on how to make business cards on Canva.
Let's get started!
Why Is It Important To Own Business Cards?
Nowadays, in this digital world, people often question the importance of physical business cards, but they still hold a place in the market.
It isn't just a way of sharing your contact details; it also provides an impression of who you are and what you do to your connections.
A well-designed business card gives a touch of professionalism and credibility.
These days, digital business cards are more in fashion than print business cards. However, print business cards still have their own place and audience.
A well-designed business card enables networking efficiency and is a miniature version of your brand.
Over 80% of business cards are thrown away within 7 days. This makes it all the more important to make your business card memorable so it doesn't end up in the trash.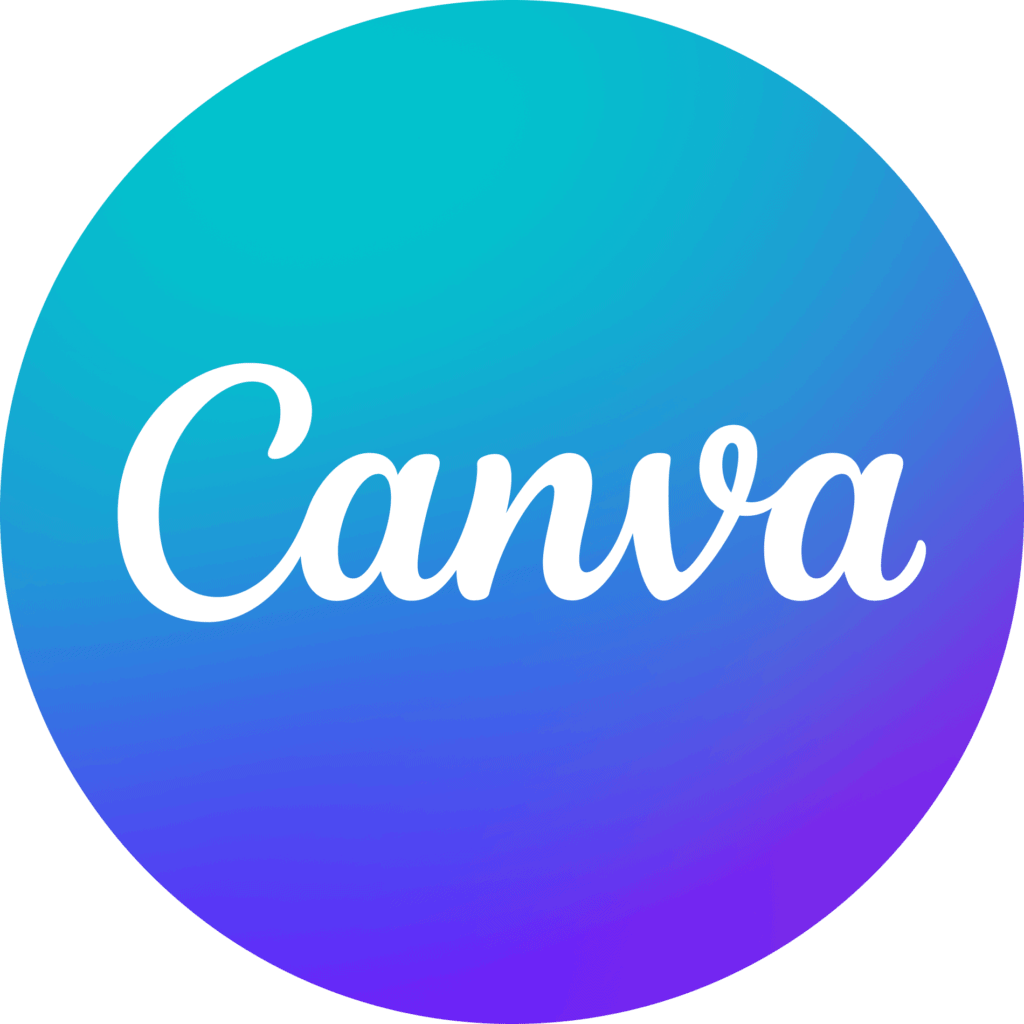 Canva | Design Your Business Card
You can easily design business cards on Canva.
Canva provides a variety of templates to help with the design.
You can also print your business cards through Canva.
Step-By-Step Process To Create Business Cards On Canva
Canva offers a great set of tools and templates for you to design amazing business cards for your personal brand or business.
Let us see how to create your own business card.
Step 1 Sign Up or Log In
First and foremost, sign up using an email account and password, or use your Gmail or Facebook account to log in, as I did.
It is free to create a Canva account. Here is the homepage you will be directed to.
Step 2 Create a Design
Next, create a project by clicking "Create a design."
Search for "business card" in the search bar, and you will get a few options for the business card size. I selected a business card (Landscape) with 8.5×5 dimensions.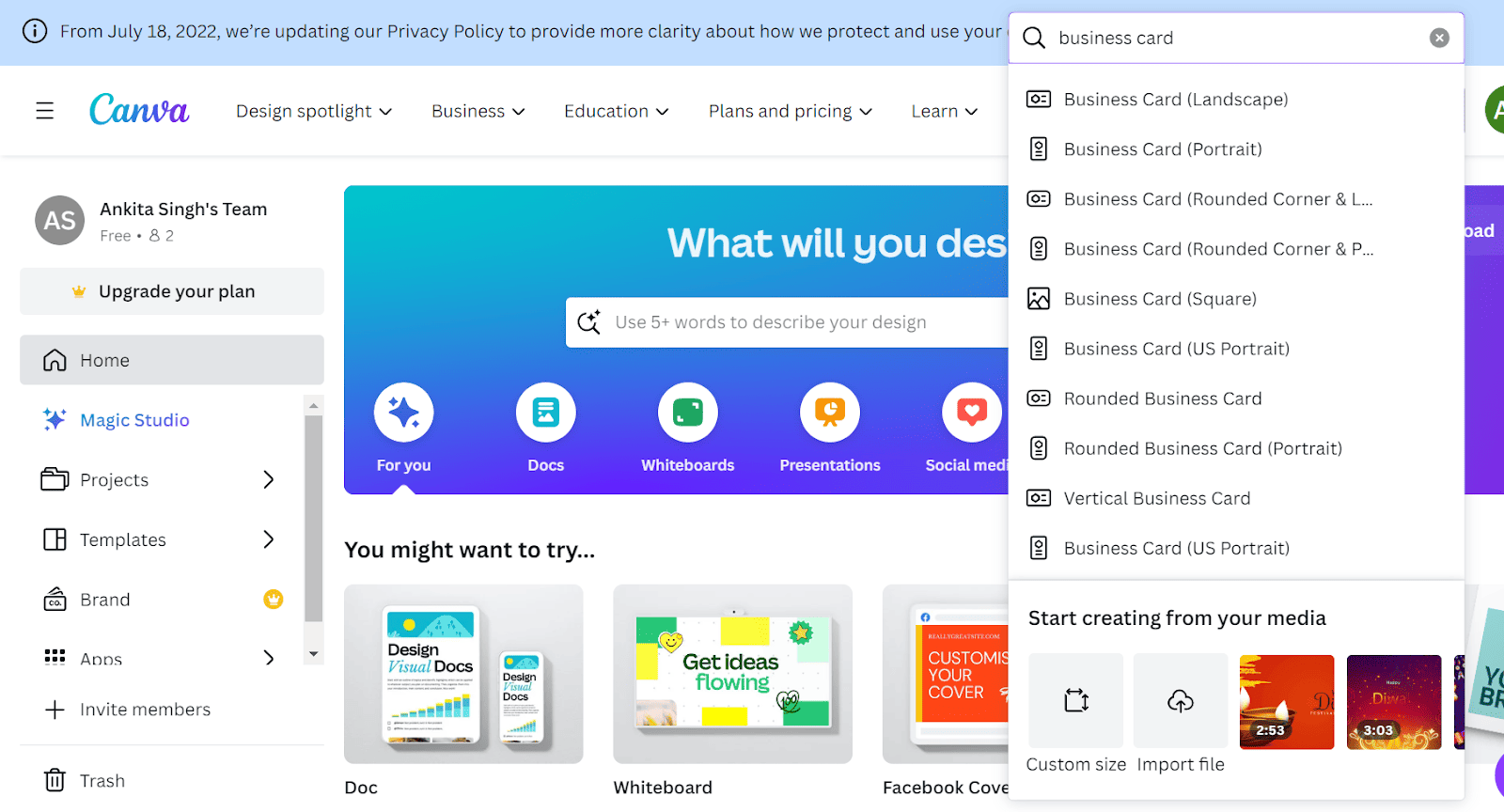 Step 3 Design the Business Card
You will be led to the white project window.
You can design it from scratch with all the given tools.
Add your company logo, company name, your name, your current job title, web address, contact number, and email address. Give it a professional business card look.
You can choose to start with a Canva business card template, as I did.
I came up with the following after using Canva's business card maker and making the necessary changes to align with my brand.
Step 4: Export Your Business Card Design
Once you are done and have finalized your business card's design and layout, it is time to export it. Do not forget to give a file name to your design before downloading it.
You can edit the name of your Canva project at the top of the Cava interface.

Next, go to the "Share" option in the top right corner and click the "Download" button.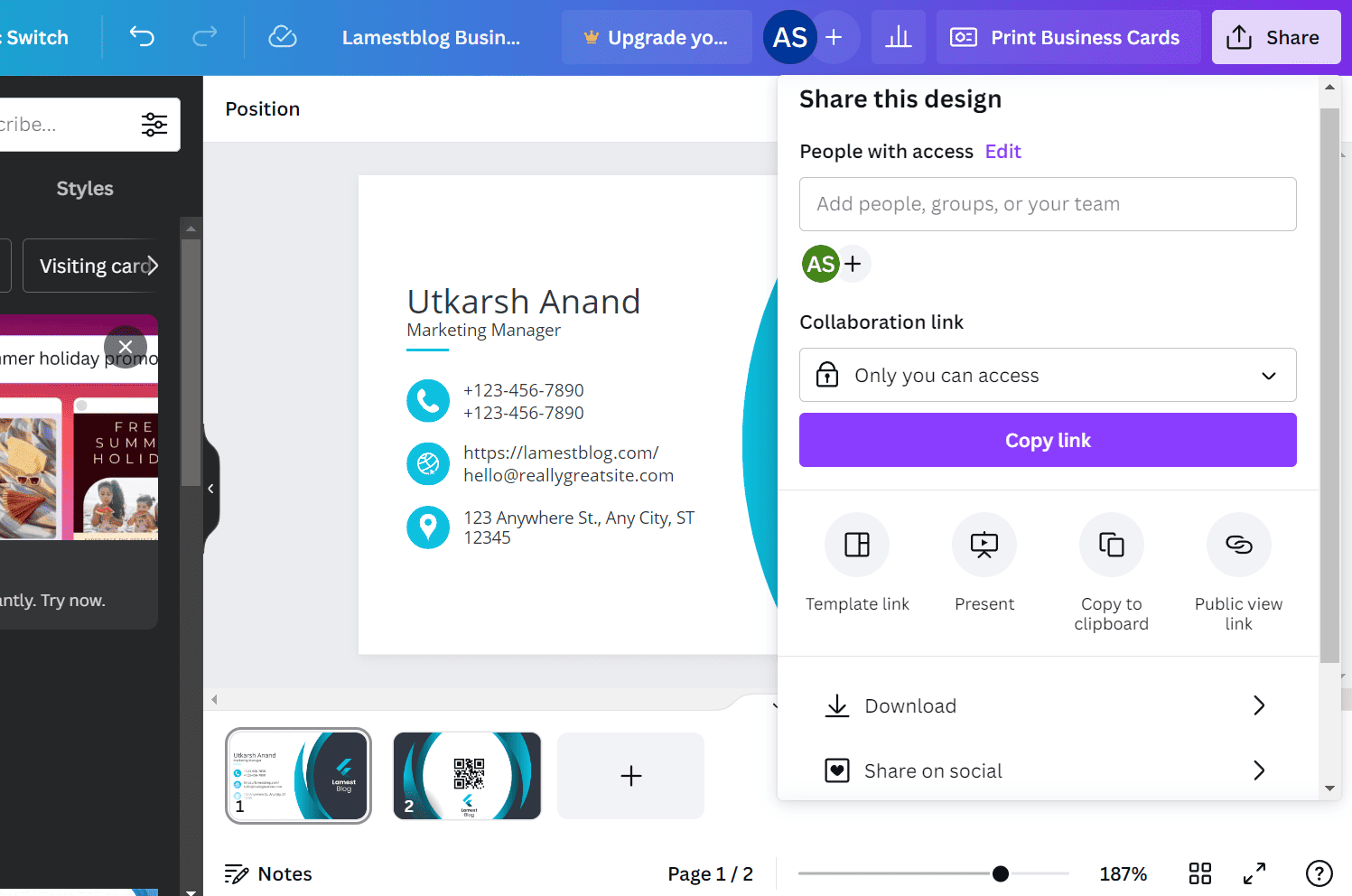 Once your business card is ready in Canva, it's time to save it.
Canva recommends PNG for business cards, but you can also go for a PDF if you want.
If you go with PNG, it downloads a ZIP file with two separate PNGs—one for the front and one for the back of your card.
If you choose PDF, it gives you one file with separate pages for each side of your card. Simple, right?
Step 5: Print Your Business Cards
Printing through Canva: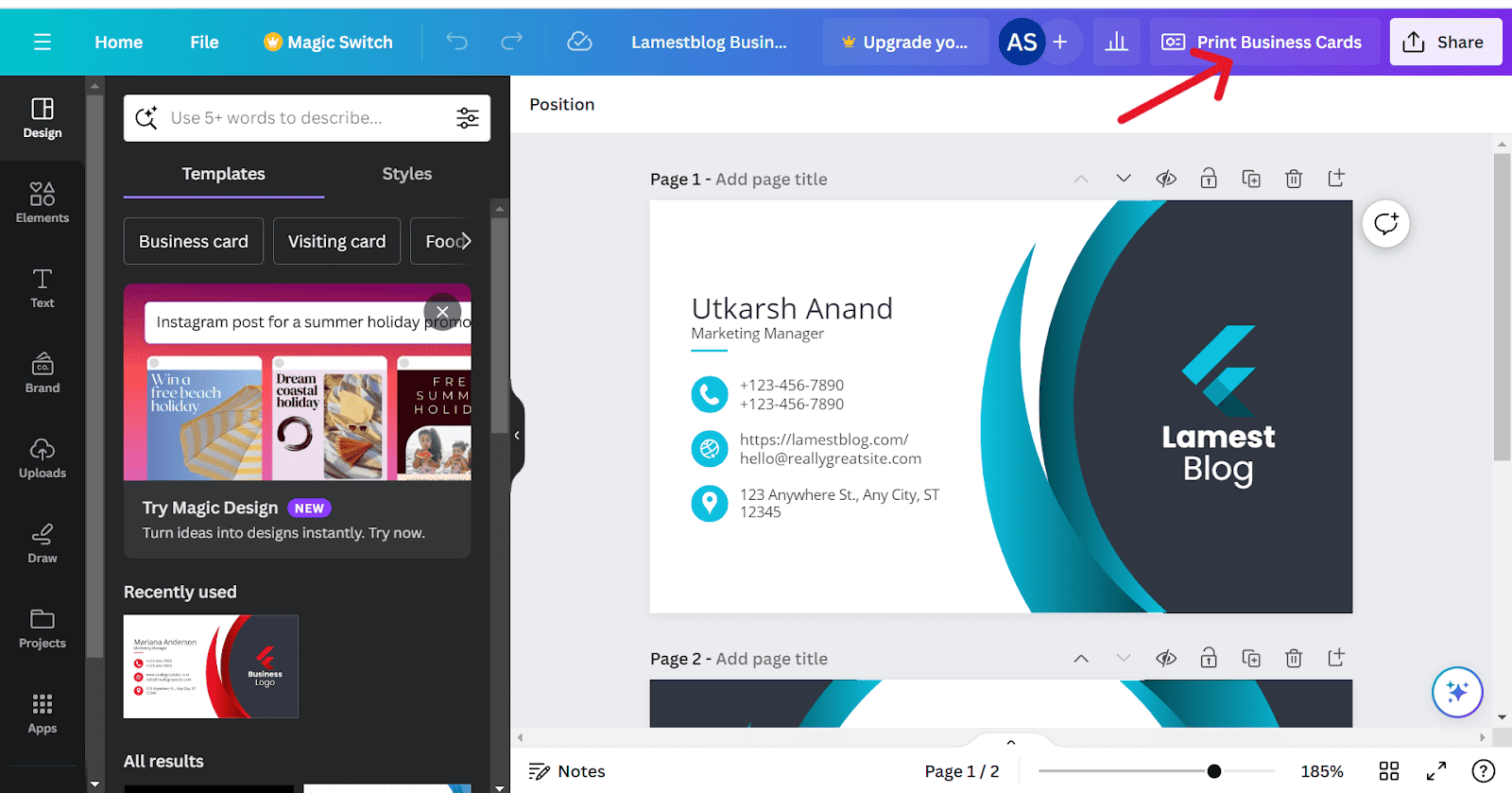 As you can see, there is an icon for "Print Business Cards". Canva makes it very easy for us when it comes to printing your card.
Canva offers printing and delivers your business cards directly to you.
This can be done completely online. You will be given a few options to choose from.
Paper: Choose your paper type depending on how thick you want your card to be. Pick from standard, premium, or deluxe paper.
Finish: Decide on the finish based on the coating of the card. You can go for a matte, gloss, or uncoated finish.
Copies: Select the number of cards you want, and print multiple business cards ranging from 50 cards up to 2,000 copies.
Printing through another business:
If you're planning to print your business cards on your own from somewhere else, it is also an option.
You can confirm with the printing folks what kind of file format they prefer.
In Canva, when you export the files you can pick the correct file format.
Although most printers would prefer PDF Print. You can choose to add bleed area to the prints since the designs will be trimmed after printing. Refer to the picture below.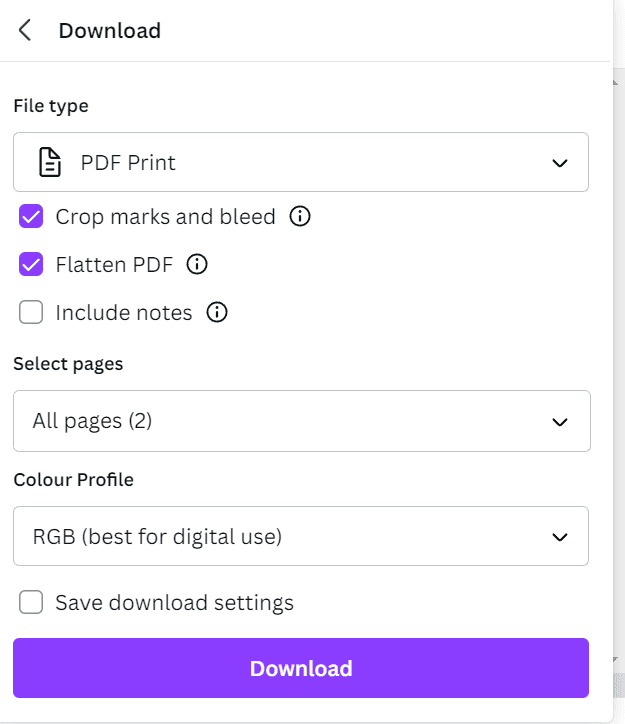 Adding A QR Code To A Business Card In Canva
Putting a QR code on your business card is a smart way to share your digital info.
People can easily scan your QR code to visit your website, check your portfolio, or connect on social media.
It's a quick and simple way to share many details in a small space.
In Canva, you can include a QR code by clicking on the 'Apps' icon in the Canva menu and typing 'QR code' into the search box.
This will bring up various Canva QR code integrations, allowing you to create a QR code for your design.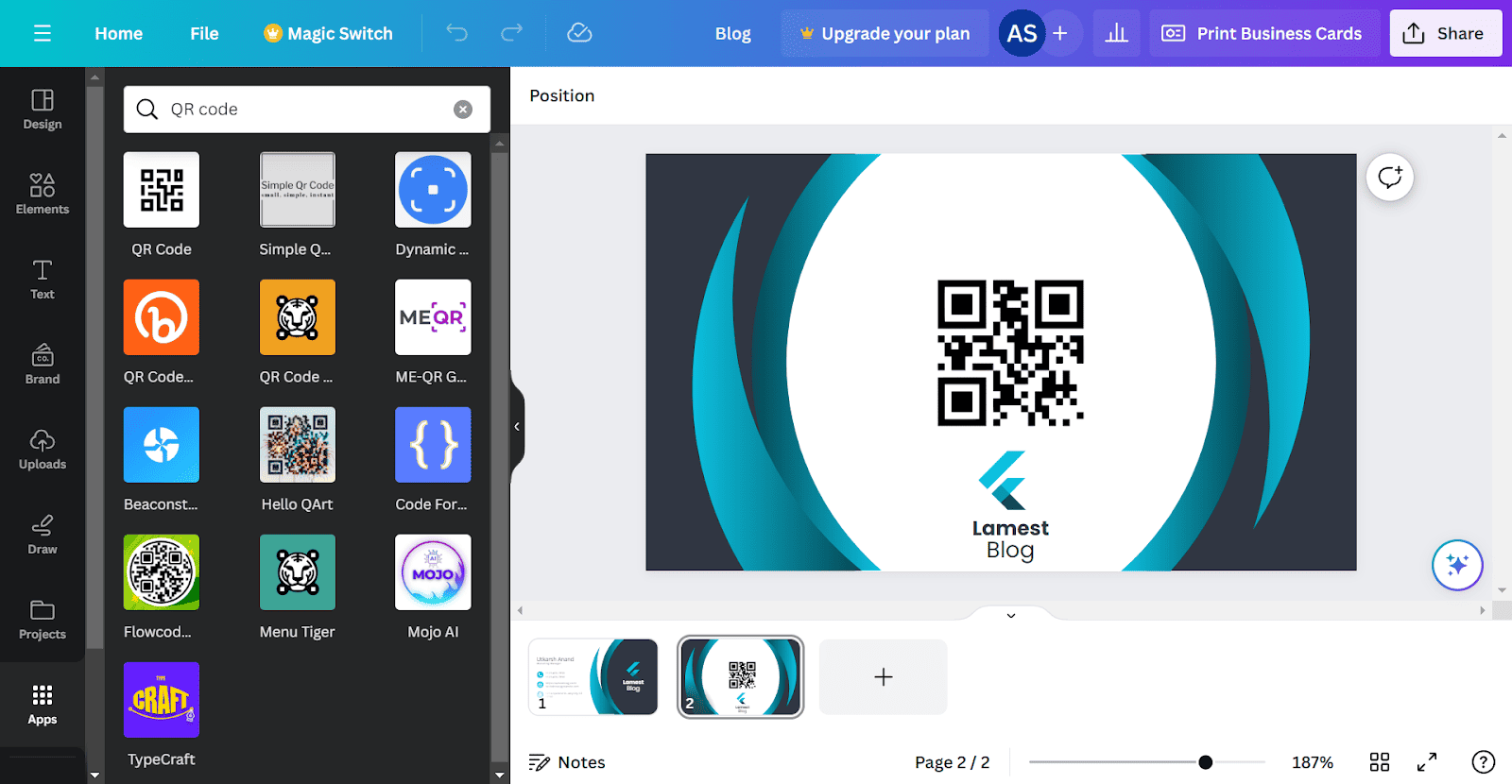 Pick one of the apps you see above in the image to create your QR code.
You will have to provide the information you want to store in the QR code.
Many of these QR apps in Canva also let you choose the colors of your QR code to fit your overall design.
Once you've filled in the details and made your customizations, simply click 'Generate QR code.' This step creates your code and seamlessly integrates it into your business card design.
Benefits of Using Canva to Design Your Business Card
Canva is an online tool that has many benefits. It has been designed keeping in mind non-designers.
So, you don't have to be a graphic design pro to use it.
Let's look at some of the major advantages of using Canva.

1. Seamless Customization with Canva Business Cards:
Canva allows you to create amazing designs by offering a vast collection of customizable business card templates.
You can tailor your design to align with your brand colors, include your logo, and choose fonts that reflect your professional style.
With Canva's user-friendly interface, you can effortlessly personalize every element of your business card, ensuring it stands out in a crowd.
2. Diverse Business Card Templates to Suit Your Style:
I have personally designed tons of business cards, and I like to switch things up. Also, different people and businesses have different needs.
And Canva offers the perfect tools to do that.
Whether you're aiming for a sleek and professional look or a more creative and vibrant design, Canva offers a variety of business card templates to match your vision.
From minimalist designs to bold and colorful options that capture your connections' attention.
Canva's diverse range of templates lets you find the perfect fit for your brand identity.
Final Thoughts
Business cards are an essential part of your professional life for networking and branding.
Learning how to make it can be helpful in creating your personal branding. Canva is a tool that helps you design a great business card. Create a free Canva account and follow the steps given above.
I recommend Canva for its user-friendly interface and the ease it provides for even novices. Check out Canva if you want to design your logo.
Frequently Asked Questions
Can I make a business card on Canva?
Yes, you can make a business card at Canva for free. You can select from the many available pre-designed templates or make your business card from scratch.
Canva is a great tool for designing business cards, and it also offers business card printing services.
If you want, you can design, print, and get the business cards delivered to you right from Canva
Can I print my own cards from Canva?
Yes, Canva allows you to print business cards with just a few clicks.
You can print your business cards and get them delivered to your doorstep entirely on Canva.
Can you make rounded business cards on Canva?
Yes, you can design rounded corner business cards on Canva.
All you need to do to get started is search for rounded-corner business cards in the search box.
This will make sure that your business card has rounded corners. You can then go ahead and design what the card will look like.
What size is the business card?
Most business cards have a standard size (3.5 x 2 inches), but you can definitely deviate from the standard.
The main purpose of a business card is to create a memorable impression and share your information. You can use business cards of different sizes to stand out.
Can I create custom designs for digital business cards?
Many digital business card makers allow you to customize their products and print your branding on them.
You can use Canva to create graphics you want to put on your digital business card.
Some of my favorite digital business cards are:
What type of paper is used for business cards?
There are many kinds of papers you can use for business cards, with cardstock being the most common one.

This paper type weighs about 80 to 110 pounds per pack. There are also matte, gloss, textured, etc.