How to Create a Free Digital Business Card
If you're looking for a way to create a digital business card for free you're probably over the hassle that comes with paper business cards. 
Digital business cards have changed the way we share information when networking. They are making the process much more efficient and reducing the likelihood of errors when sharing information.
In this article, we will show you everything you need to know to create a digital business card that you can share with others for free!
What is a Digital Business Card?
Digital Business Cards are basically the same thing as a traditional business card but they exist completely in the digital world.
A digital business card is typically a page hosted on the internet that contains your information. You can add your photo, job title or position, company, website, social media, and much more to a business card.
Share your digital card by sending it to someone via text, email, or other messaging platforms. You can also share it using an NFC tap or through a QR code.
Best Free Digital Business Card
Popl Business Card
Complete networking tool
Beautiful User-Interface.
Linq Business Card
Linq's Business Card is an eco-friendly and efficient solution for sharing your information.
Customize your profile and impress your potential clients and employers!
Digital Business Card vs. Traditional Business Cards
Traditional business cards have been around for decades and people use them to this day. However, they have some obvious drawbacks.
First of all, you need to print them and carry them with you and you also need to make sure you don't run out of them.
Dealing with traditional business cards is a hassle, especially when most of them end up in the trash anyway.
And don't forget, printing these business cards will cost you money!
Digital business cards solve this problem. You can store them on your smartphone and share them easily with as many people as you want. Many platforms allow you to create a digital business car for free!
They are free and easy to use AND they're great for the environment.
How to Create a Free Digital Business Cards
If you want to create a digital business card for free, you have a few different options.
Digital business card platforms like Popl, HiHello, and Linq allow you to create and share your business card for free.
Here's how you can do so:
Create a Free Digital Business Card with Linq
You can create your digital business card with a few easy steps with Linq:
Step 1: Download the Linq App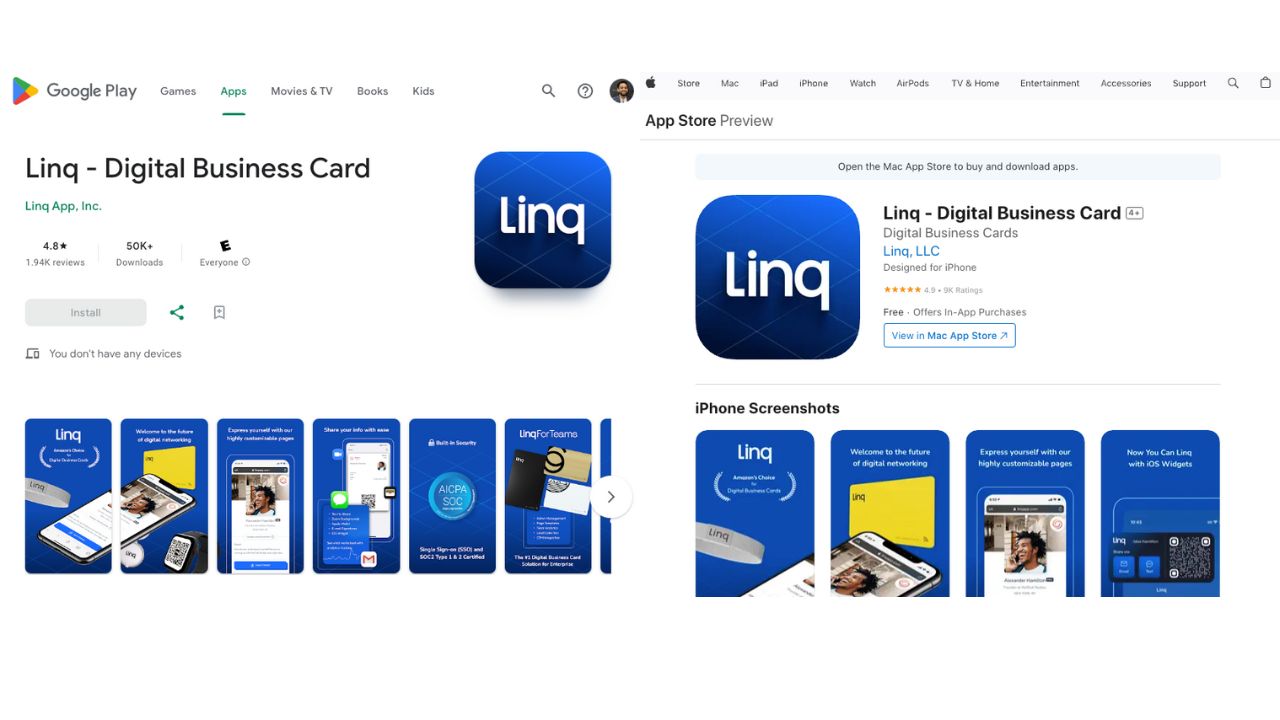 You can download the Linq App from the App Store if you have an Apple device or the Google Play Store if you have an Android.
Step 2: Create Your Account
Once you have downloaded the app, click on "Create Account" to get started.
You will then be asked to activate your Linq product. You can do so if you have one. But you can skip this step if you want to use Linq completely for free.
Step 3: Build Your Profile
Now that you have your account ready, you can add the content to your profile.
You can add the following to your profile:
Profile picture
Cover picture
Logo image (Only available with Linq Pro)
Website
Social media links (Facebook, Instagram, Twitter)
Bio
Create your page by clicking the "Pages" button on the bottom left of your screen. Here you can add the above information,
You can also embed videos, add a Calendly button, attach files, and much more with Linq Pro which is a paid tier for the app.
Step 4: Customize Your Page
Linq allows you to customize your page by sorting the content you've added.
Click on the "Sort" button at the bottom of the screen to move these elements around.
Step 5: Time to Start Networking
Now that you're happy with the look of your digital business card you're ready to share it.
You can share your Linq card by:
Sharing link
Scanning QR code
Email
Text
Adding to Apple wallet
Create a Free Digital Business Card with Popl
Popl allows you to create your digital business card with a few quick steps.
Step 1: Download the Popl App
Popl is available for both iOS and Android devices. You can download the Popl app from the App Store or the Google Play store.
Step 2: Create Your Account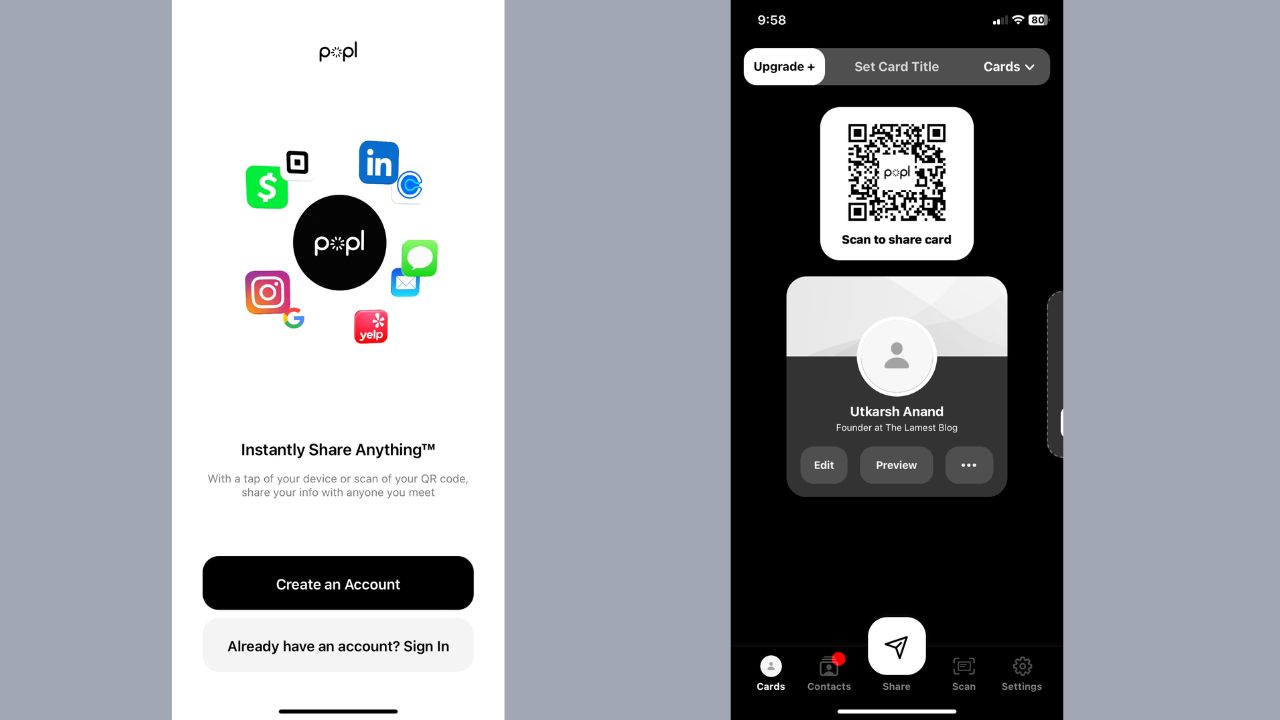 Open the Popl app and click on the "Create an Account" button. You will be asked to enter an email and password followed by some basic information like your name, job title, and company.
Step 3: Edit Your Digital Business Card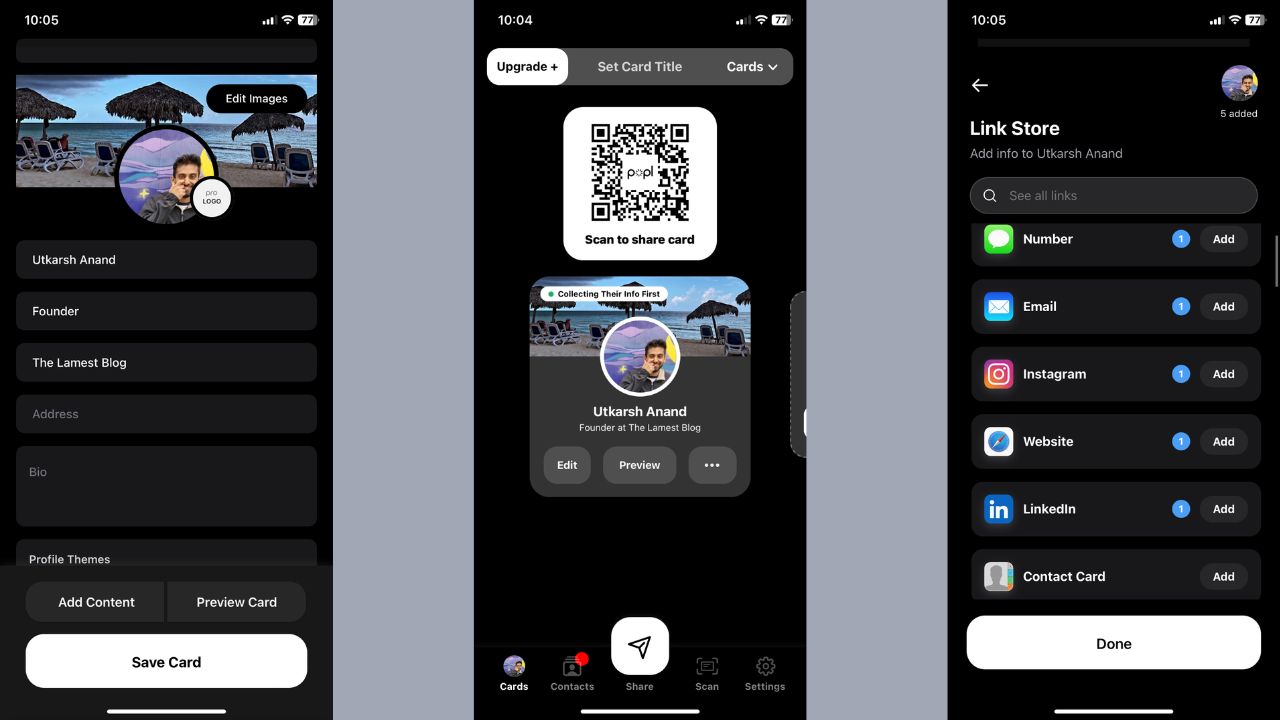 After you're done with step 2, Popl will create a basic business card for you. You can then enter more information and make your business card more detailed and attractive.
Add the following to your digital card:
Profile Picture
Cover picture
Logo (Only available with Popl Pro)
Bio
Address
You can add more content by clicking on the "Edit" option and then choosing "Add content". You can add the following to your business card and much more:
Your email
Social media accounts
Phone number
Payment links for Venmo, Cash App, Paypal, etc.
They allow you to make many more additions if you pay for the Popl Pro account.
Best Free Digital Business Cards
There are obviously many other digital business card platforms that allow you to create a digital card for free. But Linq and Popl are the ones we tried and found to be the best options for most use cases.
Based on our tests Popl is the best free digital business card.
Popl offers the best UI for the business card and also a very intuitive app for creating and modifying your business card.
Some other honorable mentions are:
What You Get with a Free Digital Business Card
The free versions obviously don't offer all the features that Popl or Linq have and this is the case with most other digital business cards.
The premium versions of these products typically allow you to customize your business card further, embed videos, and overall just make them more informative.
With the free version, you may also be missing out on the third-party integrations that allow you to manage your contacts and connect to CRMs.
However, we believe that for most people the free version of these digital business cards will be more than enough.
Final Thoughts
Digital business cards are gaining immense popularity and rightfully so.
Sharing contact information and connecting with peers at networking events has never been easier. With the amazing free offerings many platforms are offering, there is absolutely no excuse to not have a digital business card.
So, what's stopping you? It's time to get started with your free business card and take your networking to the next level!