V1CE Card: Full Review and Guide (2023)
V1CE Digital Business Card
Premium Materials
Analytics
Customizable Profile
V1CE App
Have you ever carried business cards to networking events so you can hand them to people you meet?
If you're in your 20s, chances are that you haven't but if you have (like me) it's not the most ideal situation.
You need to get them printed and have enough for everyone you'd like to share your information with, which is just a tedious process. AND most business cards end up in the trash anyways!
The V1CE card offers an amazing alternative to traditional printed business cards.
We have put together this complete guide and review to help you learn everything you need to know about V1CE.
So, read on to learn about the business card space and find out if V1CE is the business card for you!
What is Digital Business Card?
A digital business card is an alternative to printed business cards. However, they offer much more than what's possible with traditional ones.
Digital cards are essentially a must-have tool for networking nowadays. They easily let you share your info and even save your potential clients' information.
They are equipped with NFC technology, which lets you share your details with just a tap, making the process much easier for you and the people you interact with.
What is V1CE Card? (V1CE Digital Business Card)
V1CE is a digital business card that makes exchanging contact information a breeze!
Their NFC business cards allow you to share your information with a simple tap. V1CE offers a variety of NFC and QR code-enabled devices that can easily replace traditional business cards.
With V1CE you can do much more than share your contact info. It helps you capture leads, and share additional content through links like videos, portfolios, etc.
And don't forget about the environmental impact of not printing hundreds of paper business cards!
V1CE Card Key Features
V1CE offers many features that can help you take your networking to the next level. You can utilize V1CE devices along with the V1CE app to make the most of it.
Some of the key features offered by V1CE are:
V1CE Profile
Your V1CE profile is a canvas for self-expression.
It's completely customizable to reflect your unique identity. You can create multiple profiles, for both business and personal use.
You can add your social media links, craft a compelling bio, and showcase your job title, all in one sleek digital space.
V1CE App
The V1CE app serves as your command center.
It lets you manage your V1CE account efficiently. This streamlined approach to networking ensures that you're always prepared to make meaningful connections.
With the V1CE app, networking becomes more than just a handshake; it becomes an exchange of digital possibilities.
Analytics
Understanding the impact of your interactions is key.
V1CE's analytics provide valuable insights into your profile's performance.
You can monitor profile views, track shares, and viewer engagement.
This data can help you refine your networking strategy and make every connection count.
Contact Cards
With V1CE's contact cards, you will never have to manually enter contact information in your phone.
V1CE's contact cards seamlessly transfer your details to recipients' phones with a tap.
This effortless exchange not only saves time but also provides accuracy, leaving no room for data entry errors.
Lead Forms
When it comes to networking, capturing leads is extremely valuable.
V1CE's lead forms simplify this process by allowing those you've shared your information with to reciprocate.
Once you have their details, they are organized in your V1CE account for easy access. This allows you to build a seamless channel for follow-up, turning chance encounters into valuable connections.
V1CE Devices
V1CE offers a wide range of devices. We have reviewed many other digital business cards and believe that V1CE has one of the best collections of devices in the market.
Some of the products they offer are:
Business Cards

V1CE puts together the timeless charm of business cards with modern technology in their NFC-enabled and QR code-equipped offerings.
You can choose from four distinct versions:
Original: Built with durable PVC plastic.
Bamboo: Built with bamboo offering a unique look and finish.
Metal Card: Elevate your style with stainless steel.
24K Gold Card: Combine elegance and opulence with gold-plated stainless steel.
V1CE lets you customize your business card. You can add your branding and logo to make sure that your digital business card aligns with your identity.
Check out these business card examples to get some inspiration for personalizing your business card.
Phone Case
V1CE offers NFC-enabled phone cases for popular phone models.
These cases transform your device into a networking machine. You can easily share your information with a simple tap.
RFID Wallet & Card Holders

V1CE's RFID-blocking technology-enabled wallets and cardholders are more than just a gimmick.
They are great quality wallets which which also double as a digital business card. They not only protect your cards and personal data but also offer a stylish and functional solution for your networking needs.
Table Talker
Elevate your professional spaces with the V1CE Table Talker.
Perfect for offices, shops, trade shows, and beyond, this device invites engagement.
With customization options that include adding your logo, the Table Talker becomes a conversation starter that bridges the gap between the physical and digital worlds.
Phone Card/Sticker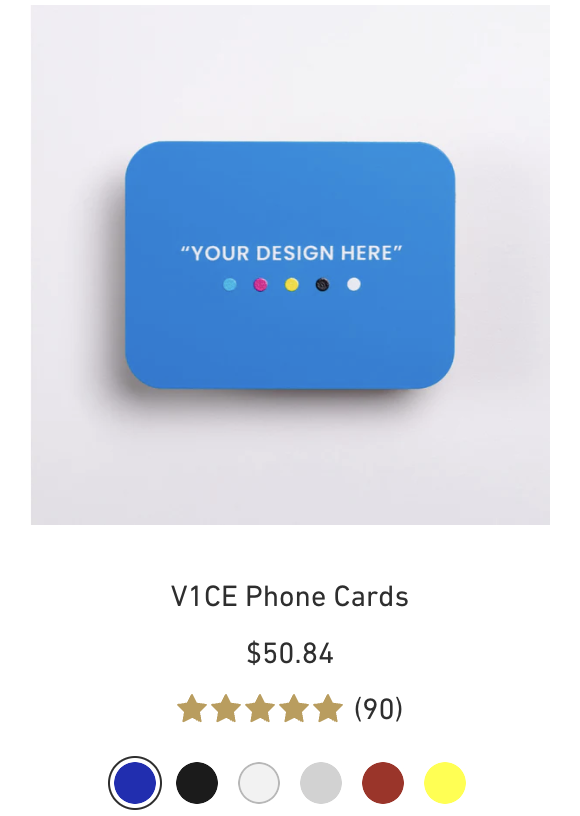 V1CE's Phone Card/Sticker is a versatile tool for effortless networking.
You can customize the design to match your brand and stick them to the back of your phone.
This card allows you to instantly share your contact details with potential customers and partners, leaving a lasting impression.
V1CE Card Pricing
While V1CE's offers a comprehensive suite of features, it also comes with a high price point.
Their products are more expensive compared to some competitors we have reviewed Mobilo, Linq, Ovou, Popl, and Dot.
This investment can be worth it if you the quality of these devices is important to you.
V1CE's commitment to providing top-tier networking solutions and built quality can justify the high price point.
V1CE also offers free worldwide shipping on orders over $70.
How Does V1CE Card Work?
V1CE's business cards and other devices share the same technology.
NFC Functionality: A tap with any NFC-enabled device initiates the sharing process.
QR Codes: Scan the QR code on a V1CE device to swiftly exchange contact information.
Digital QR Code: Store a digital QR code linked to your V1CE profile in your phone's wallet for convenient access.
When someone taps your NFC-enabled device or scans your QR code, they are sent directly to your V1CE profile. They can then access the information you have added to your profile and save your contact card.
Final Thoughts
V1CE offers an amazing set of features along with beautifully crafted business cards and other accessories.
They do command a higher price tag than many of their competitors but if you are looking for a premium product, V1CE might be just for you.
Digital business cards are gaining popularity and anyone who relies on networking to get further in their career can benefit from it.
Disclaimer: The information on this website is provided for general informational purposes only. We may earn commissions from the products or services mentioned on this site.