How to Make a Digital Business Card: 9 Strategies to Make the Perfect Business Card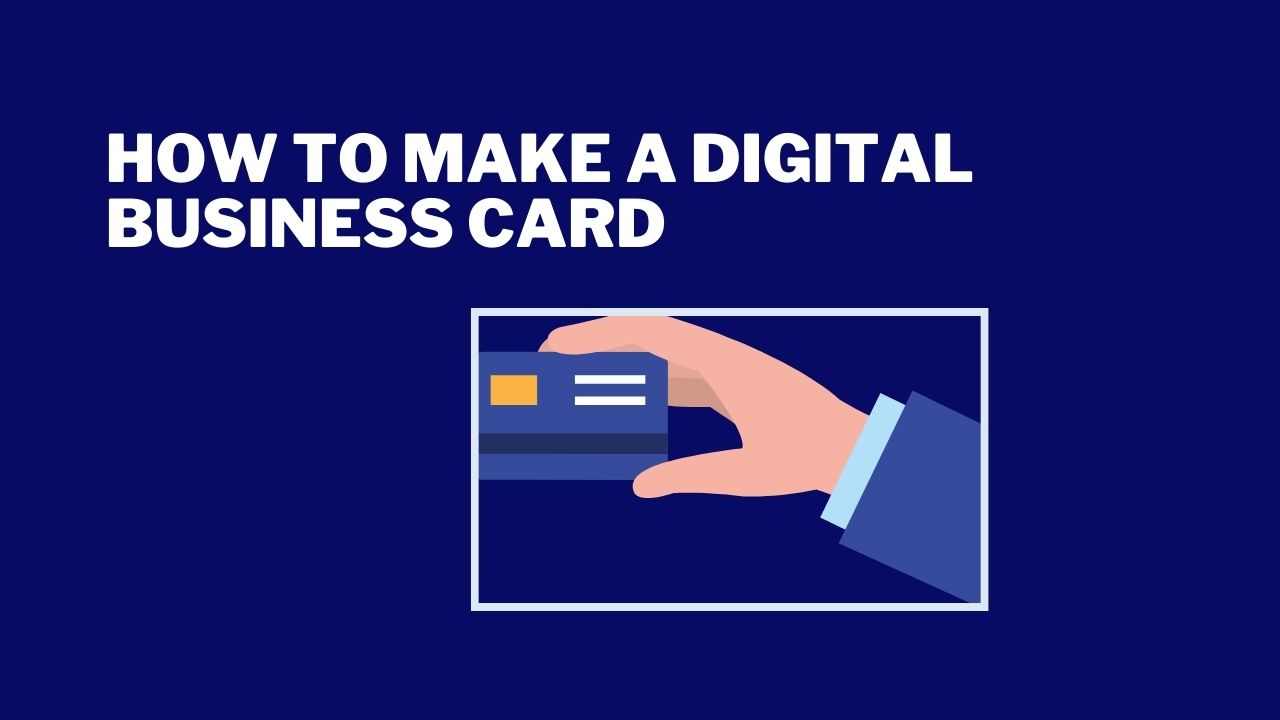 Networking is evolving continuously with the movements in technology. Digital business cards have tremendously transformed how people network and exchange contact information.
If you want in on the action and want to know how to make the perfect digital business card, we have written this article just for you!
We will explore strategies to create a business card that will wow your contacts. So let's dive in!
Strategies to Craft the Perfect Business Card
What is a Digital Business Card?
Before we begin, let's understand what a digital business card is.
Unlike traditional paper business cards, a digital business card is a virtual representation of your contact information and professional details.
You can share them using smartphones or NFC-enabled devices, which makes it easy to share your information instantly.
NFC digital cards eliminate the need for manual scanning or typing of information, making the exchange of contact details quick and hassle-free.
Also, unlike paper business cards, you won't lose them!
Why Use a Digital Business Card?
Digital business cards are essentially, a smarter and much easier way to network, compared to their paper counterparts.
Some of the major benefits are:
Convenience: Digital cards let you share your contact info easily with just a tap or a scan. You don't need to carry a bunch of printed business cards with you and worry about running out. This convenience is super valuable with how fast-paced life is nowadays.
Real-Time Updates: If you ever need to change any of the information on your paper business card, you'll have to reprint them. That sounds like a nightmare.
With digital business cards, you can easily update your information on the fly. This is a much cheaper and quicker way of ensuring the people you network with are getting your latest info.
Eco-Friendly and Sustainable: Think of the environmental impact of printing tons of business cards. It sounds terrible!

Using digital cards is a much more sustainable practice. You don't need a separate card for each of your contacts, you can keep sharing as much as you'd like. Think of all the trees you're saving!!
9 Strategies to Make the Perfect Digital Business Card
Crafting a good digital business card is not as easy as it may sound. If you truly want to impress your potential clients, employers, or someone else you need to be strategic.
Here are some key things you need to consider when creating your business card:
Pick the Digital Card That Works Best
There are a ton of digital business card platforms in the market and they all offer their own sets of benefits and features.
To make sure you have the digital card that suits your needs the best, consider things like:
UI
Customizability
Device options
3rd party integrations
Some of our top choices are:
Popl: Popl is the best overall digital business card we have tested. They offer a perfect blend of features and pricing.
Linq: Linq offers great customizability and pricing.
V1CE: Premium product and great features. But a high price tag.
Mobilo: Great for teams. Offers features for collaboration and tracking for a large team.
OVOU: Great design and features but lacks in customizability and pricing.
Dot: Simplest product out of the bunch. Lacks a lot of features but offers an affordable way to share your information.
Read our in-depth article on the best digital business cards to know more about them.
Pick the Right Template
Most digital business card platforms offer different templates for what your business card would look like.
Your card's general look and feel are important as it determines how the viewer will interact with the different elements.
Choose a template that is in line with your brand and is easy to navigate. It is also important that your business card is mobile-friendly as most people will be viewing it on a mobile device.
Design Your Digital Business Card to Engage Viewers
When it comes to networking, just sharing your information is not the end goal. You want your user to interact with it and take some action.
It is important to design your business card and place items in a way that makes the interviewer engage with it.
For example, if you are networking with potential employers, the top of your business card can contain a summary of your experience and a link to your portfolio.
Or
If you run a marketing agency, the viewer should be able to see how you can help them. Maybe a video or a case study to show your skillset and past results.
Think of ways to make sure that the viewer is seeing what you want them to see.
Pick the Right Color Scheme
Colors are much more powerful than you'd think. They have the ability to evoke emotions, convey messages, bring attention to specific items, and much more.
When you are designing your business card, pay attention to the color scheme you use.
You want your color scheme to match your branding and evoke the right emotions in the viewer.
For example, here are some of the emotions different colors are associated with:
Blue: Trust and professionalism
Red: Pasion and Energy
White: Purity and sense of space
Black: Authority and power, etc
Add Relevant Information
This is an obvious one but you want to add all relevant information to your business card.
One big advantage of digital cards is that you won't run out of space. Most digital business card platforms allow you to customize your profile and place items in different spots for high engagement and visibility.
Make sure you are adding information that will be useful for the viewer without making it too cluttered.
Some important information that you should in your business card:
Name
Job/position
Company name
Social media links
Email address
Website
And much more based on who you are looking to connect with.
Humanize Your Business Card
Digital cards are convenient and easy, but they should also reflect your personality and personal brand.
Add your headshot and consider adding things like a personal brand statement or tagline to make it relatable and connect with your audience on a human level.
This will help you create a more personal connection with whoever is viewing your business card.
Remember, building connections is the whole point, and what better way to do it than taking it beyond just a contact exchange?
Persuasive Call-to-Action
When you are networking with other people, you probably have an end goal in mind. Maybe you're looking for a job, or you're looking for clients for your business, or something else.
Make sure you are guiding the viewer to the next step you want them to take.
To do so, you'll have to recognize what that is. For example:
If you're job hunting, it can be, getting them to view your resume or portfolio.
If you're selling services, it can be, getting them to schedule a call with you.
Create a solid CTA and place it on your business somewhere, where they see it!
Collect Leads
Many digital business cards also offer lead generation tools that prompt the viewer to enter their contact information.
When you share your contact with others, it is important to get their contact information as well. So you can follow up with them.
This will help you build a database of potential clients, business partners, employers, etc. for future opportunities.
Track and Optimize
Digital business card platforms also offer analytics tools that give you insight into how viewers are interacting with your business card.
You can collect data on what elements people are interacting with, how many people are opening your card, etc.
Monitor what elements are getting more engagement and conduct a/b testing to find out what is making people take the steps you want them to.
Final Thoughts
Digital business cards are a big part of the changes that networking is seeing in modern times. They are a great solution to a problem that has existed for decades.
Crafting an effective business card is as important as having one these days. This is the first impression you'll make on people you are trying to make connections with.
So, it is important to pay attention to the details and make sure you are putting your best foot forward.
Embrace this digital revolution and use the above-mentioned strategies to make a great first impression.
Happy networking!