How to Take a Good Headshot: Complete Guide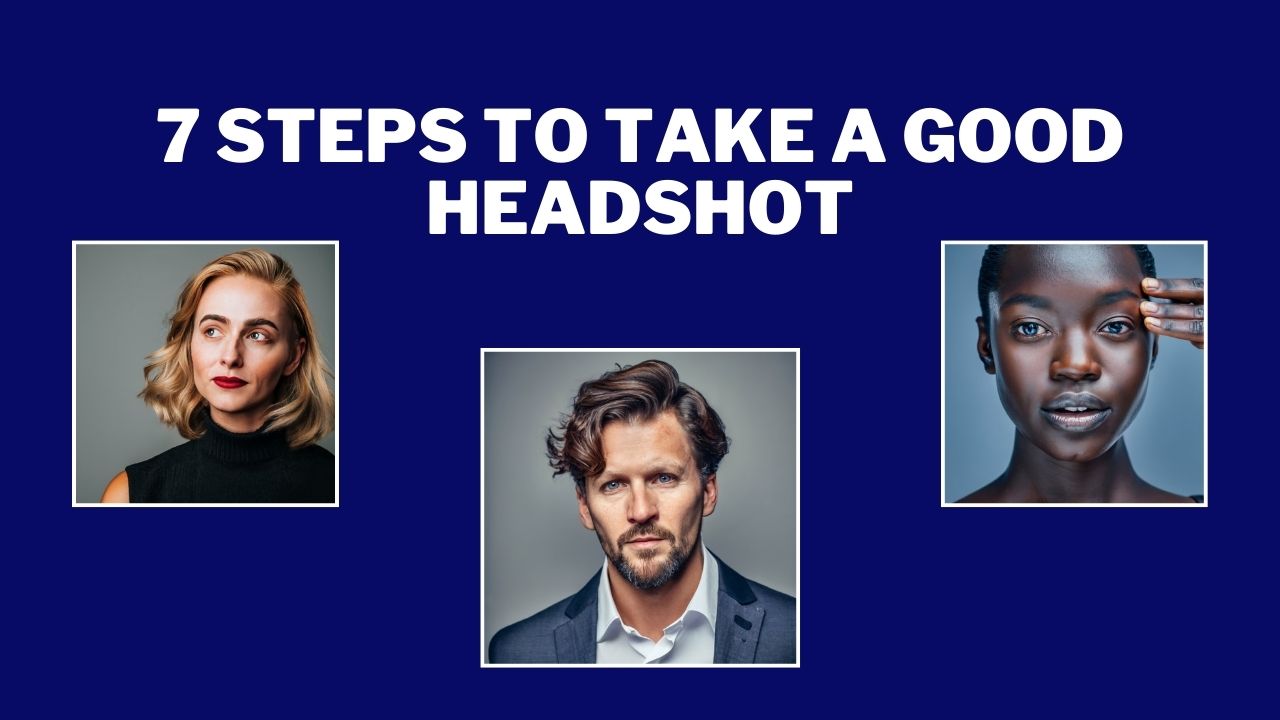 Are you wondering what you need to capture that perfect professional headshot?
A good headshot is often the first thing others see in this digital world. Whether it's on social media, on a business card, or on a resume, a good headshot goes a long way.
In this article, we will discuss the art of taking a great headshot. We will go through the steps you need to take to put your best self forward through your headshot.
What Makes a Good Headshot?
Members who include a photo receive up to 21 times more profile views and up to 36 times more messages on LinkedIn.
A great headshot should capture your essence and leave a lasting impression. It's more than just a picture.
There is a lot that goes into taking good professional headshots: 
Clarity and Sharpness: A good headshot should be clear and sharp, with no blurriness or distortion. This ensures that viewers can see your features.
Natural Lighting: Opt for soft, natural lighting that flatters your face. Harsh or uneven lighting can create unflattering shadows and highlights.
Composition: The composition should be balanced, with your face centered and well-framed. The background should be simple and unobtrusive, drawing attention to you.
Expression: Your expressions should be genuine and approachable. It should reflect the mood and image you want to convey.
7 Steps to Take a Good Headshot
Capturing a stunning headshot requires more than just a camera and a smile.
If you're looking for a professional headshot, to stand out in the dating scene, or just capture a memorable portrait, these seven steps will guide you in taking a headshot that stands out:
1. Find the Right Photographer
The first step in creating a remarkable headshot is to work with a skilled photographer.
Look for someone who is a professional portrait photographer and has a portfolio that resonates with your vision.
A professional headshot photographer can give you valuable tips and capture your best angles.
2. Select the Ideal Location
Choose a location that complements the message you want to convey through your headshot photo.
A professional studio with controlled lighting is a classic option.
However, consider outdoor settings for a more natural and relaxed vibe, or even your workplace for a context-specific shot.
3. Dress to Impress
Your choice of clothing plays a pivotal role in your headshot's success.
Select outfits that align with your personal brand or the image you want to project.
Make sure that your outfit is well-fitted, free of distracting patterns or logos, and suits the background.
4. Master the Art of Lighting
Flattering lighting is a game-changer in headshot photography.
If possible, opt for natural light, as it tends to be flattering.
However, a professional photographer can use studio lighting to create the desired ambiance.
5. Express Your Authentic Self
Authenticity is key to a compelling headshot.
Relax, be yourself, and let your personality shine through.
Avoid overposing or forcing expressions. Genuine smiles and confident gazes often make the best shots.
6. Experiment with Posing
Work closely with your photographer to find the most flattering angles and poses.
Don't be afraid to try different variations.
Experimenting can lead to unique and captivating results that suit your style.
7. Post-Processing: Less Is More
While post-processing can enhance your headshot, it's important not to go overboard.
You can use photo editing apps to smooth out minor imperfections but avoid drastic alterations that compromise your authenticity.
Your goal is to look like the best version of yourself, not a digital creation.
Pre-Shoot Preparation
A. Setting clear objectives
1. Identifying the purpose of the headshot
If you want to take a professional headshot the first step is to determine why you need a headshot.
Are you creating a professional image for your LinkedIn profile, showcasing your personality on a dating app, or expressing your artistic side for a portfolio?
Understanding the purpose will guide all other decisions.
2. Understanding the target audience
Consider who will be viewing your headshot.
Are you trying to impress potential employers, attract potential partners, or captivate art enthusiasts?
Knowing your target audience helps tailor your appearance and expression accordingly.
B. Choosing the right location
1. Natural vs. studio lighting
The choice between natural and studio lighting depends on the ambiance you want to create. Natural light often provides a warm, soft look, while studio lighting offers precise control.
Discuss this with your photographer to find the best fit for your objectives.
2. Background selection
The background sets the tone for your headshot.
A plain backdrop can bring focus to your face, while a location-based background can tell a story.
Ensure it complements your objectives and doesn't distract from your image.
C. Wardrobe and grooming
1. Selecting appropriate attire
Your clothing should align with your objectives.
For a professional headshot, opt for well-fitted, classic attire that reflects your industry.
If it's a personal or artistic headshot, express your style, but avoid busy patterns or logos that can steal the spotlight.
2. Hair, makeup, and skincare tips
Grooming is crucial. Ensure your hair is well-maintained and styled to enhance your face.
Makeup should enhance your features without appearing heavy.
For skincare, drink plenty of water and moisturize to achieve a healthy glow. Avoid drastic changes right before the shoot, such as new hairstyles or skincare products.
Equipment and Tools
A. Camera selection
1. DSLR vs. smartphone:
The choice between a DSLR (Digital Single-Lens Reflex) camera and a smartphone largely depends on your goals and budget.
DSLRs offer superior image quality, control over settings, and lens interchangeability.
Smartphones, on the other hand, are convenient and suitable for casual headshots. For professional results, a DSLR is often the preferred choice.
2. Lens choice:
If you opt for a DSLR, the camera lens you use can significantly impact the outcome.
A portrait lens with a wide aperture (e.g., 50mm f/1.8) is ideal for creating a beautiful background blur (bokeh) and achieving a pleasing depth of field that makes your subject pop.
B. Tripods and stabilizers
Stability is crucial when capturing a headshot.
Consider using a tripod to eliminate camera shake and ensure sharp images.
If you're working with a smartphone, smartphone tripod mounts are available. Additionally, consider handheld stabilizers or gimbals for smooth video headshots.
C. Lighting equipment
1. Natural light sources
Natural light can produce stunning headshots when used correctly.
Position your subject near a window to benefit from soft, diffused light. Avoid direct sunlight, as it can create harsh shadows.
Morning and evening light often provide the most flattering results.
2. Artificial lighting options
For controlled lighting conditions, consider investing in artificial lighting.
Options include studio strobes, continuous lights, and ring lights.
These tools provide consistent and adjustable illumination, allowing you to shape the light to your liking.
D. Accessories
Accessories can elevate the quality of your headshot:
Reflectors: These bounce light back onto your subject, reducing shadows and creating a pleasing catchlight in the eyes.
Diffusers: Soften harsh light sources for more flattering and even illumination.
With the right equipment and tools, you can ensure that the technical aspects of your headshot are on point.
However, remember that the skill of the photographer and the rapport between photographer and subject are equally essential for achieving a stunning headshot.
Composition and Framing
A. Rule of thirds
The rule of thirds is a fundamental principle in photography that divides your frame into a grid of nine equal parts using two equally spaced horizontal lines and two equally spaced vertical lines.
Here's how it applies to headshot composition:
Subject Placement: Position your subject's eyes along the upper horizontal line or at the intersections of the lines. This creates balance and visual interest.
Balancing Elements: Ensure that any additional elements in the background or foreground align with the grid lines or intersections.
B. Framing and cropping
Framing: Use elements in the environment to frame your subject. For example, you can frame the headshot with a doorway, window, or natural foliage. This technique adds depth and context to the image.
Cropping: During post-processing, consider different cropping options to emphasize specific facial features or expressions. Close-cropping can focus on the eyes and face, while a wider crop might capture more of the background for context.
C. Head position and angles
Head Position: The angle at which your subject's head is tilted can convey different emotions and personalities. A slightly tilted head often appears more approachable, while a straight head can project confidence.
Angles: Experiment with different angles for variety. Capture headshots from eye level, above, and below to find the most flattering perspective for your subject.
D. Experimenting with expressions
The subject's expression is a powerful tool for storytelling in a headshot:
Natural Smiles: Encourage natural smiles by engaging with your subject and creating a relaxed atmosphere. Capture a range of expressions, from slight smiles to more genuine ones.
Serious and Thoughtful Looks: Depending on the purpose of the headshot, consider capturing serious or contemplative expressions. These can convey professionalism, depth, and introspection.
Eyes and Connection: The eyes are often the focal point of a headshot. Ensure they are well-lit and sharp. Encourage your subject to connect with the camera or, if applicable, with another person in the frame to create a sense of engagement.
Lighting Techniques
A. Natural light
1. Golden hour
The "Golden Hour" is the magical time shortly after sunrise and before sunset when the sun is low in the sky, casting a warm, soft, and flattering light.
This natural light is perfect for headshots as it minimizes harsh shadows and creates a beautiful, natural glow.
2. Diffused light
Diffused light occurs when the sunlight is softened and scattered, either by cloud cover or by passing through a translucent material.
Shooting in diffused light reduces harsh shadows and highlights, making it easier to capture the finer details of the subject's face. If you can't shoot during the golden hour, opt for diffused light to achieve a flattering and natural look
B. Artificial lighting
1. Three-point lighting setup
For controlled artificial lighting, the three-point lighting setup is a tried-and-true technique:
Key Light: The key light is the primary light source, typically positioned at a 45-degree angle to the subject. It provides the main illumination and highlights the subject's face.
Fill Light: The fill light is placed on the opposite side of the key light to fill in shadows created by the key light. It softens harsh shadows and creates a balanced look.
Backlight: The backlight, or hair light, is placed behind the subject to separate them from the background. It adds depth and highlights the subject's contours.
2. Softboxes and umbrellas
To achieve soft, flattering artificial light, professional photographers often use softboxes and umbrellas:
Softboxes: These are used to diffuse and spread light evenly, minimizing harsh shadows. They create a natural and soft illumination that is perfect for headshots.
Umbrellas: Umbrellas can be used to bounce light onto the subject, creating a soft and flattering effect. They are particularly useful for portrait photography and headshots.
C. Controlling shadows
Controlling shadows is crucial for achieving the best headshot:
Reflectors: Reflectors bounce light back onto the subject to fill in shadows and create a pleasing catchlight in the eyes. They are invaluable tools for controlling shadows in both natural and artificial light.
Positioning: Experiment with the positioning of lights to control the direction and intensity of shadows. Adjust the angle and distance of the key light and fill light to achieve the desired effect.
Shooting and Review
A. Camera settings
1. Aperture, shutter speed, and ISO
Aperture: Adjust the aperture (f-stop) to control the depth of field. A wide aperture (e.g., f/1.8) creates a shallow depth of field, perfect for isolating the subject from the background. A narrow aperture (e.g., f/8) allows for a larger depth of field, keeping more elements in focus. Experiment with different apertures to achieve the desired effect.
Shutter Speed: Choose an appropriate shutter speed to control motion and avoid camera shake. For still headshots, a slower shutter speed can work, but use a tripod to ensure stability. For headshots with movement, use a faster shutter speed to freeze action.
ISO: Adjust the ISO setting to control the camera's sensitivity to light. Lower ISO values (e.g., 100-400) are ideal for well-lit environments to maintain image quality. Increase the ISO in low-light situations, but be cautious of introducing noise. Shooting in RAW format (covered later) allows for more flexibility in post-processing.
2. White balance
Set the white balance according to the lighting conditions to ensure accurate color representation.
Use presets like daylight, cloudy, or tungsten, or manually adjust the white balance for precise color temperature control.
B. Shooting in RAW format
For the best headshots with maximum post-processing flexibility, shoot in RAW format.
RAW files contain unprocessed data from the camera's sensor, allowing you to adjust exposure, color balance, and other settings in post-production without losing image quality.
Shooting in RAW gives you more control over the final look of your headshots.
C. Capturing a variety of shots
To ensure you have options to choose from, capture a variety of shots during your headshot session:
Different Angles: Experiment with shooting from various angles, including eye level, above, and below the subject's eye line. Each angle can create a distinct mood and impact.
Expressions: Encourage your subjects to change their expressions. Capture smiles, serious looks, and everything in between. Expressions are key to conveying personality and emotion in headshots.
Cropping: Vary your framing and composition by taking both tight close-ups and wider shots. Different crops can highlight different aspects of your subject.
D. Immediate review and adjustments
Take advantage of digital photography by reviewing your shots immediately after capturing them.
Check for focus, exposure, and any potential issues.
If adjustments are needed, make them on the spot.
This ensures that you have a good selection of shots to choose from and minimizes the risk of missing critical details.
Post-Processing and Editing
A. Importing and organizing photos
The First Step Towards Perfection
Before you embark on your editing journey, it's essential to have a well-organized collection of photos.
This not only saves you time but also ensures that you don't miss out on any important shots. Here's how you can effectively import and organize your photos:
Choose the Right Software
Select a reliable photo editing software such as Adobe Lightroom or Photoshop. These tools offer powerful features for organizing and enhancing your photos.
Create Folders and Labels
Organize your photos into folders and label them accordingly. This categorization makes it easier to find specific images later.
Backup Your Files
Always create backups of your original photos. You never know when you might need them, especially if you make irreversible edits.
B. Basic retouching
Basic retouching is the foundation of photo editing. It involves enhancing the overall quality of your photos while maintaining a natural look. Here are two crucial aspects of basic retouching:
1. Color correction
Color correction is all about adjusting the colors in your photo to make them more vibrant and true to life. You can fine-tune the brightness, contrast, saturation, and white balance to achieve the desired look.
2. Skin retouching
When it comes to portraits, skin retouching is essential. Smooth out imperfections, remove blemishes, and give your subject's skin a flawless appearance. But remember, moderation is key to avoiding an unnatural look.
C. Maintaining naturalness
Embrace authenticity
While it's tempting to go overboard with editing, it's crucial to maintain the natural essence of your photos. Overly edited images can lose their charm and authenticity. Here's how you can strike the right balance:
Avoid Excessive Filters
Refrain from using heavy filters that alter the entire mood of your photo. Subtle adjustments often yield the best results.
Preserve Details
Retain the details in your photos, such as textures and fine lines. These nuances add depth and character to your images.
D. Cropping and resizing
Perfecting Composition and Size
Cropping and resizing are the final touches that can greatly impact the visual appeal of your photos. Whether you're preparing images for print or social media, follow these guidelines:
Crop for Composition
Crop your photos to improve their composition. Remove distracting elements and focus on the main subject.
Choose the Right Dimensions
When resizing, consider the platform where you'll be sharing your photos. Different platforms have different size requirements, and resizing ensures your images look their best.
Selecting the Final Headshot
A. Narrowing down the options
The Initial Selection
The first step in selecting the final headshot is to go through your collection and make an initial selection. Here's how you can narrow down your options:
Variety is Key
Choose a diverse set of headshots that showcase different angles, expressions, and backgrounds. This variety will help you identify which style suits you best.
Eliminate Blurry or Poorly Lit Photos
Remove any photos that are blurry, poorly lit, or out of focus. These won't make a positive impression, no matter how good you look in them.
Pay Attention to Your Expression
Consider the expression on your face in each photo. Look for a natural, friendly expression that represents you well.
B. Seeking feedback
Getting feedback from others can provide valuable insights. Here's how to seek feedback effectively:
Ask Trusted Friends and Colleagues
Reach out to friends, family, or colleagues whose opinions you trust. They can offer an objective view and help you choose the most appealing headshot.
Consider Your Target Audience
Think about the context in which you'll be using the headshot. If it's for a professional network, seek feedback from people in your industry.
Pay Attention to Consensus
If multiple people comment positively on a particular headshot, it's a strong indicator that it's a good choice.
C. Final touch-ups if necessary
Polishing Your Image
Sometimes, a little touch-up can make a big difference in how your headshot appears on your business card and personal branding materials. Here's how to finalize your headshot:
Minor Retouching
Consider minor retouching to remove blemishes or distractions. However, be cautious not to over-edit and maintain a natural look.
Crop and Resize
Adjust the dimensions of your headshot to fit the platform or purpose for which it will be used. This ensures it looks its best when uploaded.
Consult a Professional
If you're unsure about the final touches, consider consulting a professional photo editor or retoucher. They can enhance your headshot while preserving authenticity.
Saving and Sharing
A. File formats and resolutions
The first step in saving your visual content is selecting the appropriate file format. Different formats are suited for various purposes. Here's a breakdown of common formats:
JPEG (Joint Photographic Experts Group)
Ideal for photographs and images with a wide range of colors
Offers good compression while maintaining image quality.
Suitable for web use, social media, and sharing via email
PNG (Portable Network Graphics)
Best for images with transparency or a need for high-quality resolution.
Suitable for logos, graphics, and images with sharp details
Often used for website design and digital artwork.
GIF (Graphics Interchange Format)
Used for short animations or images with simple, repeated motions.
Suitable for memes, banners, and social media content.
Limited color palette and is not ideal for photographs.
TIFF (Tagged Image File Format)
Maintains the highest image quality and resolution.
Ideal for professional printing, especially in photography and graphic design.
Results in large file sizes that are not suitable for web use.
Resolutions Matter
Apart from file formats, the resolution of your visual content is crucial. It determines the image's clarity and suitability for different platforms:
High Resolution (300 DPI)
Best for printed materials such as brochures, posters, and business cards.
Ensures sharpness and clarity in print.
Standard Resolution (72 DPI)
Suitable for digital use, including websites, social media, and email
Provides a balance between image quality and file size.
B. Uploading and sharing on various platforms
Different platforms have specific requirements and recommendations for uploading and sharing visual content. Here are some key considerations:
Social Media
Each social media platform has its own preferred image dimensions and aspect ratios.
Optimize your visuals for platforms like Instagram, Facebook, Twitter, and LinkedIn to ensure they appear as intended.
Websites and Blogs
Resize and compress images to improve website loading times.
Use descriptive alt text for images to enhance accessibility and SEO.
Email Marketing
Consider the file size of images to avoid slow-loading emails.
Ensure your email templates are responsive for various devices and screen sizes.
C. The importance of consistent branding
Maintaining a consistent brand identity is essential for creating a recognizable and trustworthy image. Here's how to achieve it:
Color Palette
Stick to a consistent color palette that aligns with your brand.
Use these colors in your visuals, including logos, images, and graphics.
Typography
Select and consistently use fonts that reflect your brand's personality.
Ensure readability across all visual content.
Logo Placement
Place your logo strategically in your visuals, ensuring it's visible but not overpowering.
Keep the logo's size and positioning consistent.
Conclusion
In conclusion, mastering the art of capturing a remarkable headshot is a skill worth pursuing.
A great headshot can leave a lasting impact, opening doors to opportunities and enhancing personal and professional profiles.
I encourage readers to embark on their headshot journey, as it is a valuable investment in self-presentation and a key to making a memorable first impression in today's image-conscious world.
How to Take a Good Headshot: Frequently Asked Questions
How do you take an attractive headshot?
To capture an attractive headshot, focus on good lighting, natural expressions, and a clean background for a professional and appealing look.
A great alternative to this if you don't want to go through the trouble of all the preparation is to use AI headshot generators.
How do I prepare my face for a headshot?
Prepare your face by maintaining good skincare, using minimal makeup, getting enough rest, staying hydrated, and grooming your eyebrows and lips for a polished appearance.
How should I do my hair for headshots?
Choose a simple hairstyle that frames your face well, keeping it clean and groomed with minimal distractions, and consider consulting a professional hairstylist for guidance.