7 Business Card QR Code Ideas | Templates and Designs
Are you looking for some inspiration for adding QR codes to your business cards?
In recent years, QR code business cards have gained a ton of popularity as they make it easier for you to use the information on the business card.
Adding a QR code to a business card has tons of benefits but designing eye-catching business cards with QR codes can be a challenge.
In this article, I have put together some of my favorite ideas for business card designs with QR codes.
My Favorite QR Code Business Cards Ideas
I have been using business cards for years at this point and have seen so many different designs along the way.
I personally love the idea of adding a QR code to a business card as it allows you to add a bunch of information while keeping your card sleek!
Some of the best designs I have used and seen over the years are:
#1 Digital Business Cards
I have added some pretty cool and creative ideas to this list but I would be lying if I said that I enjoy anything more than digital business cards.
I have reviewed a ton of business cards and use them on a regular basis. 
When you buy a physical digital card, almost all of them come with a QR printed on them.
Or if create a digital card completely online you get a QR code linked to your profile that anyone can scan to access your info.
Some of the best digital business cards on the market are:
#2 All About The QR Code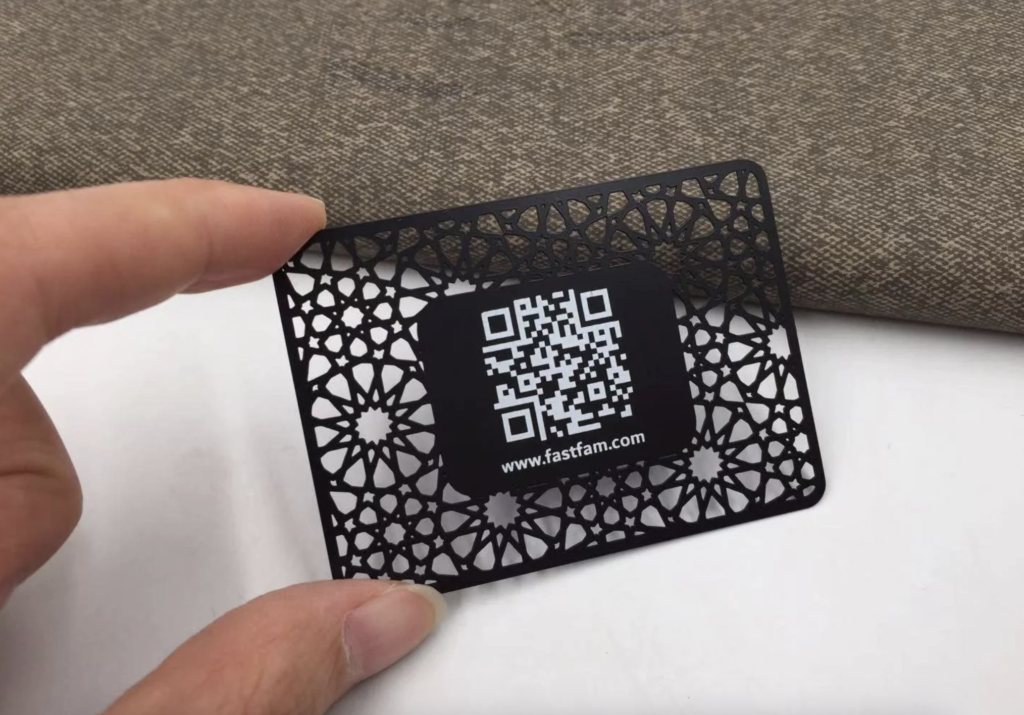 This metal card is a solid option if you're looking to impress anyone you meet! I used a metal card similar to this one.
I love how the QR code is front and center and there isn't much text or distractions on the card.
You can obviously reuse this card and print the QR code for a digital business card on it and have your connections scan it to get access to your info.
In my experience, every time I pulled my metal card out for someone to scan they made a comment on how cool it looked.
I 100% recommend it if you want a premium feel!
#3 Square Shaped Card with QR Code
This card is pretty cool because the shape stands out and it incorporates elements of a traditional business card with the modern square shape.
You can use one side to add your information and add QR codes to the other side and have it completely cover one side.
I love the use of real estate on this one and I believe the unusual shape encourages more interaction.
#4 Multiple QR Business Cards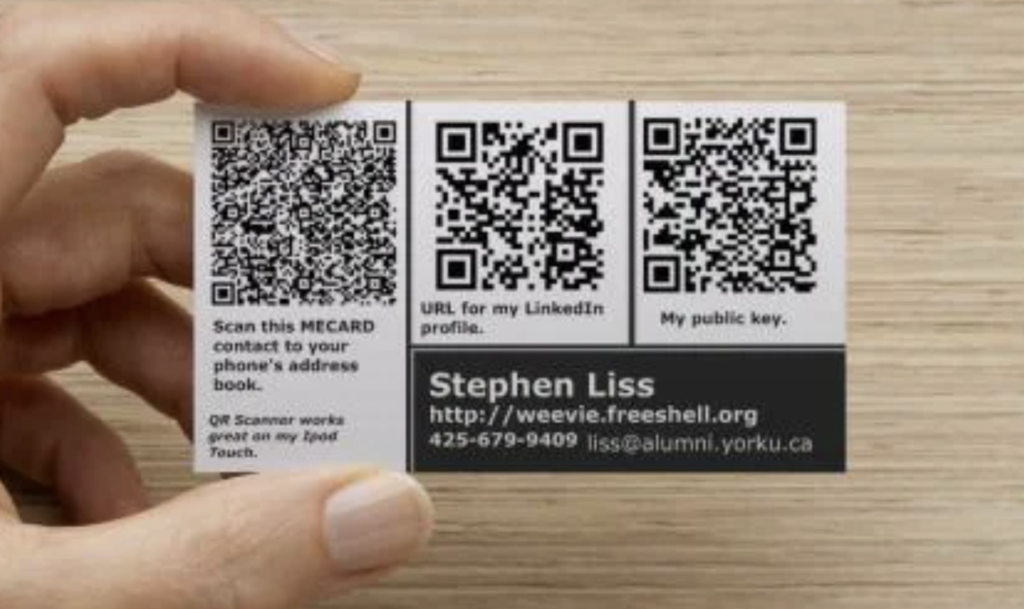 I like this design as it incorporates multiple QR codes for different purposes.
The first one links to a VCard that users can scan to save your contact info and the other two link to social media and the owner's public key.
It's a great way to allow people to access different things using your business card.
#5 The Artsy Face Business Card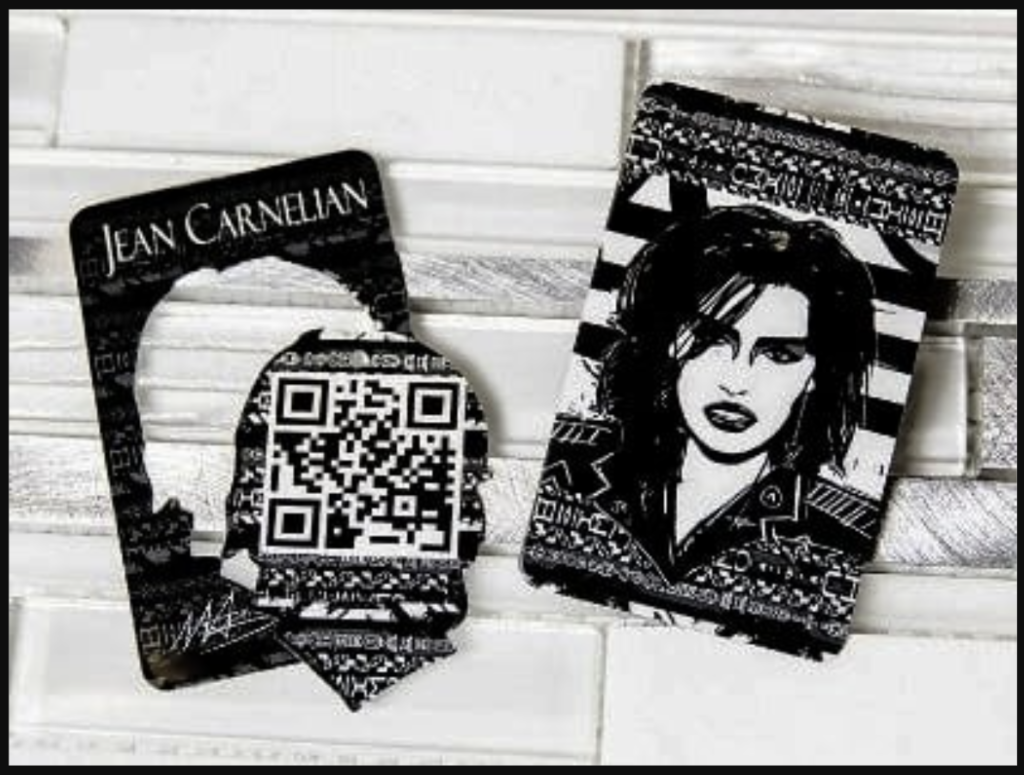 This business card's QR code section pops out of the frame which makes it stand out and when you interact with it's almost bound to be a memorable experience.
I like how the design is very different and it has the person's face on it which is hard to miss.
This might not shout "corporate professional" but if you're the artsy kind this might easily fit your brand with some modifications.
#6 Verticle Business Card
Another easy way to stand out with your business card is to align the content vertically.
You can easily customize your business card and add your logo and brand colors to create something that is different from the crowd.
I like this design because it's a small change but gives you a unique feel with the vertical content and rounded corners since most people align the content horizontally.
#7 Circular Business Cards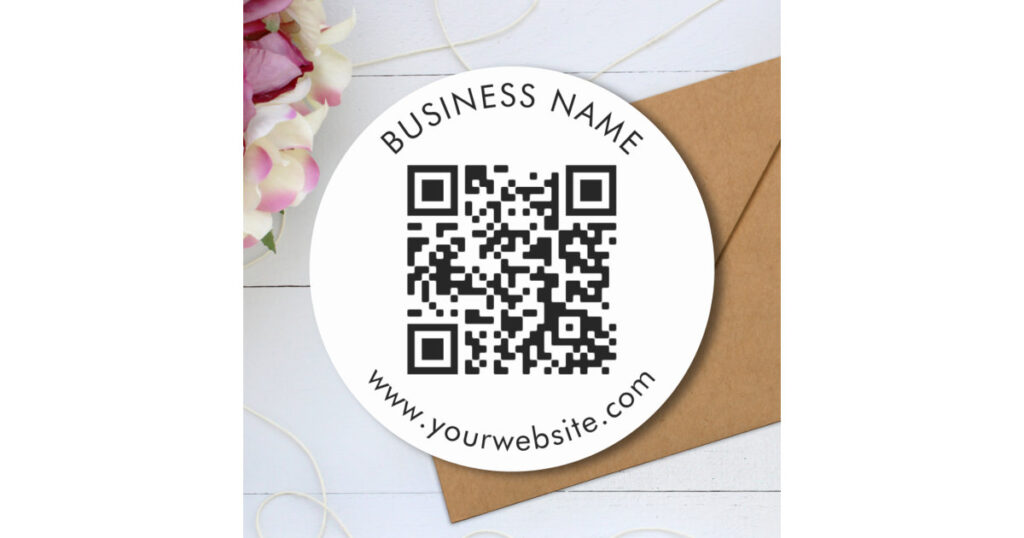 Different shapes is one of the easiest ways to stand out with your business card.
Most people don't pay too much attention to their business cards and just go with basic options.
This presents a great opportunity for you to add some unique elements to your business card and make it stand out.
Why You Should Add a QR Code to Your Business Card?
A QR code is a two-dimensional matrix barcode that can store a variety of data types, such as text, URLs, contact information, or other alphanumeric data.
You can scan the information stored in a QR code using a smartphone or dedicated QR code reader.
A custom QR code allows you to store additional information and save space on your business card.
It also makes it much easier for people to access your information by simply scanning the QR code.
What Should a QR Code on Business Card Do?
A QR code can be a great addition to your business card but how do you make the best of it?
You can use a QR code to do many different things. How you use this QR code will depend on what you're looking to achieve from your business card and what field you're in.
Some ways you can leverage a QR code business card are:
VCard QR Code: A VCard QR code can store your contact details. You can easily scan this QR code to import the information into your address book. This is great for networking purposes as it makes it easy for your connections to save your info.
LinkedIn Profile: Link the QR code to your LinkedIn profile, allowing the recipient to quickly connect with you on the professional networking platform.
Landing Page: If you have a website or a digital product and you want to direct people to your landing page, you should directly link your QR code to the webpage.
Social Media Pages: If you are looking to grow your social media, it's a good idea to direct new connections to your social media profiles like Instagram, Twitter, etc.
Event Registration: If you are organizing events and connecting with people to have them attend, use a QR code to link to an event registration page or an RSVP form.
Customer Feedback: New businesses can greatly benefit from customer feedback online for example, on their Google listing. You can link your QR code to a survey or review platform, to gather valuable feedback.
Appointment Scheduling: If you have a consulting business or any business where you meet with many customers, directing people to a scheduling platform like Calendly is a great idea.
The above are some ideas I like but obviously, everyone has different needs and QR codes offer many customization options.
You can modify your QR code to trigger different actions.
Final Thoughts
Adding a QR code to your business card allows you to add all the necessary information without taking up too much space.
A business card should reflect your brand and I don't think anyone wants their brand identity to be cluttered.
QR codes are a great way to make sure that you can direct your connections to wherever you need them.
I hope that the above ideas inspire you to design your business cards and add QR codes to best meet your business needs.
Frequently Asked Questions
What should be on a business card QR Code?
A business card is an opportunity to showcase your brand while providing the users relevant information.
You can customize your QR code to trigger many different actions. But what's on your QR code will depend on what exactly you're looking to achieve.
Different individuals and businesses have different requirements such as:
An E-commerce business may link to their products.
A consultant may link to a scheduling tool.
Or, you may want to link a VCard to your business card's QR code.
What is an example of a business using a QR code?
A great example of a business using a QR code is The DermTech Store on Amazon.
I recently ordered a product from them and they printed a QR code on the packaging linking to a video tutorial on how to use the product.
I found it to be very convenient and a great solution to a problem. This is just one out or countless ways businesses can leverage QR codes.
How do I promote my business with QR code?
You can promote your business with QR codes by directing people to your website, or sign-up page.
What exactly you do with your QR code will depend on your business but QR codes are a great way to direct people to any platform that you want attention on.
What is a dynamic QR code?
A dynamic QR code allows you to change where the scanner gets redirected to.
The way this works is, that once you scan the QR code you get redirected to one URL but that URL get redirected to another.
This second URL can be changed on demand, which makes it dynamic.